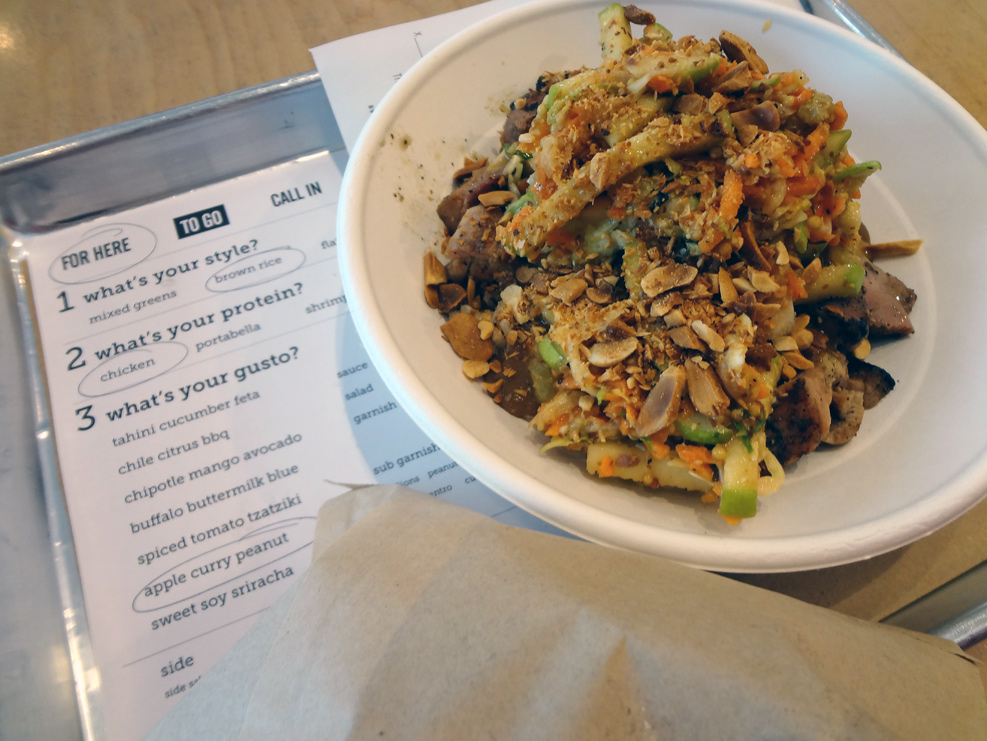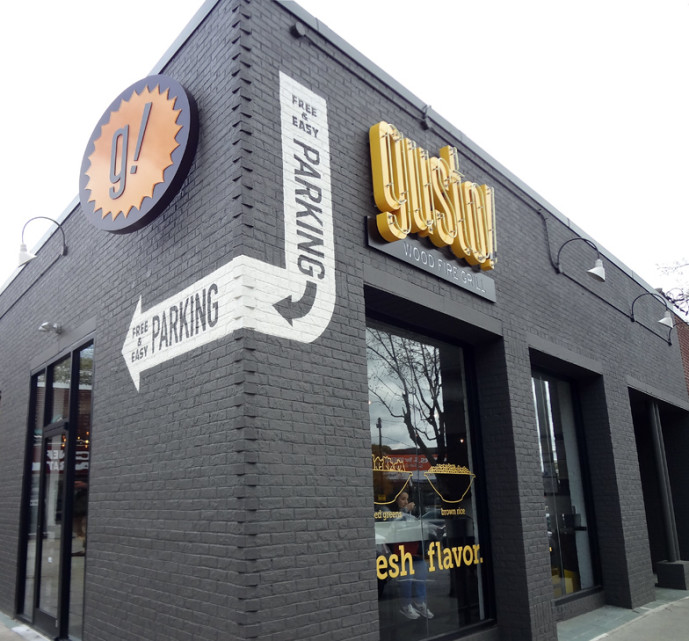 For Friday lunch last week, the lunch crew went to Gusto! Wood Fire Grill over by Piedmont Hospital. An over-simplified description of this joint is that it is a fresh, wood-fired, American food version of Chipotle. Other than some salads, sides, and desserts, the menu is bowl-based. You pick your base (mixed greens, seasoned brown rice, bread (comes as an open-face sandwich), or flatbread (comes as a wrap). Then you pick your main, chicken, shrimp, or portabella mushroom. Lastly, you choose your gusto, which you can think of a flavor profile, as it included extra ingredients, sauce, and garnish.
I went for the chicken citrus chile barbecue bowl over mixed greens. The price is determined by the main you pick, so all chicken items are $8.50. I ordered this gusto due to the description: "Spicy korean chile bbq sauce, cucumber, carrot, radish & jalapeño salad in citrus avocado dressing, and fresh cilantro.
The bowl was yummy, and I could definitely taste the wood fire difference on the chicken. Overall, I think the meal was a success, but I do feel a little led astray by the spicy korean barbecue reference, because my palate really didn't pick up on anything familiar in that respect. I also didn't really notice much heat.
Everyone got sweet potato chips with their meal and 3 of 4 diners approved of this. I thought they were very pleasant, but I've always been a fan of Terra chips, so obviously I'm already a believer.
My three compatriots got two bowls and a flatbread wrap between them. My dish was the only one that came with the sauce on the side, so it may be that Gusto! makes the relatively safe bet that if you care enough to get a salad you may also care enough to limit how much sauce you consume. The thought never crossed my mind while ordering, but it just so happened that 2/3rds of the sauce was plenty for me.
Gusto! Wood Fire Grill is a snappy, affordable, guilt-free South Buckhead/North Midtown lunch joint with a pleasantly different wood fire twist. If you're looking for lunch in the area and you're not the type who thinks a meal isn't a meal if there's no red meat, then I don't see how you could go wrong at Gusto! 3 stars.
Gusto! Wood Fire Grill
1935 Peachtree Road NW
Atlanta, GA 30309
emily
Nerd. Foodie. Gamer. Homecook. Perpetual planner. Gardener. Aspiring homesteader. Direct response graphic designer. I use too many damn commas.