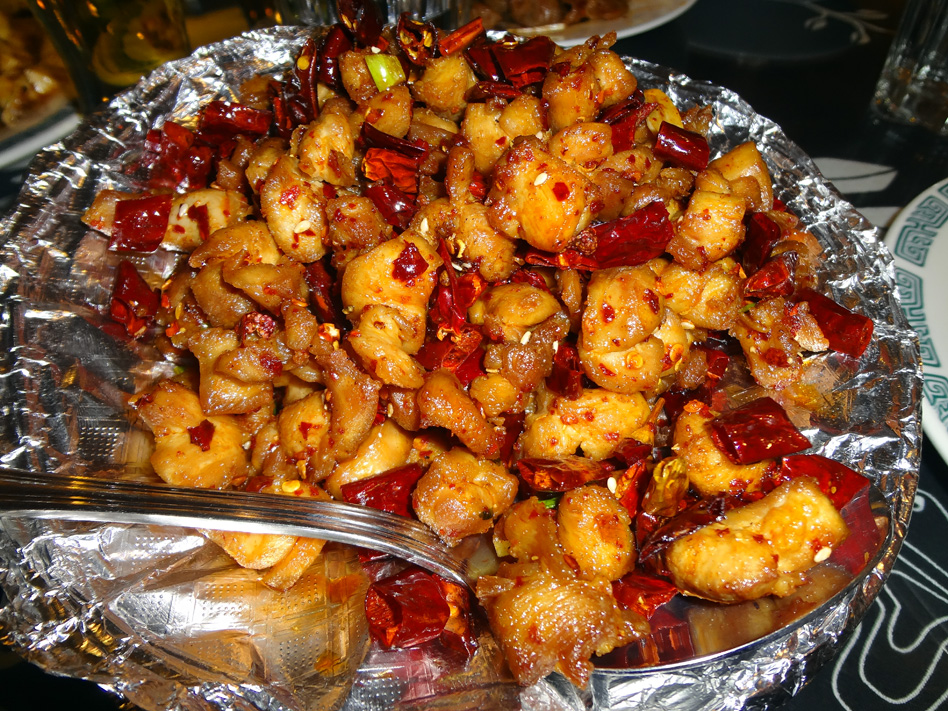 Buford Highway location closed as of March 13, 2015.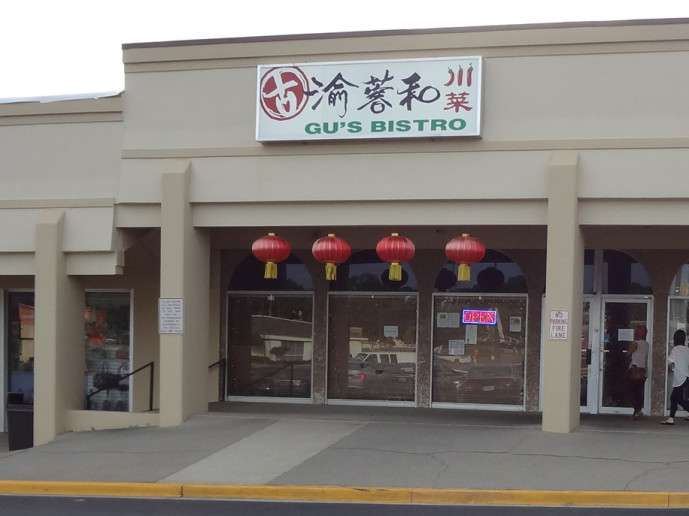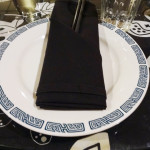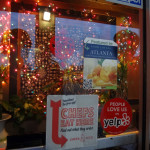 This week we skipped over Baldino's Subs to try Gu's Bistro with Grant and Marie. Now, Grant and Marie have long since hit up this infamous spot. But the four (and a half, counting toddlers) of us were long overdue for a night out together, Grant and Marie love Gu's good food, and we love their good company – and so here we all were on a Friday night at Gu's.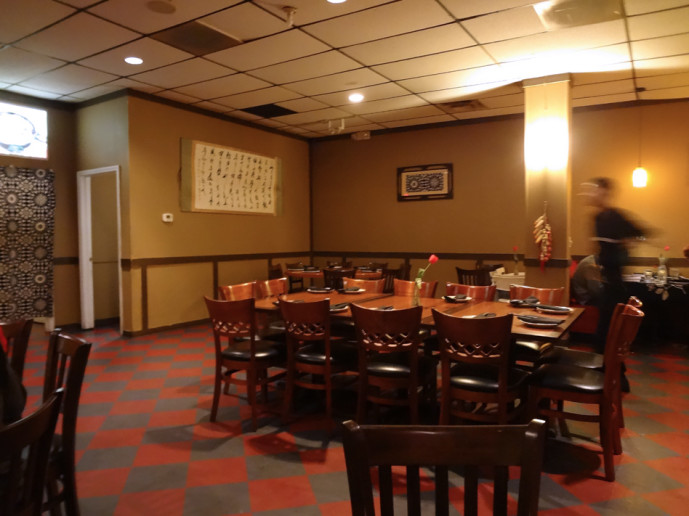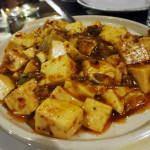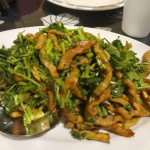 Since the portions are large and served family-style in the center of the table, we were able to sample a variety of dishes. Grant and Marie got lotus root with carrots and bell peppers, Chongqing spicy chicken, and stir-fried lamb with cilantro. Adam and I ordered mapo tofu and cumin lamb.
The mapo tofu was so much better than what we tried at the Buford Highway Farmers Market food court, much more authentic and spicy! Yum. Marie's lamb and cilantro dish was really more like three or four cilantro plants – including stems – and a few slices of lamb. That was a bit disappointing, because even if you aren't one of those people to whom cilantro tastes like soap, that is still a heck of a lot of cilantro! We left much of it behind on the plate, sadly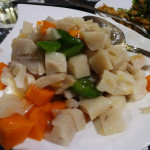 The lotus root was also good; though I eat it I am not entirely sold on the lotus root in this form. It has a good taste, but with a curious undercurrent that reminds me of the feeling I get when I eat something I am allergic to, so that is a little off-putting for me.
The cumin lamb was rather delicious, but the big slices of garlic gave us what we refer to as korean barbecue breath the following morning – that kind of icky feeling you get in your mouth, no matter how many times you have brushed your teeth!
The Chongqing spicy chicken was the belle of the ball, I think. This signature item is featured prominently on the menu, and it certainly did not disappoint. A delicious and fiery dish. The level of spice was great – you get a lot of heat, but without sacrificing the flavor of the chicken.
Unfortunately, the Tsingtao that Adam ordered was served warm. He didn't care to make a fuss about it, but just sipped it quietly. Unfortunately, our waitress then accidentally knocked the bottle over and spilled Tsingtao on Adam's suede Clark's. Accidents happen, and Adam was certainly apologized at repeatedly and emphatically, but I was still disappointed that they did not replace his beer. If he had knocked it over himself, that would have been one thing, but he should have got a beer on the house for this inconvenience, in my opinion.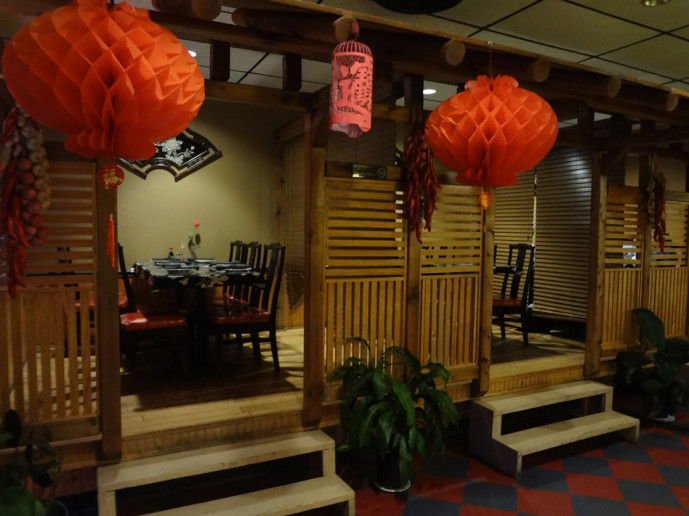 Overall, we had a good time at Gu's Bistro. I would like to have given it a four, because the atmosphere and service were fine, and some dishes were really great. However, the double-beer dings, and the stem-y cilantro dish will have to knock it down to 3.5 stars for now. I look forward to coming back and trying more things from this menu, and to visiting Gu's Dumplings after it opens later this year!
Gu's Bistro
5750-A Buford Highway
Doraville, GA 30340
emily
Nerd. Foodie. Gamer. Homecook. Perpetual planner. Gardener. Aspiring homesteader. Direct response graphic designer. I use too many damn commas.