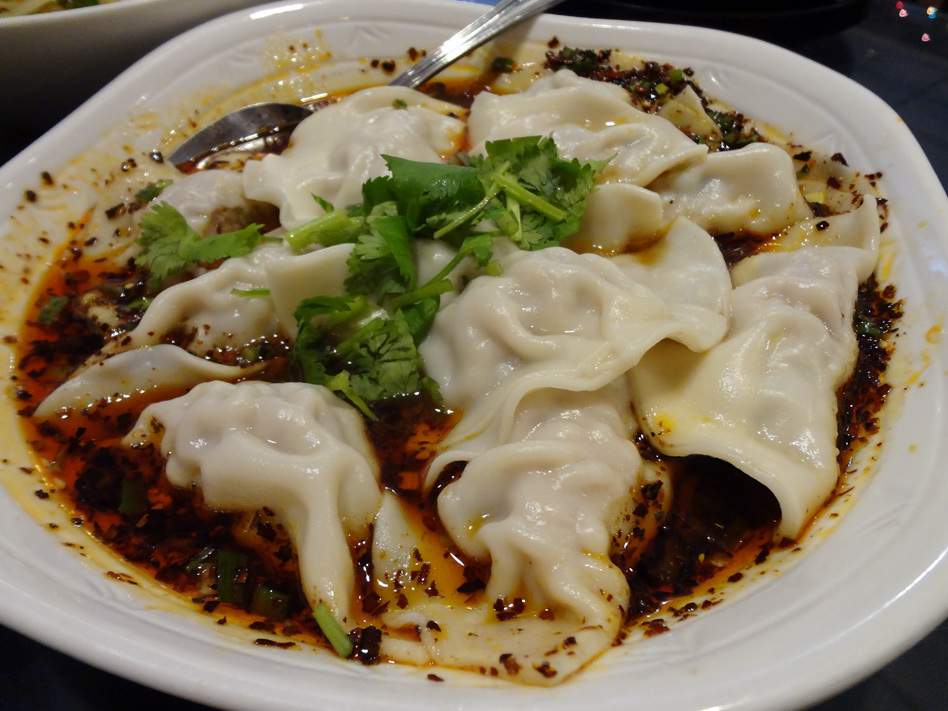 Opening earlier this year in the original Gu's Bistro space, Good Luck Gourmet has been serving the food featured in the Instagram photos that have been making me swoon since early this summer. Finally, the hubs and I got around to checking the place out and having a good old-fashioned pig out. Perfect comfort food for the gray, damp days Atlanta has been seeing a lot of lately.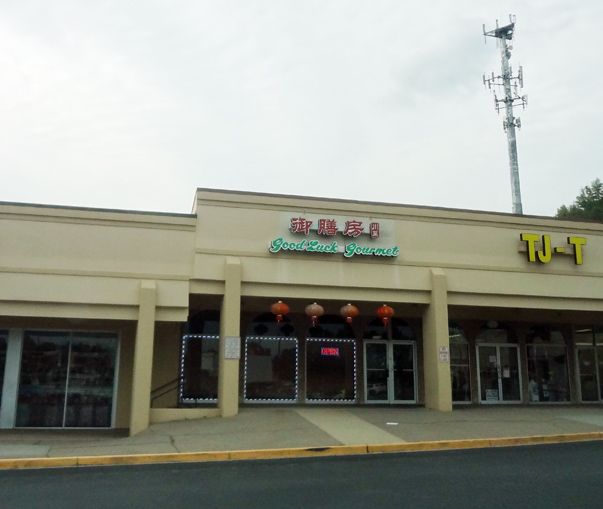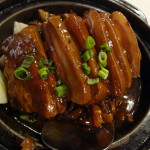 Of everything we ordered (too much) the steamed pork dish hit the table first. I was very disappointed in it visually, as it looked like a shriveled mess and nothing like the image shown on the menu – an image I recognized as a dish I had tried and liked before at Bo Bo Garden – see what we had and what I was expecting on the right.
As hungry as I was, I couldn't enjoy this dish. The vegetables were alright, but the pork belly was more like dried tough bacon jerky and very, very salty. Not the fat, moist and luscious slices I had hoped to consume. I was disappointed at the quality for the price.
Luckily for me, there were plenty of other (cheaper, tastier) dishes hitting the table soon.
The Shaanxi-style cold noodle dish was one I'd seen several times on Instagram, and so when we arrived, I made it clear to Adam that we were definitely ordering this dish. And it was a decision neither of us regretted. This dish has the same type of "velvety" heat that I first experienced in Hong Kong. At the time it freaked me out (people with a history of food allergies can understand the terror of a completely new mouthfeel that is quite similar to an allergic reaction, haha). This dish was just aces, and we slaughtered the leftovers before noon the next day.
Speaking of Hong Kong, that is where Adam and I feel in love with ma-po tofu, so we had to order that, too. It wasn't the very best ma-po I've ever had, but it was darn close. It had just the right amount of pork in it and the spicy and oil were delicious. The leftovers made for an excellent sack lunch at work the following week.
Another mandatory dish for our inaugural trip to Lucky Gourmet was the red oil Chengdu-style dumplings. I've craved chili oil dishes since the weather turned. This was also a winsome dish that we both savored very much. It really hit the spot. By the by, you can also get these dumplings with chicken soup or hot and sour sauce instead of the chili oil.
Overall, we had a great time at Good Luck Gourmet. It seems like some dishes are more popular than others and that therefore the quality of the less popular ones may not be as great. Or maybe there's a regional element at play at I am not aware of, but at any rate as much as the first entree was a complete and utter flop to my palate, the other dishes were all elegant, spicy swan dives of deliciousness. Would definitely go again.
Good Luck Gourmet
5750 Buford Highway NE
Doraville, GA 30340
emily
Nerd. Foodie. Gamer. Homecook. Perpetual planner. Gardener. Aspiring homesteader. Direct response graphic designer. I use too many damn commas.