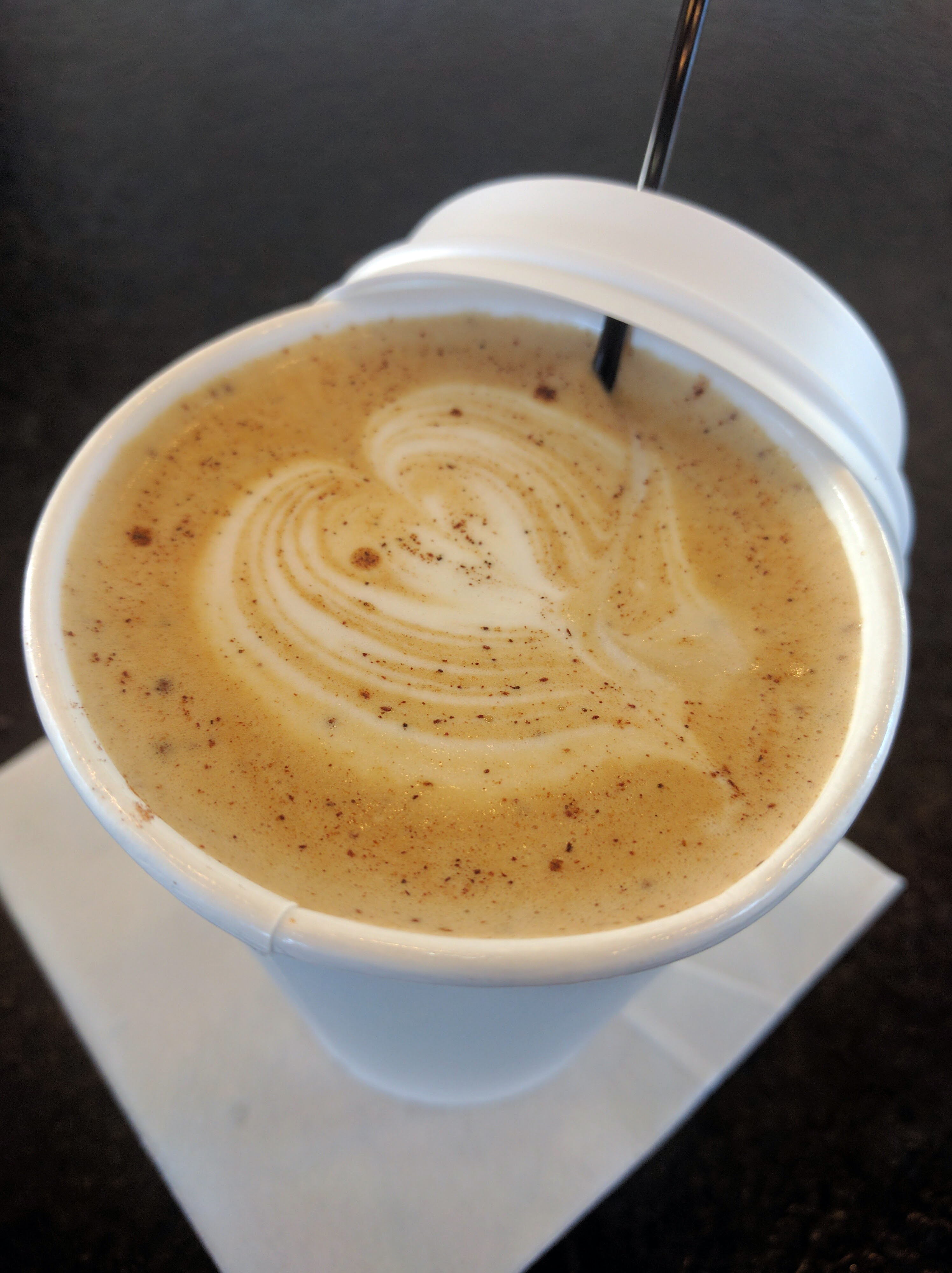 Just south of the intersection for North Druid Hills Road and Clairmont Road is a funky old late 60s-era Arby's building with a very distinctive shape. It's been home to a number of establishments since I first started traveling through the area in the mid-aughts, the most notable of which so far was korean-fusion joint Sobban.
While I will always mourn the loss of Sobban, my interest was piqued when I saw the classic Arby's curve painted in a new color and a new sign installed announcing the opening of Golden Drops Cafe: American & Latin Coffee Bar. I wasn't really sure what would constitute a latin coffee bar, so I dropped in to check it out.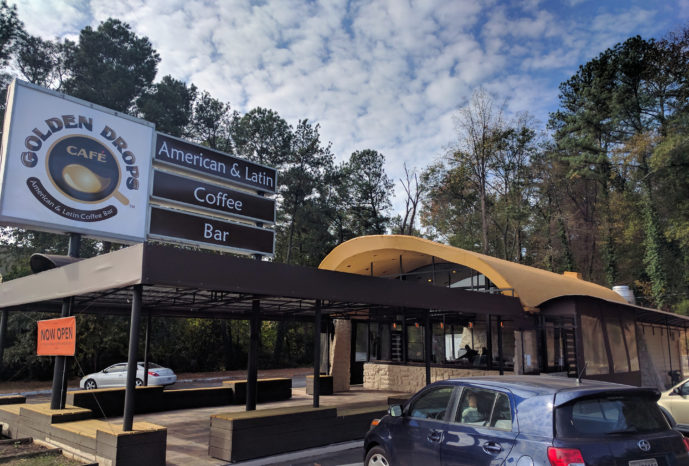 Some say this spot is cursed, but I completely buy the Sobban team's story that it was closed due to the opening of a new Heirloom BBQ in Seoul, South Korea and that, therefore, Sobban has actually totally broken the curse and was a success and not another statistic. Why yes, the koolaid tastes just fine, thank you. So anyway, I love the vintage weirdness about this spot, and I loved Sobban, so I was quite curious to see the inside.
As it turns out, a lot of what Sobban had done inside was classy enough to leave and is still there. My favorite original tile floor is still in situ, and overall this seems like a really nice place to have coffee, with nice calming colors and lots of natural light.
Since he took my order, I had the opportunity to chat a bit with Victor, the owner. He's from the Dominican Republic, and has lived in Atlanta for 24 years. He gets his high quality coffee (roasted by Four Monkeys) and award-winning baristas from El Salvador. His chef is a talented Brazilian lady and she is responsible for the yummy-looking pastries in the counter (including pão de queijo!). So we've got a variety of latin influences and a focus on quality. Intriguing!
I haven't yet had any food myself, but I have already come back for another sampling of drinks. The Golden latte is very yummy! The peppermint latte Adam got once was not to our taste, but that was due entirely to our dislike of most artificial flavorings. We should have known better. I have also had their Chai latte and it was very good, though the Golden is still my favorite. It's also Adam's favorite, and that's pretty high praise from a guy who'd usually prefer chai over coffee.
While I am cheap and make my own tea or coffee at home 99.5% of the time, I am a bit hooked on the Golden latte now and can definitely envision Adam and I wandering into Golden Drops on the weekends on a semi-regular basis. The atmosphere is quiet and nice. I am not 100% sure if there is WiFi, but if so… man it would be the perfect place for me to remote work. Way better than a noisy Starbucks.
Still, curse or no curse, this is a challenging location near one of the most dangerous intersections in the metro area. That is to say, people are driving quickly and distractedly around here, and not necessarily keeping an eye out for a unique coffee joint. So, I am keeping my fingers crossed for Golden Drops. In the meantime, I encourage you to try this distinctive and interesting latin cafe if you find yourself in the Toco Hills area. 4 stars.
emily
Nerd. Foodie. Gamer. Homecook. Perpetual planner. Gardener. Aspiring homesteader. Direct response graphic designer. I use too many damn commas.