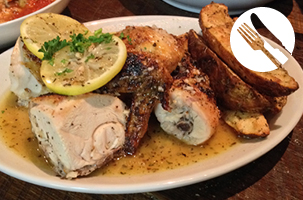 Fact: Atlanta's food scene needs more people like Giovanni Di Palma. For anyone unfamiliar with Di Palma, he first opened up Antico Pizza Napoletana (for my money, still the best pizza in Atlanta) and followed up with Gio's Chicken Amalfitano and Caffe Gio next. He has a little food coma hut on Hemphill. I obviously loved Antico and had Gio's on my laundry list of food spots to hit up in Atlanta for a while. I finally got around to going there on a Saturday afternoon and it somehow, exceeded my expectations.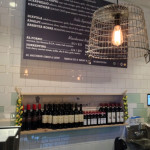 The concept is simple, there are 7 chicken dishes and 4 pasta dishes. Prices may seem high from first glance but the quality definitely warrants them and it would be a shock if you left there without a take home container. I have this weird thing about always leaning towards the first menu on the item for whatever reason and so in this case, me and my buddy ordered the sorrento lemon chicken and the al forno (a baked ziti).
Each entree comes with a side salad and some bread. The salad was simple and the dressing had a tad bit too much of a sour note but there was shaved parmesan on top which more than made up for the dressing. The bread was good and came buttered. Overall, a solid start.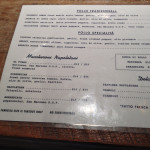 The entrees came out relatively quick as the restaurant wasn't super packed and you are quickly taken aback by the large portion sizes of each dish, The pictures probably don't do it justice.
First the chicken, wowzers. I cook a decent amount of chicken at home but usually don't opt for chicken when eating out as I would rather get pork, beef, or some type of fish. Obviously, my options were limited with Gio's and that was perfectly okay and it was definitely some of the best chicken I have ever had.
Having seen this place featuring on Atlanta Eats, I learned that they slow roast the chicken and then char broil it in its own juices to finish it off. What comes of that is moist, juicy, and flavorful chicken that is magical. It reminded me of how good chicken can truly be when prepared right. I could drink the sauce that it is prepared in which is a mix of sea salt, black pepper, oregano, and the sorrento lemons. It is served with a side of wedged potatoes which were flavorful. My only knock would be they could have been a bit crisper and were served lukewarm.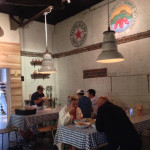 The al forno was another home run at Gio's. It was hearty, comforting and I literally could not stop eating it. It's one of those dishes that seem simple but the quality of ingredients that Giovanni's prides himself in really shine in the simpler dishes. As mentioned prior, I was full to the brim and there was still a quarter of each dish left to take home.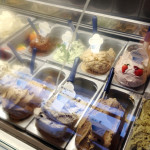 Side review: Although I was full to the brim, I couldn't turn down gelato from Caffe Gio located next door. There are probably 7 or 8 different types of gelato/sorbet to choose from. The ordering system is a little complicated as you have to pass the gelato and go to the front counter to order and then come back and hand over your receipt. Nonetheless, it presented minor confusion.
They don't do samples which is understandable to a certain extent but definitely takes a bit of the fun out the whole gelato or ice cream experience. I ended up getting the pistachio and coffee. Both flavors were creamy and smooth which capped an enjoyable meal.
Overall, the Giovanni empire is a great thing for food lovers as its no frills, delicious food presented in a casual and welcoming atmosphere. It is exactly what the Atlanta food scene needs more of.
Ratings:
Food – 4.5
Vibe – 4.5
Gio's Chicken Amalfitano
1099 Hemphill Avenue
Atlanta, GA 30318
Caffé Gio
1099 Hemphill Avenue
Atlanta, GA 30318
anish
I am a 20-something white-collar worker that enjoys the great food options Atlanta has to offer. I enjoy sharing my dining experiences and opinions to anyone who will listen. I hate being the guy next to your table taking cell phone pics but understand its place as a necessary evil in the food blogging world. I love to research places beforehand (some would say to a fault). The theory is if I am going to spend time and money eating out, it is worth the 10 or so minutes to vet it out beforehand. I have a laundry list of dining places I still want to go to but for every one I check off, four probably get added. For me though, that is probably the biggest perk of living in a big city.