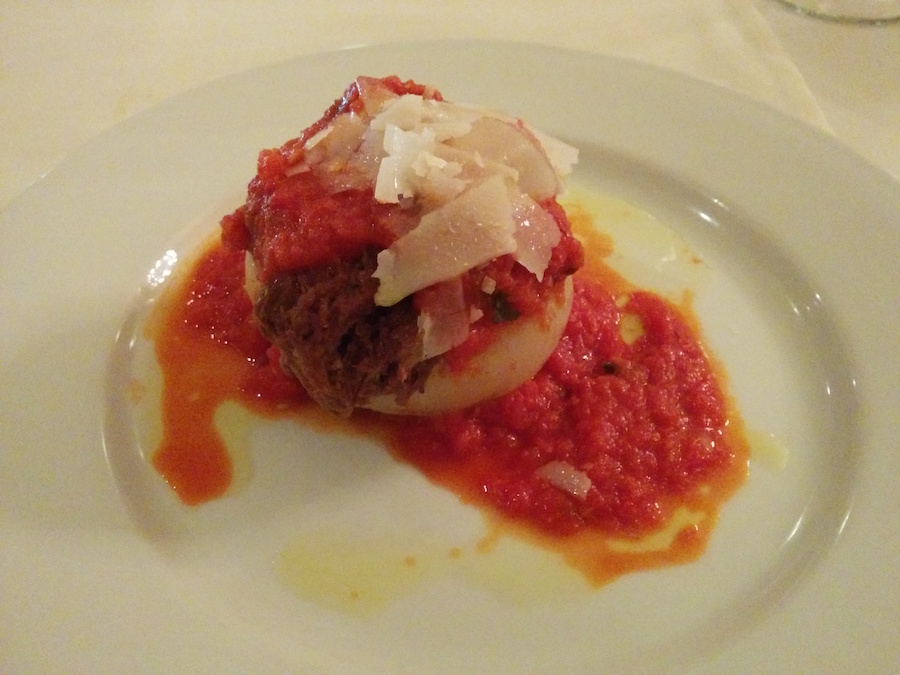 Back when I was in high school (way, way back), the school band had a fundraiser every year and every year the fundraiser was the same: selling big sacks of Vidalia onions. Not wrapping paper, not cookie dough, but those sweet, tasty onions, obediently delivered by band members right to our door. If that doesn't give you an idea about how we Georgians feel about Vidalia onions, I don't know what will.
I was recently lucky enough to attend an evening devoted to that deep love at Baraonda in Atlanta, the head chef of which, it turns out, won this year's illustrious Golden Onion Award, an award for the best recipe using Vidalia onions. The chef in question, Tom Hall, provided us with a 5 course meal celebrating the sweet onion, including wine pairings for each. It was a pretty intense (and oniony. And DELICIOUS.) evening.
As we waited for our first course to come out, we were prepped for the experience by Susan Waters, the head of the Vidalia Onion committee who had organized the event. She filled us in on some Vidalia onion facts, which despite being a lover myself, I'd never known! I'd never realized, for example, that Vidalias really can't be grown anywhere other than a select 13 counties (plus portions of another 7) in Georgia, and Georgia alone. And besides Georgia having just the right mix of humidity and soil to allow Vidalias to grow, they also only mature in the winter – eating them around all year means stashing them safely in your fridge or in a cool closet. O, such onion knowledge I have now!
On top of everything else, there is apparently a Vidalia Onion museum in – you guessed it – Vidalia, Georgia, highlighting the history and other facts about the onion. Oddly, I find myself really wanting to go and check it out!
History and factoids aside, the meal we were served – plus the wine pairings – were absolutely delicious, and it was fun to chew thoughtfully with my comrades at the table and discuss where we tasted the onions in each specific dish.
Some flavors were more delicate, like the antipasti course of white shrimp with Vidalia onion, remoulade and roasted corn farro salad (left), while others were pretty obvious, like the manzo course of braised beef stuffed Vialia onion with tomato sauce and shaved Toscano cheese (right).
…I did mention the food was incredible, didn't I?
I actually can't talk enough about the food at Baraonda – it was an incredible treat to be treated to such amazing food, and wine pairings to boot! I love to cook, but invariably I end up cycling through the same recipes every month. New, fresh, and interesting recipes, all with the fun twist of the Vidalia, were an excellent reminder of all the dishes I haven't tried yet.
Think wedge salad is passé, for example? Try wedge salad with Vidalia onion green goddess dressing (for which I must find a recipe, by the way). Or perhaps an incredible red snap atop Vidalia onion red cabbage, and fennel slaw? Yeah, it was as good as it sounds.
Plus, who would've thought of the weird-sounding-but-excellent-tasting vanilla bean gelato with Vidalia onion and aged balsamic jam? It turns out that a handshake between balsamic and Vidalias make an amazing savory addition to ice cream.
So if this makes your mouth water, you should check out VidaliaOnion.org which does have a recipe section, for the record. I know that I'll be making some new recipes, as soon as I can get my hands on those sweet, tasty onions.
And don't forget – #VIsForVidalia!
Mary Gezo
Formerly of both n00bcakes and !Blog, the two magically become one on Spatialdrift; expect some lazy baking and serious nerditude. Also, I love semicolons.