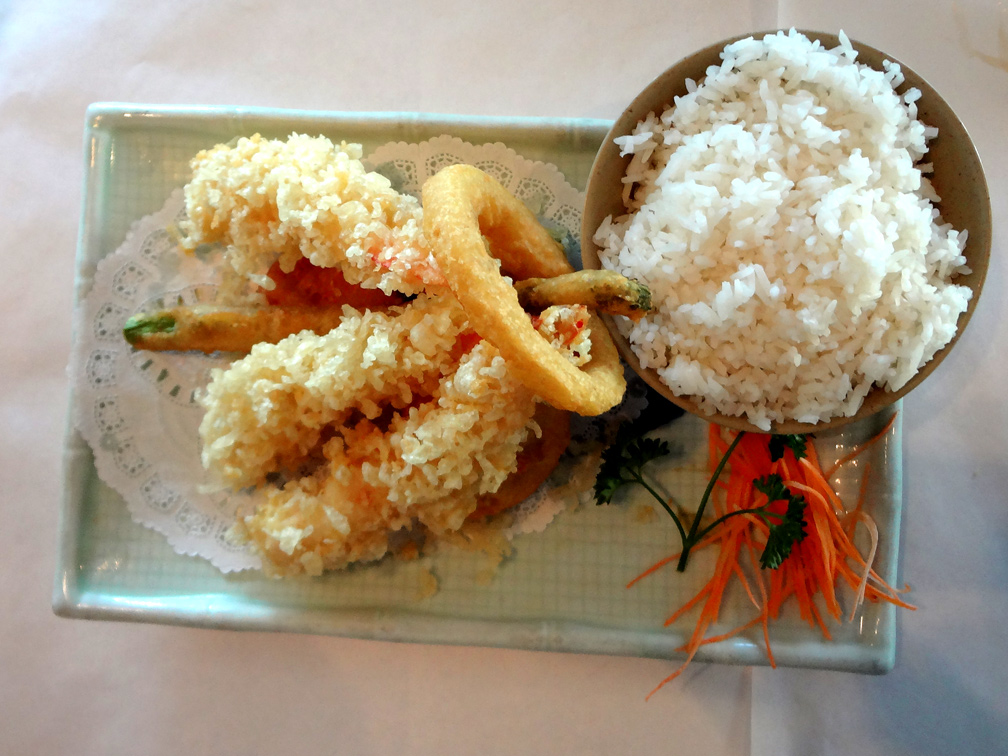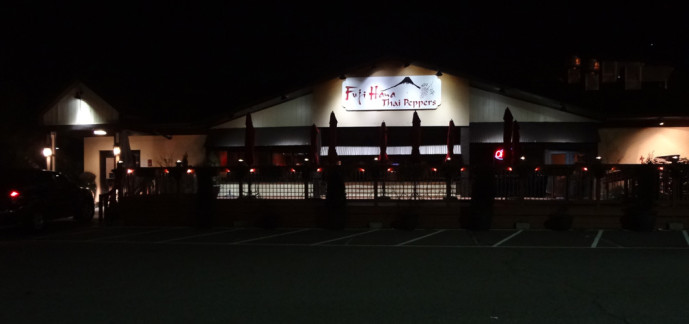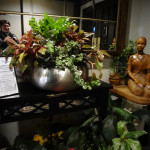 Fuji Hana & Thai Peppers is a Japanese and Thai restaurant in Kennesaw – with hibachi grills and a sushi bar. Fuji Hana moved into its current location – apparently absorbing the Thai Peppers thai restaurant that was there, hence the joint name and dual japanese and thai menu – mid-year in 2012. More recently, they've launched a late night menu. More on that after the meal!
This is a picture-heavy post, so I'll try to keep the both the text and photos in large chunks so you can easily scroll past whichever of the two interests you least, hah. Normally I show more restraint, but this was a pretty place and we went twice, once for regular menu and once for the late-night menu, so I had double the opportunity to wax poetic with my camera lens. So get comfortable!
Before we talk lunch, let's take a little tour of some of the lovely interior, starting with the foyer area, where the health score is on display.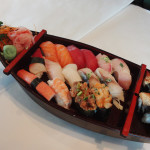 My parents joined Adam and I for a late lunch on a Saturday afternoon. After studying the menu for a bit, the first thing we did was let the sushi chef know that we are big fans of sashimi and that we would be happy to eat whatever he thought we might enjoy. This approach has worked quite well for us at other places in the past and Fuji Hana was no exception.
They have a fairly large sushi roll selection, but many of them are fried or covered in the types of mayonnaise-y sauces that you tend to see here in the south (mayo and fried things help make sushi more accessible I suppose). But I'm more interested in sushi for the sake of the ingredients, namely quality fish, which is why we let the itamae know that we were interested in sashimi. He sent out a fine boat full of delicious sashimi, including unagi, which is a particular favorite of mine. The presentation was fantastic and the quality was surprising. The only piece we didn't really appreciate was the tilapia.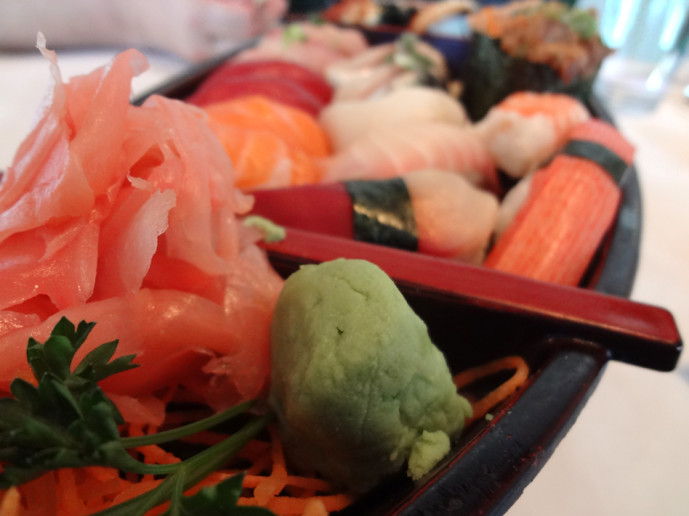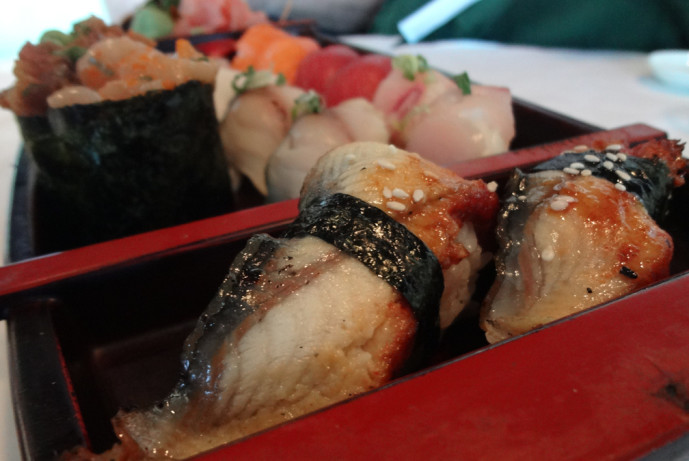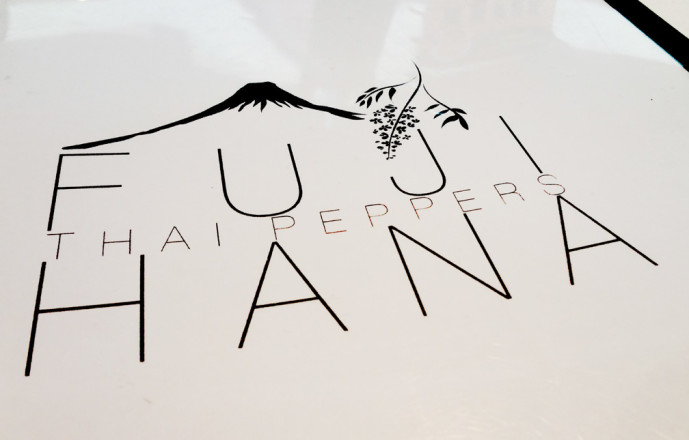 For our main meals, we really ran the gamut of the menu.
Adam and I ordered the spicy thai basil noodle dish ($8.95 for lunch, $11.95 for dinner portion) and the Penang curry – medium spicy and thai style ($8.95 for lunch, $13.95 for dinner portion) to split. Each of our lunch orders came with two sides, we got an egg roll, miso soup, steamed gyoza, and crab rangoon. My parents' sides were much the same, but also included the fried gyoza you'll see below.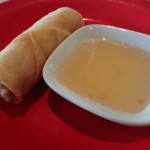 Adam and I both really liked the basil noodle dish. It had a pleasant level of spiciness and an undeniable comfort food effect. I would order it again in a heartbeat.
The Penang curry was enjoyable but not a home run. I liked having the option to pick my own heat level and to decide whether to get the dish "regular" or thai-style with less liquid than you apparently see in curries. Having said that, I opted to have my curry thai style and what came to the table seemed as soupy as a regular curry to me. Perhaps I misunderstood something or the message never reached the kitchen. Still, it was tasty.
My dad ordered the steak teriyaki ($9.25 for the lunch cut, $17.95 for the dinner version that is a hand-cut strip steak) and my mom got the shrimp and vegetable tempura ($8.95 for lunch).
I don't often eat asian cuisine with my mother, because she is extremely allergic to MSG and so many places either don't understand the gravity of the situation and lie about MSG, or they have no idea what we're trying to ask and we simply can't run the risk. Fuji Hana not only assured that she received no MSG but left me under the impression that they don't use any normally – great to know for those allergic to MSG and searching for safe havens in asian restaurants. Here are her thoughts:
"I really enjoyed my food at Fuji Hana. It caused ZERO allergic reaction. Loved, loved, loved the boatload of sushi! I wasn't crazy about the crab rangoon (probably not their fault, but I yearn for Chef Chen's now).

About the atmosphere: I loved the saltwater tank. Only issue was with aesthetics – several mirror tiles in hall, needed to be re-glued. I also wasn't thrilled with having paper on tables but I understand.

Going with 4.5 stars."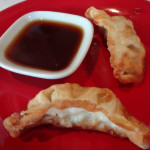 And from my dad:
"The sushi was very good, fresh and tasty.

I enjoyed the teriyaki steak, and was pleased that it was not overcooked. I asked for medium rare and it was just right. The fried gyoza and crab rangoons really hit the spot, the sauces were tasty without overpowering the flavors of the rangoons or gyoza.

A great lunch overall with a solid 4 out of 5 stars."
Lastly, we got the sticky rice with fresh mango ($6.95). This was a nice, fresh dessert – perfect for after stuffing yourself with delicious sushi, curry and noodles. A great finish to an enjoyable meal.
I haven't mentioned this specifically yet, but I am sure you've noticed the plating here is great – the tempura dish was especially pretty.
Alright, so that was our lunch, now let's move on to our tryst with the late night dessert menu. This occurred on the coldest night of the year so far, when it was a mere 7°F out. We gathered with other bloggers to get a crack at this new line of sweet offerings from Fuji Hana & Thai Peppers.
First up, we had some tea to warm up, and a little sushi (of course!), and then got right into those late night desserts. Essentially, we went though a flight of them, working from the most light, delicate dessert to the most rich and powerful one.
The green tea tiramisu was hands down my favorite, and not just because it came first! It is light and airy with a delightful subtle flavor. Adam enjoyed the first cordial pairing, but I was not as enthusiastic. Mixing the two distracted from the tiramisu's subtlety, in my opinion.
The coconut cream cake was next, also a light-feeling dessert. The coconut was not overwhelming, and I view that as a good thing here. The cordial was very sweet, and the pairing seemed a better fit with this dessert.
Third in line was the salted caramel pretzel cupcake. This was a real beauty to behold. Stacked icing with salt and pretzels sits heavily atop a vanilla cupcake. They almost seemed like two separate desserts, rather than one integrated one, but the flavors were terrific.
Last but not least, we sampled the New York style cheesecake. Rich is the key word for this dish. The cheesecake was so very rich and so was the cordial! What a delectable sugar bomb – perfect for late night cravings. It was a bit too much for me at the time, after having sampled three previous desserts with sweet cordials.
After all this, how do we summarize Fuji Hana & Thai Peppers? It's very aesthetically pleasing, from the space to the decor to the plating of the food.
Kudos to the sushi chef for hooking us up with that boat of sashimi. The sushi was definitely good for the price point, and the presentation was too cute. The food was pretty tasty especially the noodle dish. The tempura that I sampled from my mom's plate is worth mentioning, too (and again, the plating was just great). The pricing was very reasonable for the type of restaurant Fuji Hana has positioned itself as, especially for lunch.
I don't think Adam and I are in the target market for the late night dessert menu. We don't go to clubs and then crave sweets around the midnight hour, but even if I did, I'm not sure I would want or expect New York style cheesecake from a japanese/thai food restaurant. I think that the green tea tiramisu came the closest to solving that disconnect for me, and if more desserts could be like it I think the lineup would make more sense. Everything we tasted was good, I'd just like to see those skills used for desserts closer to the core competencies of the restaurant – making these items accessible enough for people coming with friends that wouldn't dream of eating "weird" food and ethnic enough to make them realize that they may actually want to learn more about japanese and thai cuisines. But that's just me!
There are definitely some concerning and mixed reviews of Fuji Hana & Thai Peppers to be had online, but they've either upped their game or we lucked out. We had a good time both times. Adam and I say 3.5 stars, so that averages out with my parents' ratings to 3.78 and rounds up to 4 stars.
Fuji Hana & Thai Peppers
2606 George Busbee Pkwy NW
Kennesaw, GA 30144
(I received the food I sampled at lunch without charge and as well as everything from the late night dessert menu media event. How this may affect me subconsciously, who can say? However, as with all of my posts I make a conscious effort to be fair and evenhanded. – Emily)
emily
Nerd. Foodie. Gamer. Homecook. Perpetual planner. Gardener. Aspiring homesteader. Direct response graphic designer. I use too many damn commas.