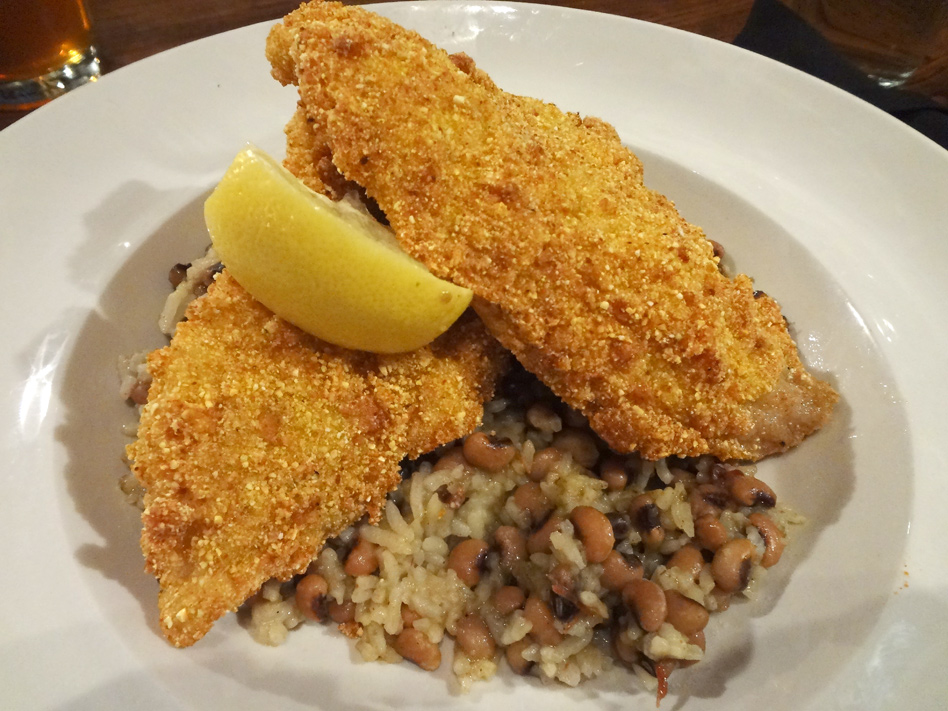 Earlier this week Adam and I headed up to FREIGHT, a southern-style restaurant and bar in Downtown Woodstock's Historic Train Depot, to dine with college friends Mary (you know Mary) and Andrew.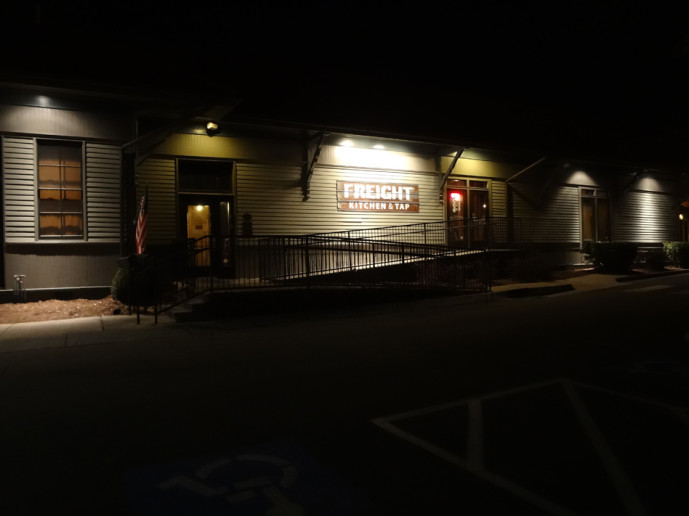 Our friends are launching a new app to help you promote your favorite restaurants and get specials in return. The app is going through initial testing at FREIGHT (the restaurant spells uses all caps but I am not sure how much patience I have for that…. let's see) now through February 8. So if you're in the area, do head over and give it a whirl! You can say you were part of the next biggest thing from the beginning, and shake hands with Mary and Andrew to boot. 🙂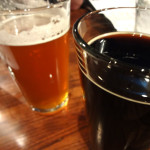 Once we got settled at our table, we kicked things off with the evening's special: half-off local draft beer! Adam got a Monday Night Brewing's Eye Patch Ale and I got Red Hare Brewing's Sticky Stout.
We also ordered the Addiptive appetizer. I kind of feel like spinach/artichoke dips have been done ad nauseam, but this appetizer exceeded my expectations! The dip was more spicy than I expected, but not crazy-spicy, and the crepe chips were actually really, really good. I usually am a low carb, more dip-on-less-chips kind of gal, but I snapped these addictive crepe chips right up.
To split, Adam and I ordered the pan fried catfish over hoppin' john and the shrimp and grits.
The the portion of catfish was surprisingly generous, though I suppose I shouldn't have been surprised, since catfish is like the cheapest fish. It was tasty, though its counterpart, the hoppin' john was less impressive. I could hardly see or taste the important ingredients that distinguish hoppin' john from black-eyed peas with rice: onions, tomatoes, bacon. To me, hoppin' john also has peppers or some type of greens in it as well. The black-eyed peas and rice was good, just not very flavorful.
Now, the shrimp and grits was another matter! This dish was chock full of flavor and spicy heat – very nice. Great flavors and textures.
Mary got the Coca Cola meatloaf and bacon green beans, and Andrew also got the catfish and hoppin' john. Mary really enjoyed her food – I snagged a tiny taste of meatloaf and of green beans. The meatloaf was surprisingly sweet (that'd be the Coke, I suppose), but also savory, and the green beans were done in classic southern style.
The atmosphere was pleasantly dim, and the service was super great – very polite and friendly. Food-wise, FREIGHT is like a classier, higher-class Cracker Barrel with booze. Personally, I'd trade tchotchkes for booze any day!
As an ITP-er, FREIGHT is a long haul from my home turf, and based on my experience, I wouldn't drive to downtown Woodstock to have those shrimp and grits, even though they were above average. I think for those of you in the northwesterly quadrant of the metro Atlanta area, FREIGHT is worth a visit, but it doesn't distinguish itself quite enough to be worth a long trip.
Solid food, service, and atmosphere with a little high but not unreasonable pricing. 3 stars.
FREIGHT Kitchen And Tap
251 East Main Street
Woodstock, GA 30188
emily
Nerd. Foodie. Gamer. Homecook. Perpetual planner. Gardener. Aspiring homesteader. Direct response graphic designer. I use too many damn commas.