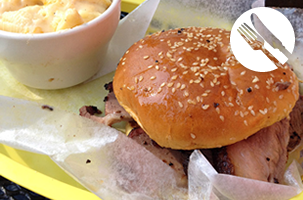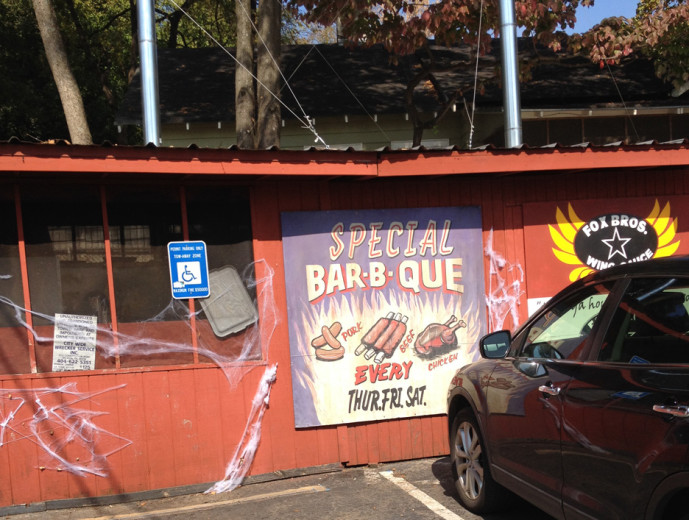 The Atlanta dining scene doesn't have a shortage of places that feature one of the following three: burgers, fried chicken, and barbecue. It seems like every day there is a new spot opening up that involves one of those three. Although a little diversity in new openings wouldn't hurt, I like all three so you won't find me complaining. I would venture to say Fox Bros, Fat Matt's, Community Q, and Heirloom Market are the most popular and well known barbecue joints in the city and all are deservedly so.
Fox Bros' original location is near in a fairly unassuming spot near Candler Park. The sweet aroma of barbecue definitely smacks you in the face when you arrive. I have had the opportunity to visit several times and try a variety of menu items. I haven't sat inside yet which is good because the patio is great on a day with nice weather.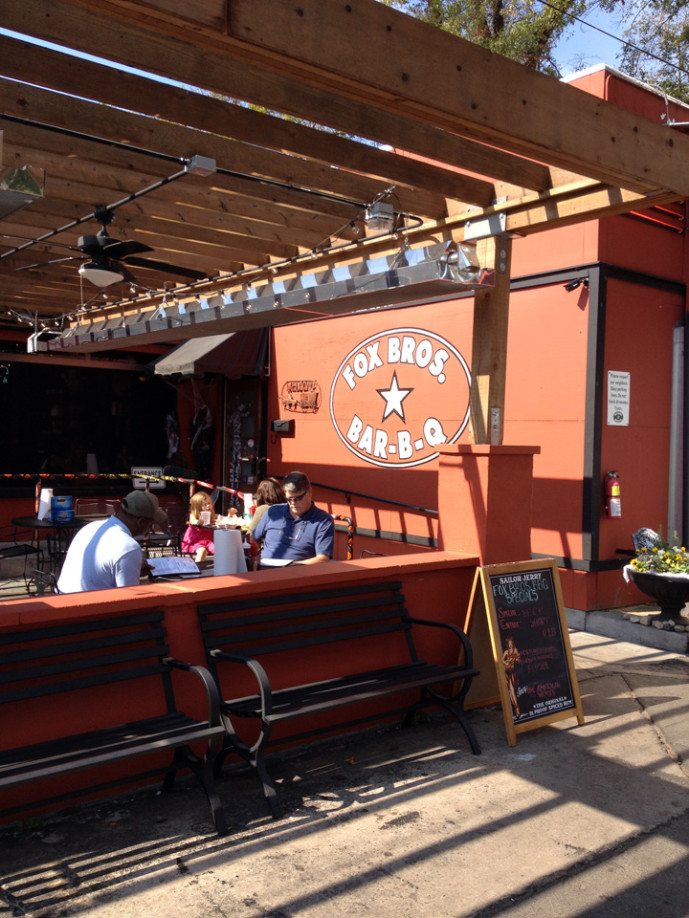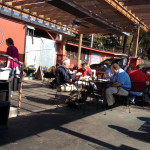 Although the brothers hail from Texas, the southern influence is definitely present with items like tater tots topped with brunswick stew or brisket chili and melted cheese exist. My personal favorite barbecue item is brisket and it appears the newer barbecue joints are shying away from including it on their menus. Luckily, Fox Brothers highlights brisket and does it really well.
Either one of the covered tots are the apps of choice due to the unique twist and gluttonous nature. For the entrees, you cannot really go wrong. The Fox Bros burger was the only item that seemed a bit over the top to me and it ended up being a salty, sloppy mess due to the number of ingredients included.
At a barbecue spot, you might as well go big or go home which means sampling the 3-meat plate, if not the 4-meat plate. I have sampled the pulled pork, ribs, and brisket and all were fabulous. I may be in the minority but I prefer my ribs dry versus wet and Fox Bros develops a great crust on the fall off the bone ribs. Every sample of brisket I have had here has been moist, fatty, and had a nice smoke ring around the edge which is a key sign to great slow cooked BBQ.
As good as the meats are, Fox Bros shines on the side orders as well. I would recommend getting a plate versus a sandwich just to get the extra side included in your meal. The mac & cheese, brunswick stew, fox-o-roni (mac & cheese IN brunswick stew), tots, onion rings, and coleslaw are all great. If you can't tell, I shy away from the green sides for whatever reason. The mac & cheese is really smooth and cheesy and I am always partial to anyone that makes mac with shells instead of elbows.
The parking lot can be a little messy with the limited amount of spots and the restaurant is always packed for good reason. Some may view Fox Bros to be on the pricier side of barbecue but for the quality you are getting, I feel like it's priced right.
For me, Fox Bros is about as good as it gets in Atlanta for barbecue and a must visit if you haven't been. I haven't tried the smoked wings or beef rib yet but those will definitely force me to return for a visit sooner than later.
Note: Plan on being in a food coma following your meal, don't plan on being productive.
Vibe: 4
Food: 4.5
Afterword: Hey this is Emily. I just couldn't let this post slide by without commenting about my catering experience with Fox Bros. Adam and I had Fox Bros cater our wedding, and it was exactly what we wanted. They brought plenty of supplies and helped get the food set up, and it all tasted great. It was an affordable, enjoyable, and perfectly southern way to feed our 100 guests and we couldn't have been happier with how it turned out.
The Brunswick stew was so well beloved that there were absolutely no leftovers of it at all, and was nearly no brisket left either. Adam and I had enough leftover pulled pork and green beans to last us for weeks, though, helping us continue to nurse our hangovers without venturing out to grocery shop too much. We definitely recommend this to people who are looking for a self-service catering provider for delicious barbecue.
Fox Bros Bar-B-Q
1238 Dekalb Avenue NE
Atlanta, GA 30307
anish
I am a 20-something white-collar worker that enjoys the great food options Atlanta has to offer. I enjoy sharing my dining experiences and opinions to anyone who will listen. I hate being the guy next to your table taking cell phone pics but understand its place as a necessary evil in the food blogging world. I love to research places beforehand (some would say to a fault). The theory is if I am going to spend time and money eating out, it is worth the 10 or so minutes to vet it out beforehand. I have a laundry list of dining places I still want to go to but for every one I check off, four probably get added. For me though, that is probably the biggest perk of living in a big city.