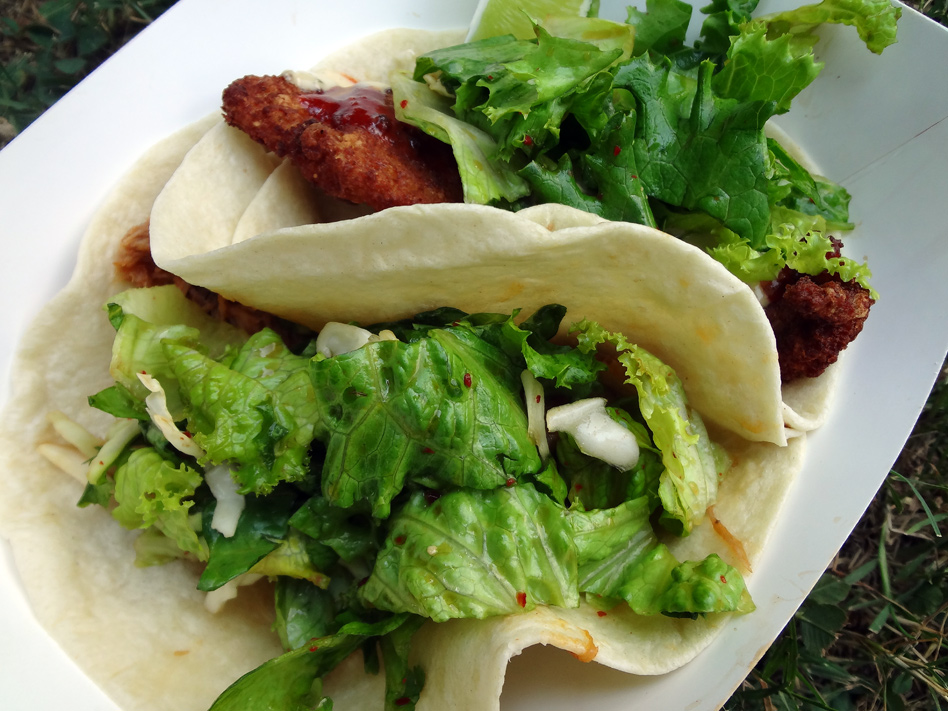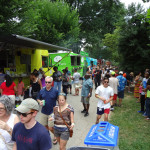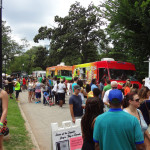 A couple of weeks back, Mary and I went to the Atlanta Street Food Festival to grab some food trucks. Sadly, we didn't get to try as many as we wanted – the lines to get in, especially for pre-paid tickets were awful, the crowds were pressing, the sun was brutal, and the heat was, well, hot!
We fatigued easily under these conditions, but we did at least get to try two food trucks to share with you.
Yumbii
I'd had a chance to try Yumbii's fries before, but hadn't reviewed them for the blog before. Yumbii offers a blend of asian, mexican and american foods. Mary and I braved the modest line to order a #2 combo: two tacos, sesame fries, and a drink. We got water because lawdy, it was hot.
The spicy pork taco was anything but spicy. The fish taco was quite good. The sesame fries were, of course, the star of the show. So sesame-oily delicious, and with the house-made chipotle ketchup…mmmmm. This is why these fries are famous!
Yumbii's good reputation is well-deserved, and I think it is a solid choice for a food truck first-timer. 3 stars.
Yumbii
Location varies
Bar Meatball
After a lot of walking back and forth in the heat, dodging the incredibly longs lines for the most popular trucks, like the Fry Guy, and generally being really indecisive, we finally settled on Bar Meatball.
We split a three meatball combo. You can mix and match the meatball flavors, so we got sausage and pepper, classic beef, and eggplant parmesan with mushroom gravy sauce ($8).
The two meat-based balls looked really pink inside, and it was a little hard to judge if that was a cooked pink or an uncooked pink, what with all the sauce. Mary and I ate them anyway though, and neither of us got sick.
The sausage and pepper meatball was delightful and pleasantly spicy. The classic beef had the spices and caraway seeds in it for that classic italian sausage taste, nice. The eggplant parmesan was the easy favorite for both Mary and I – I don't know how they make that dang thing but it was flippin' amazing. 3.5 stars.
Bar Meatball Food Truck
Location varies
A little side commentary about the Atlanta Street Food Festival: It was a widely held belief that you were supposed to be entitled to discounts at all the trucks if you had the Atlanta Street Food Festival wristband, but I found that some of the trucks were pretty restrictive about what did or didn't qualify for the discount.
The event itself definitely has some kinks to work out – the lengthy lines to get in were ridiculous. There must be a better way to handle that. Secondly, there just doesn't seem to be enough benefit to buying a ticket. With just a couple bucks off here and there for only certain things, I'm not sure we broken even on the purchase cost of our tickets. If things are all the same next year, I think I'll skip the tickets and resultant lines and walk up to the trucks instead.
emily
Nerd. Foodie. Gamer. Homecook. Perpetual planner. Gardener. Aspiring homesteader. Direct response graphic designer. I use too many damn commas.