Folk Art is a relatively new restaurant in Atlanta that opened about a year ago in the Inman Park area. It's in an area I would like to get to more often but checking traffic around that area usually makes me think otherwise. On this particular occasion, I visited for brunch on Sunday so I avoided the traffic mess off of Freedom Parkway on my way there. However, I did have to pass a bunch of people walking, running, and biking in the park while I was on my way to stuff my face with brunch food.
Folk Art is run by the people who own Wisteria which I haven't been able to try yet but have heard good things about. Here at Folk Art, the tagline they seem to pump pretty hard is "artful eats for simple folks". As with most good brunch places, our party of five had a wait of around 45 minutes or so at 11am. I wouldn't necessarily say that a long brunch line directly correlates with good food, but going to an empty brunch spot would raise an eyebrow from me so I didn't mind the wait, especially on a day where the weather was so nice.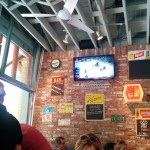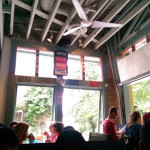 Once our table was ready, we got seated in our wood-tabled booth which I can imagine some people complaining about, it being small, uncomfortable, etc., but I thought it was fine and added to the charm. Folk Art has a couple of massive windows in the front of the restaurant that made for an open air indoor setting. They had fans going and since I went on a nice day, it wasn't an issue but I can picture it getting a bit muggy inside during the dog days of summer. Nonetheless, it does add to the atmosphere since people waiting outside almost blend in with people eating without a partition between. If you are claustrophobic, it may not be up your alley to sit along the front but I think it made for a fun, loud, and vibrant atmosphere. The majority of their seats are further in the restaurant so shouldn't be a concern for most.
The menu is laid out like you would expect your traditional menu to be; waffles, pancakes, eggs, bacon, sandwiches, and a few hearty dishes. Since I am the king of sharing because I am a fatty and always want to try multiple items, I opted to split the folk southern fried and peanut butter and banana waffle. We also decided to share the huevos rancheros amongst the table.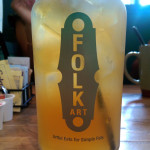 One of the few good things about waiting for a table at brunch is the longer you wait, the closer you get to to being seated around noon which means you can order alcohol. Although Atlanta has a ton of good brunch spots, one thing I feel takes away from the experience is not being able to order alcohol until 12. I am by no means looking to get hammered at brunch but having a refreshing cocktail with brunch is always a plus. In this case, I was able to order a drink, I opted for the southern hospitali-tea (tea infused gin, Grand Marnier, lemonade) and it served as the perfect drink for a sunny afternoon. It was simple, light, well-balanced, and refreshing.
On to the food, the peanut butter and banana waffle definitely wasn't the most appealing dish I have seen and the s'mores dish looked like something from a food carnival but in both of theirs defense, they tasted good. I couldn't imagine ordering one as your entire meal due to the overall sweetness but they definitely served as a good balance to one of the savory dishes.
The Folk southern fried dish was probably my favorite of the bunch. I am not a big gravy guy in general (don't shun me southerners) but this gravy was lighter than I expected. Since I already getting a dish with biscuits, gravy, and fried chicken, I figured it would only be right to top it off with over easy eggs. The chicken fittingly was the star of the dish. It was boneless which made it easy to eat but it was still really moist and breaded well. The biscuits were a little cakier than they were fluffy but that served well for the dish as it gave it a more solid base.
The huevos rancheros were another solid dish as well, the tortillas were nice and sturdy, I hate when you order nachos and it comes with flimsy chips that don't hold the ingredients well. It probably could have used a little bit more queso but that's because everything with queso is better with more queso.
Folk Art is another solid addition to the plethora of brunch spots around Atlanta in a neighborhood that I know I don't frequent as much as I would like. Definitely opt to blend a savory dish or two with a sweet one and you won't be disappointed.
Food: 4
Vibe: 4.5
Folk Art
465 North Highland Avenue Northeast
Atlanta, GA 30307
anish
I am a 20-something white-collar worker that enjoys the great food options Atlanta has to offer. I enjoy sharing my dining experiences and opinions to anyone who will listen. I hate being the guy next to your table taking cell phone pics but understand its place as a necessary evil in the food blogging world. I love to research places beforehand (some would say to a fault). The theory is if I am going to spend time and money eating out, it is worth the 10 or so minutes to vet it out beforehand. I have a laundry list of dining places I still want to go to but for every one I check off, four probably get added. For me though, that is probably the biggest perk of living in a big city.