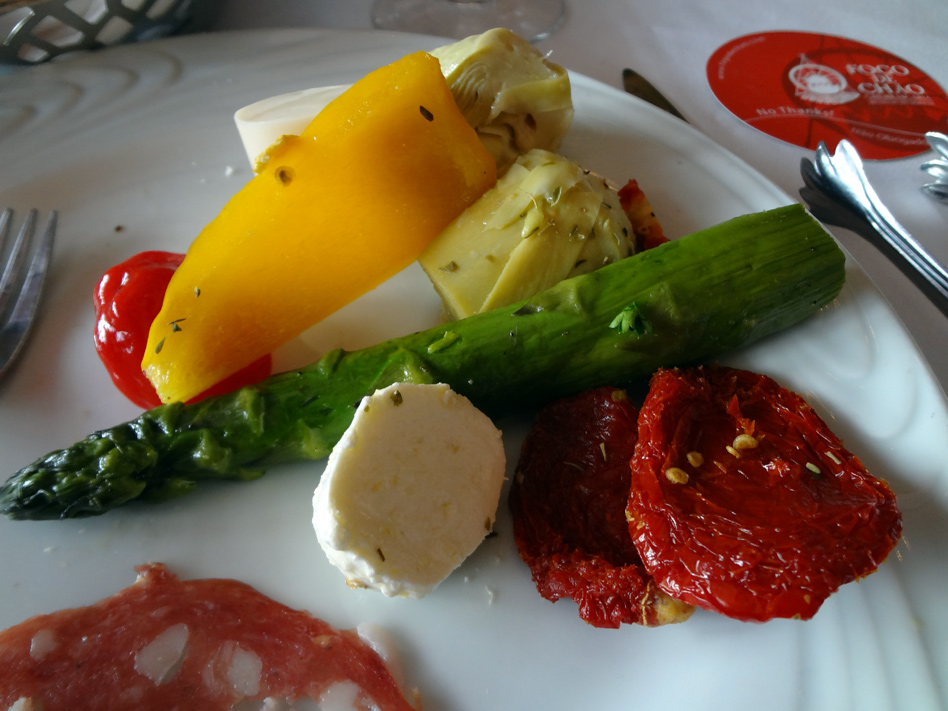 Both Adam and I recently dined at Fogo de Chao with each of our respective work groups. We'd been before, but not in several years. We both found it mostly unchanged, which is a good thing.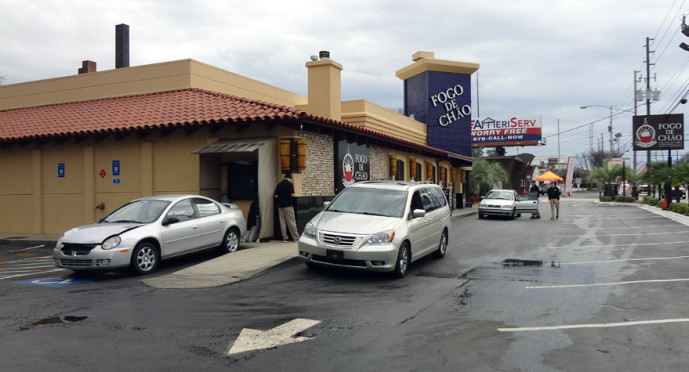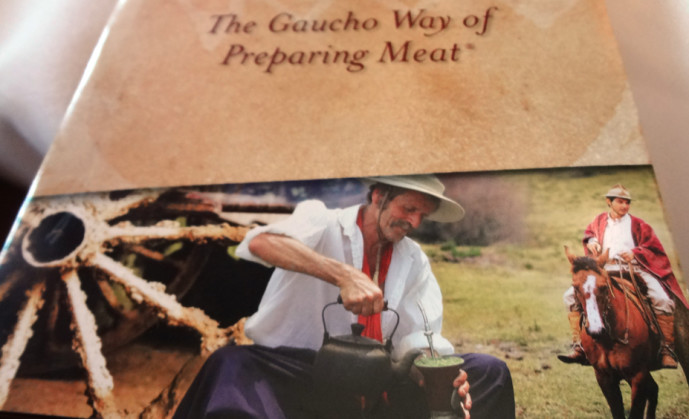 There are 24 locations in the states and another eight in Brazil, but I've not been to any Fogo other than this one, located in Buckhead since it opened its doors in 2001. This location has a large, open floor plan with rich wood trim, wine bottles, and warm colors all around.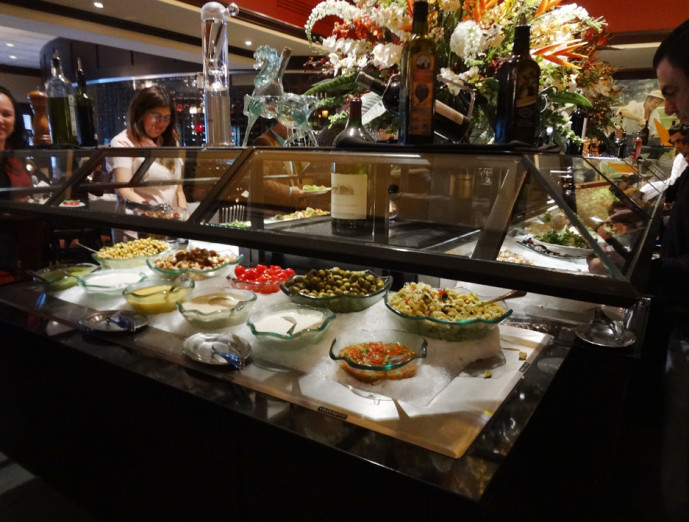 As with most churrascarias, at Fogo you are equipped with a two-sided card. When the green side is up the passadores – the guys in gaucho attire walking around with the meat – will swing by your table to offer you food. When your card is flipped to red, they'll pass you by.
There's also a large salad bar with all kind of goodies. I haven't seen a better salad bar at a churrascaria anywhere in the metro Atlanta area. There are nice cold cuts and cheeses, a typical salad bar with toppings, some potato and pasta salads, and the real good stuff (in my opinion!): olives, roasted peppers, sun-dried tomatoes, asparagus spears, artichoke hearts, and hearts of palm. Yum!
In addition to the salad bar and the passadores bringing around the various types of meat, there are also copious amounts of delicious cheesy bread called pão de queijo (I ate an entire basket myself), plantains, yuca, and mashed potatoes. You can also get a limeade drink with sweetened condensed milk.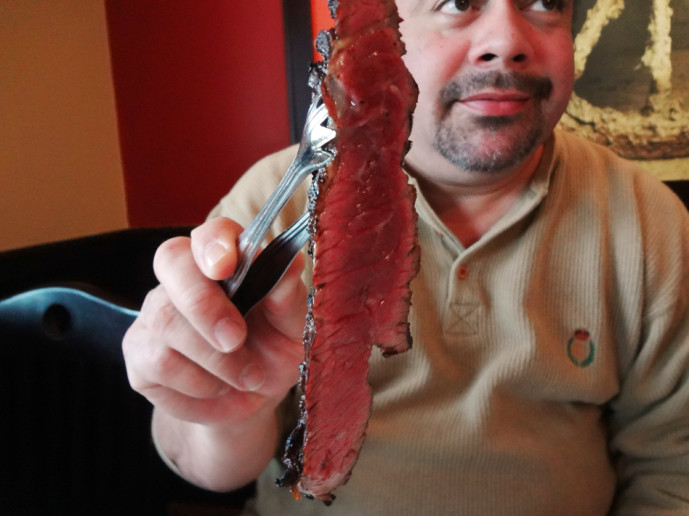 We got coffees after stuffing ourselves, and even ordered a few desserts. The one I tried was the turtle cheesecakes, and that thing was ridiculously, sinfully delicious!
Anish was with me at Fogo de Chao, since we're coworkers. He gives Fogo 3 stars, since he is not a fan of churrascarias very much, and he does his ratings based on whether or not he things it's really work it to go to a place (whereas Adam and I rate things based on how well they do within their own category).
Overall, Fogo de Chao is certainly pricier than other brazilian steakhouses (like Red and Green), and subsequently is of higher quality: in cuts, service, ambience, etc. We thought there a wider of protein types at Red and Green – I missed the chicken hearts while at Fogo. However, the cuts themselves are better than at other places. If you have the money to spend and the desire to spend it at Fogo, I don't think you'll be disappointed.
Fogo de Chao sets the standard for brazilian steakhouses in Atlanta and, I'd argue, throughout the US. Though I am anxiously awaiting the Texas de Brazil steakhouse chain to arrive in Atlanta, but more on that another time. Adam and I settled on 4.5 stars for Fogo de Chão.
Fogo de Chão
3101 Piedmont Rd NE
Atlanta, GA 30305
emily
Nerd. Foodie. Gamer. Homecook. Perpetual planner. Gardener. Aspiring homesteader. Direct response graphic designer. I use too many damn commas.