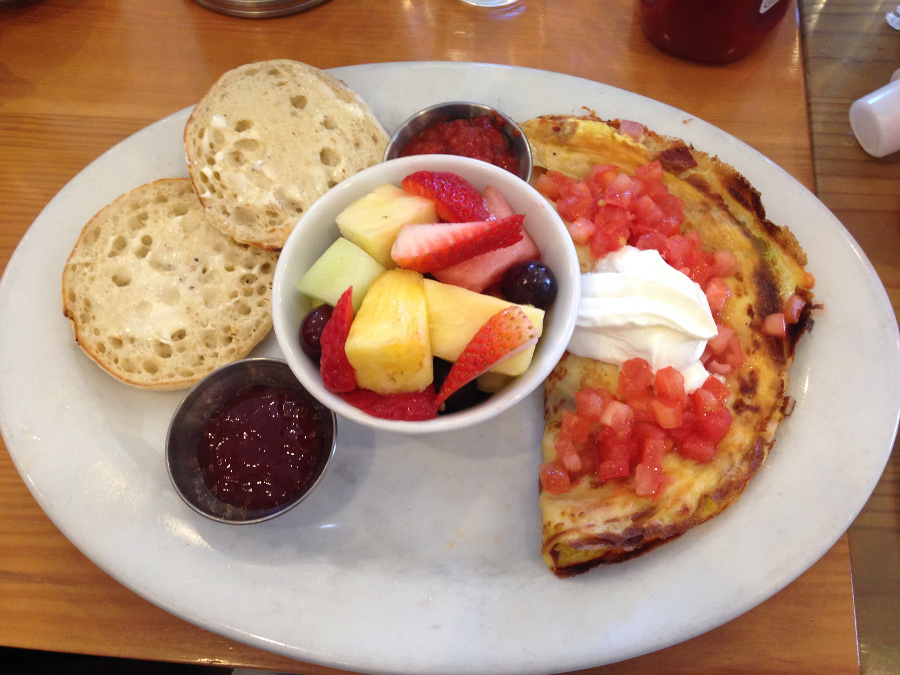 I'm not sure if it's a hallmark of getting older, but brunch has easily become my favorite meal of the day. I've always loved breakfast (coming from a food-filled northern-turned-southern family, we threw ourselves into the biscuits and gravy-filled world of southern breakfasts with gusto), so it was a great treat to be invited by Emily's food blogger group to try out First Watch, The Daytime Café in Dunwoody.
There's been a lot of competition in the chain breakfast and brunch world recently (J. Christopher's, Another Broken Egg, Egg Harbor Café), and at first I wondered if First Watch was simply "just" another in a long line of early-morning eateries. My decision? Yes and no.
First Watch is aesthetically like many brunch locations with a relaxed, diner-style feel, food-themed art included. It was bright and clean, a comfortable, if basic, spot to sit with friends or family and have a casual meal. We learned that all First Watches attempt to have windows only facing west in order to keep morning sunshine out of diners' eyes – a neat idea, I thought, for a restaurant open from 7am until 2:30pm. The coffee I found to be pretty standard and nothing to call-home about, but it was plentiful (which, in my opinion, is a sound secondary option).
The restaurant's primary goal is to provide a creative variety of both healthy and "hearty" (what a great euphemism for "unhealthy"!) foods that are made fresh every day. They have everything from granola yogurt bowls to potato hashes. It was a nice variety, with a lean towards seriously healthier options, which is something I don't see as often. Egg whites and wheat toast are one thing, but quinoa bowls and kale salads are something else entirely.
What I found particularly innovative, beyond the variety of omelettes, hashes, and granola bowls, was their rotating "Jump Start" menu and their Juice Bar. The Jump Start menu is a small, additional menu that rotates approximately 4 times a year. It gives them an opportunity to create seasonal recipes and, I'm sure, see what does and does not appeal to their customers. The Juice Bar features new and freshly-made juices which, I can only assume, also rotate. We were given the opportunity to try the Avocado Toast on the Jump Start menu, and the current flavor from their Juice Bar, "Day Glow".
The Day Glow is described as "all natural fresh juiced carrots, oranges, and lemons with a hint of organic ginger juice", and while I'm not really a person who drinks freshly-squeezed anything (except for coffee beans – does that count?) I can absolutely see the appeal of this drink. The fresh ginger is what really sells it, in my opinion, and it was a very tasty light alternative to a coffee, or even an orange juice. We were informed that they have a nice new industrial-sized juicer, so what we drank was freshly crafted that morning. How fancy!
As someone who's been integrating more and more avocado into her life, the Avocado Toast was my favorite item of the morning. You might be saying to yourself "How good can you really make toast with avocado on it?" And the answer would be "Really damn good". A truly hearty experience, they use thick slices of whole-grain toast topped with an unabashed amount of chunky avocado, seasoned well with lemons, olive oil, a dash of salt and (from what I could tell) cilantro. On a normal day the meal also comes with 2 basted eggs, which sounds delicious, but I don't think sharing slightly-runny eggs with my friendly food-bloggers would've worked well, so I appreciated the restaurant's forward thinking in leaving them out.
My main course for brunch was the Key West Crepeggs, which were eggs, avocado, turkey, cheese and bacon inside a crepe with tomatoes and sour cream on top, which I thought sounded delightful. Unfortunately, as pretty as the plate itself came out, I was fairly underwhelmed by the dish. The cheese seemed almost nonexistent, and the choice of a sweet crepe with savory filling didn't blend quite right for me. I think being spoiled by the now-defunct Crepe Revolution has given me higher crepe-based expectations. The fruit, however, was very good (not just a combination of cantaloupe and honeydew), as were the english muffins.
My only-okay meal contrasted with those around me, however, who spoke highly of their dishes. The pancakes were supposed to be delicious, and the fruit-and-granola-packed "Power Bowl" as well as the Avocado, Bacon and Tomato Hash both looked and sounded tasty as well. Others' reactions to their food has me relatively convinced that I simply chose something that wasn't as good as the other options.
So, while you'll find everything from avocado to quinoa, and from hash to granola, something you
won't
find are mimosas. I assume because FirstWatch is pretty health-conscious and family-friendly this brunchtime staple doesn't appear to be available at any of their locations. Mimosas aren't a deal-breaker for me, though, and in fact I didn't even think to ask for one until I'd already turned home.
First Watch didn't break down any huge boundaries in the world of breakfast and brunch for me, but their dedication to healthier food and the seasonal Jump Start menu (especially the amazing avocado toast) would definitely bring me back for another meal. That combined with a friendly waitstaff garners First Watch an easy 3.5 stars in my book.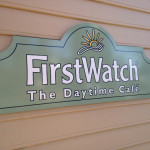 Since this was a media event, my food and drink were all complimentary. My experiences and the words shared here are my own.
First Watch
1317 Dunwoody Village Parkway
Dunwoody, GA 30338
Mary Gezo
Formerly of both n00bcakes and !Blog, the two magically become one on Spatialdrift; expect some lazy baking and serious nerditude. Also, I love semicolons.