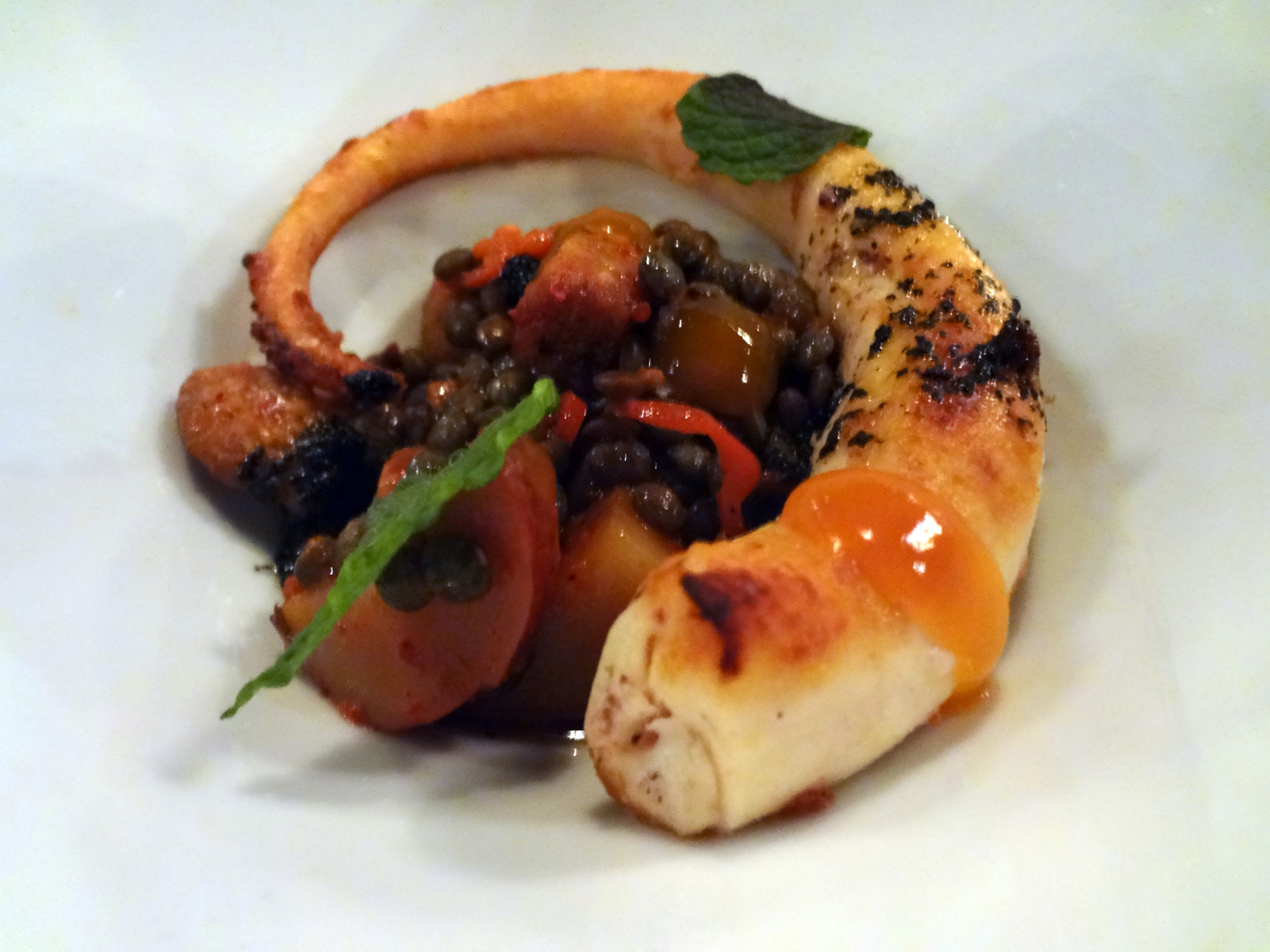 Last week, Adam and I headed out to Empire State South, a beloved "new southern" restaurant in Midtown Atlanta that has received quite a lot of press since it opened in mid-2010. The restaurant describes itself as taking "a modern approach to creating authentic Southern dishes, relying on the beautiful foods of this region."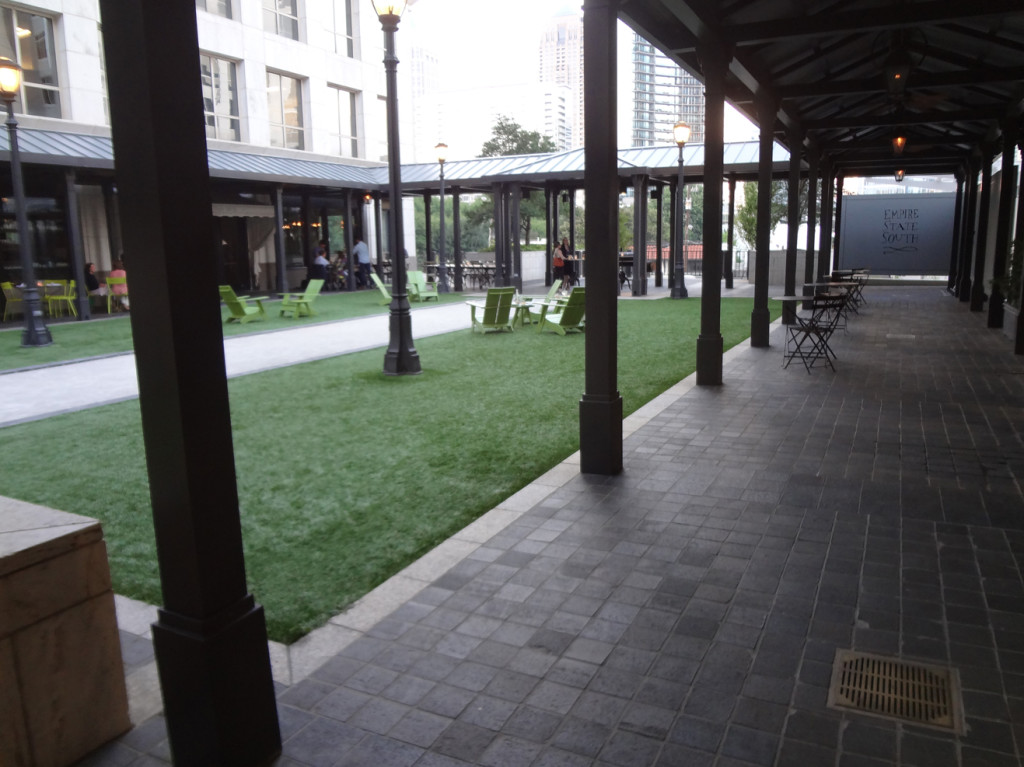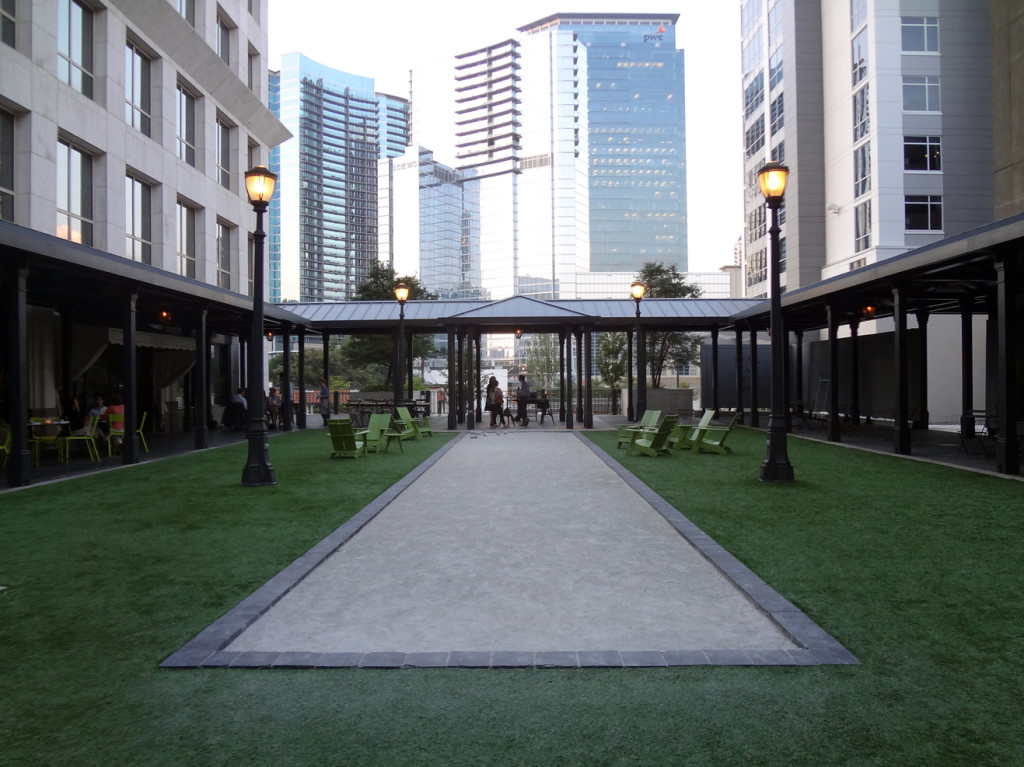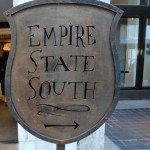 We breezed right by this sign and went into the 999 lobby, where the doorman quickly spotted us as the impoverished hobos we are and sent us packing back around outside to go in the plebian– I mean public entrance. Haha.
Actually, if anything I felt a little over-dressed in a plain but full-length dress, though I saw people dressed at all levels. The servers are probably the luckiest servers around in their jeans and very soft and comfy-looking flannels. This goes right along with the whole new southern cuisine/restaurant feel – a mix of rustic and modern elements.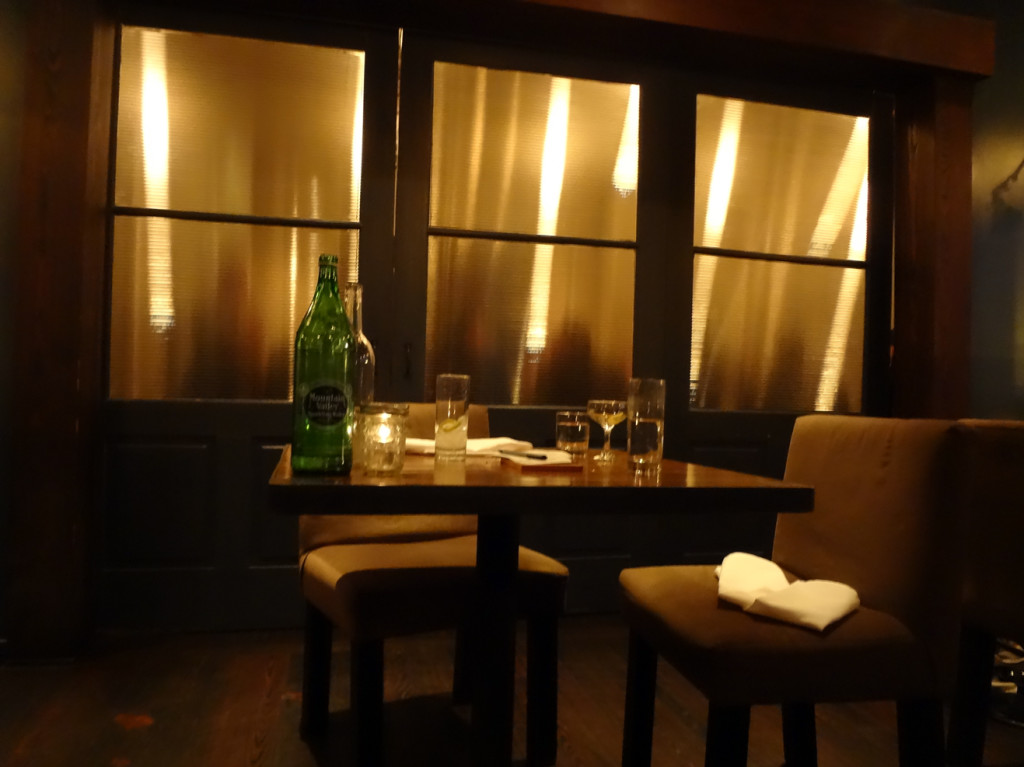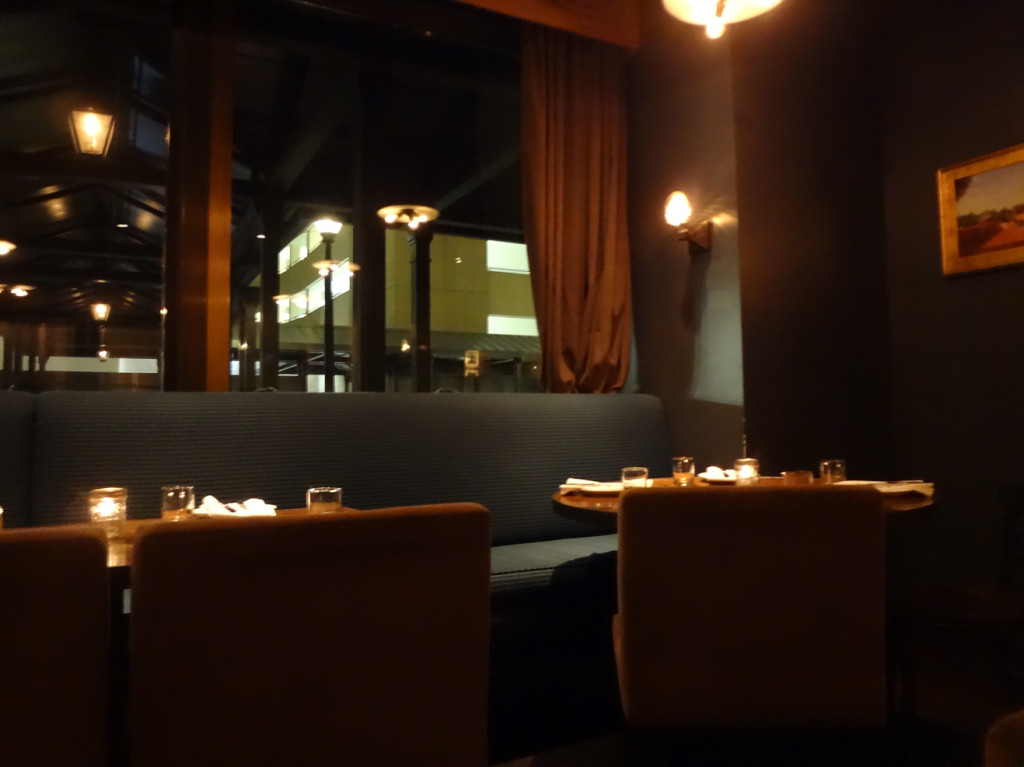 Since we were actually out celebrating our anniversary, we'd decided to go all fancy-pantsy and have the 6-course tasting menu with the wine pairing. This made looking at the nice menus irrelevant, so I didn't spend much time on it.
We started off with an extra course on the house – a big, beautiful oyster on the half-shell with some sort of strawberry-infused something on it – and some bubbly to go with it. Thanks, Empire State South!
Next was the cheese and ham with melon and compressed pears. The compressed pears were very interesting, not tasting as much like pears but having an enhanced pear texture. The cheese and ham were just fantastic and the melon complemented nicely without being distracting.
Then catfish belly tasso with pickled ramps, buttermilk, radish, and herb salad. This was light and mostly about the catfish, which was quite good. Nice Louisiana influence.
The fourth course was probably our favorite. Good goodness, this was amazing. The charred octopus was tender to perfection, and the flavors went so, so well with the spicy lentils and potatoes. If we could have had this for all our courses, we'd think Empire State South was a bit strange, but we'd still be so over the moon about this plate. You can order this straight of the menu, so clear your weekend plans and go get this dish!
The charred octopus dish is a tough act to follow, but Empire State South performed admirably. The roulade was mild and tender, the sausage was nicely flavorful, and the beets were delicious. We're the kind of people who really want to like beets but hate whatever we do with them. These were good though. This dish has definitely inspired the desire to work with rabbit in the future.
Next was out last savory dish: the ribeye with bone marrow sauce, potato macaire, trumpet mushroooms, lettuces, and hazelnuts. The ribeye was so perfect; the temperature, texture, and mix of savory and salt was just to die for. Meat-to-meat, the ribeye was definitely better than the octopus we loved so much, but plate-to-plate, the octopus still wins. The bone marrow sauce and potato macaire was very interesting and lent this plate more of a molecular gastronomy flair than the other plates (though they all had science-y elements to them). The mushrooms were a hit with both of us as well.
Then we moved into dessert with a disassembled cheesecake with pickled apricots and figs and pickled fig ice cream on top. This dish didn't look very good, since the cheesecake puree plopped on the plate doesn't convey the same sense of desire that a perfect slice of cheesecake does. But in taste, it was every bit any cheesecakes' rival – and easier and more interesting to eat as well. Adam is not the biggest fig fan, but he could appreciate the way the flavors complemented the cheesecake. We both enjoyed the pickled apricots, though I am definitely the apricot nut in the family.
After that was done, we even got some more treats in the form of little house-made chews (molasses I think) and some peanut butter and chocolate bonbons. Adam and I are both crazy for chocolate and peanut butter and these bonbons were phenomenal. They had a crunchy element in there that reminded us of Ferrero Roches. If Ferrero Roche got intimate with Reese's Peanut Butter Cups, this would be their hipster love child. I could eat dozens, but was careful to slowly savor the one I got.
You may have noticed I haven't been giving blow-by-blows of the wine pairings. This is mostly because I have a terrible memory and don't recall the exact styles, vineyards, and vintages. We did really enjoy it though. The wines came from all the major regions – France, Italy, Germany and Spain. It was clear that care had been put into the wine selection; everything went together very nicely.
The servers were able to give very informative spiels about each of the wines which helped everything to feel fancy. The wines themselves all tasted good, and some very great! We particularly enjoyed the Riesling, which was sweet without being syrupy. If you're already planning on the tasting menu, I can't see any reason not to get the customized experience of the wine pairing at a mere $40 a person – instead of trying to pick out one bottle of wine from the menu for basically the same price and hoping it goes well with your dishes.
The restaurant is in a great spot and is very warm and comfortable. The bocce ball court looks great; I'd love to come back again when I wasn't dressed to formally.
Before we went to Empire State South, I'd seen several reviews about poor, unfriendly, or unhappy servers, but we didn't experience any of that. The service was completely on point, friendly, and informative.
We definitely feel like we got our special occasion value from our experience at Empire State South. Everything was perfect. In the arena of fine dining, we've paid more money for less in the way of quality, service, etc. 5 stars.
Empire State South
999 Peachtree Street NE
Atlanta, GA 30309
emily
Nerd. Foodie. Gamer. Homecook. Perpetual planner. Gardener. Aspiring homesteader. Direct response graphic designer. I use too many damn commas.