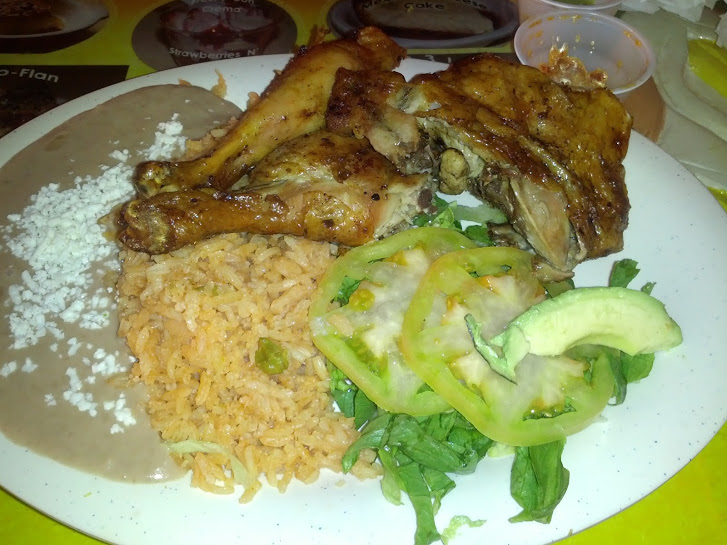 Closed or moved, not sure which…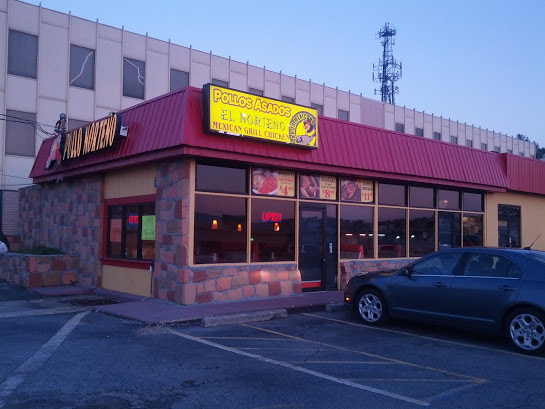 El Norteno is a very small local chain, with locations in Tucker, Norcross, and Chamblee. The Chamblee location is just barely off of Buford Highway, on Chamblee-Tucker Road. I had heard too many good/bad/intriguing things about El Norteno to not bend the (mostly nonexistent) rules and go check it out. I mean, the building says Pollos Asados and Pollo Norteno larger than it says the name of the restaurant, haha. So it must be good.
The first thing I noticed, besides Corona de Lagrimas blasting throughout the restaurant, is the furniture. The tables and chairs all seem to be hand-carved (I couldn't spot two that looked to be the same). They were bright and cheery and helped the atmosphere to be something it wouldn't have been otherwise.
Adam and I were gifted with menus, and a fairly average basket of chips with salsa. We also grabbed some salsa de aguacate and another salsa/sauce I didn't recognize from the salsa bar.
Based on a vague but naggingly familiar taste, and that sheen you see in the cellphone pic above, I am guessing that other salsa has thousand island dressing in it. It was still tasty though.
We went for a chorizo torta ($4.50) and a 1/4 roasted chicken plate (leg and thigh), that came with tortillas, lettuce, tomato, rice, and beans ($5.99).
The torta was not as good as at either Las Tortas Locas, or Taqueria Los Rayos, but it was also significantly cheaper. The roast chicken was good but I didn't think it came anywhere near Pollo d'el Rey's chicken. I put it at solidly average, but Adam argues that the food is solid, if not as good as other places, the prices are crazy-cheap, and the nice atmosphere helps. 3.25 stars isn't a thing we do here, so I guess I will have to grudgingly round up to 3.5 stars.
El Norteno
2501 Chamblee Tucker Rd.,
Atlanta, GA 30341
emily
Nerd. Foodie. Gamer. Homecook. Perpetual planner. Gardener. Aspiring homesteader. Direct response graphic designer. I use too many damn commas.