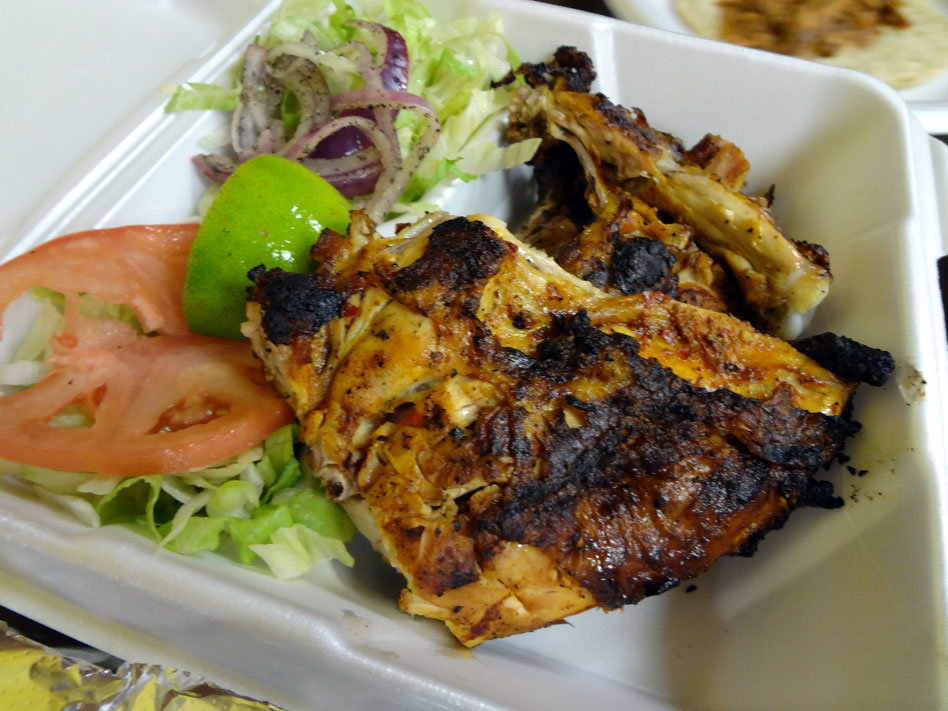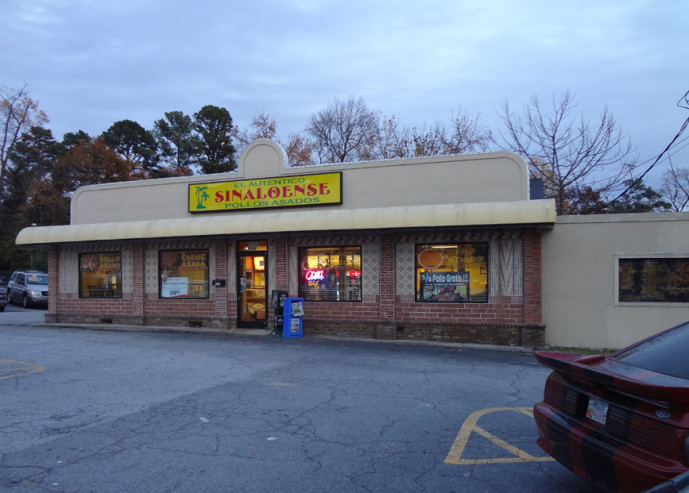 A few weeks back, Adam and I headed up Buford Highway for our weekly trip to a BuHi food joint, in this case El Autentico Sinaloense Pollos Asados. Little did I know that we would be breaking our long-standing restaurant exploration streak and not returning to it for several weeks. Holi-daze, indeed.
By the by, if you're so inclined, you can check out this television commercial for El Autentico Sinaloense Pollos Asados.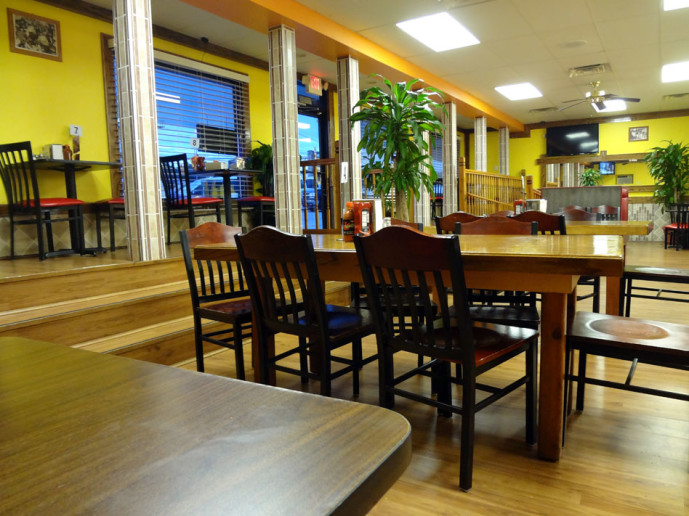 At any rate, we got to El Autentico Sinaloense Pollos Asados and got all settled in. We were feeling particularly indecisive and had a really hard time figuring out what to order. If only I had pulled a page from Anish's book and done my research, I would have seen that Grant had a ceviche tostada that he very much enjoyed, and that would have been at least been a start.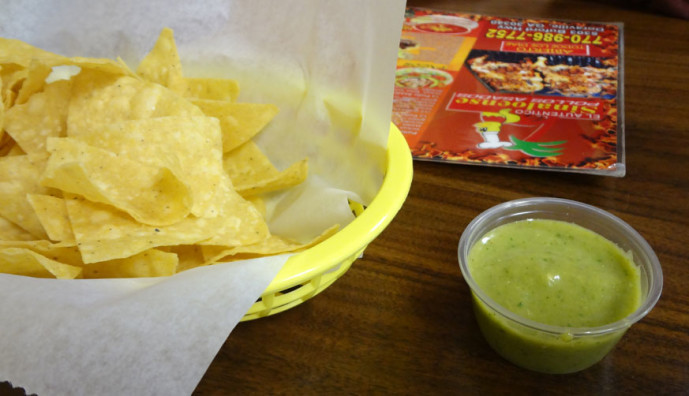 Eventually, after munch on some chips and salsa aquacate, we decided to get the 1/2 pollo asado ($14.95) – it's in the restaurant name after all – and a few tacos. Some tacos have a minimum order of two, while others you can order alone. We had to adjust our plans upon learning this and wound up with two barbecue lamb and one chicken tinga taco. They were all $1.99 each.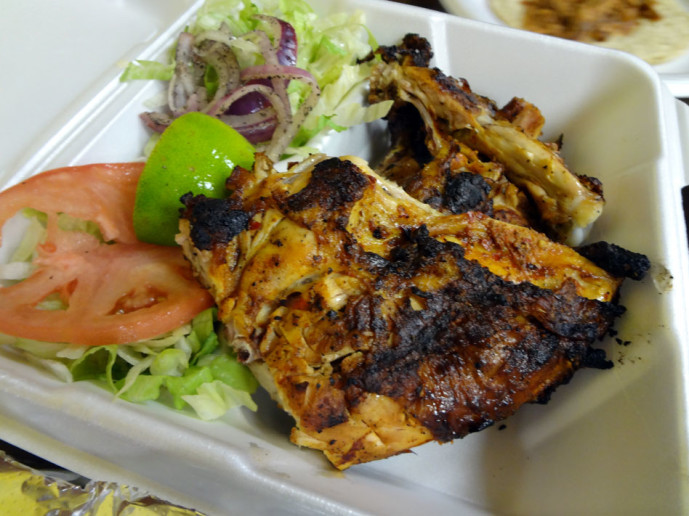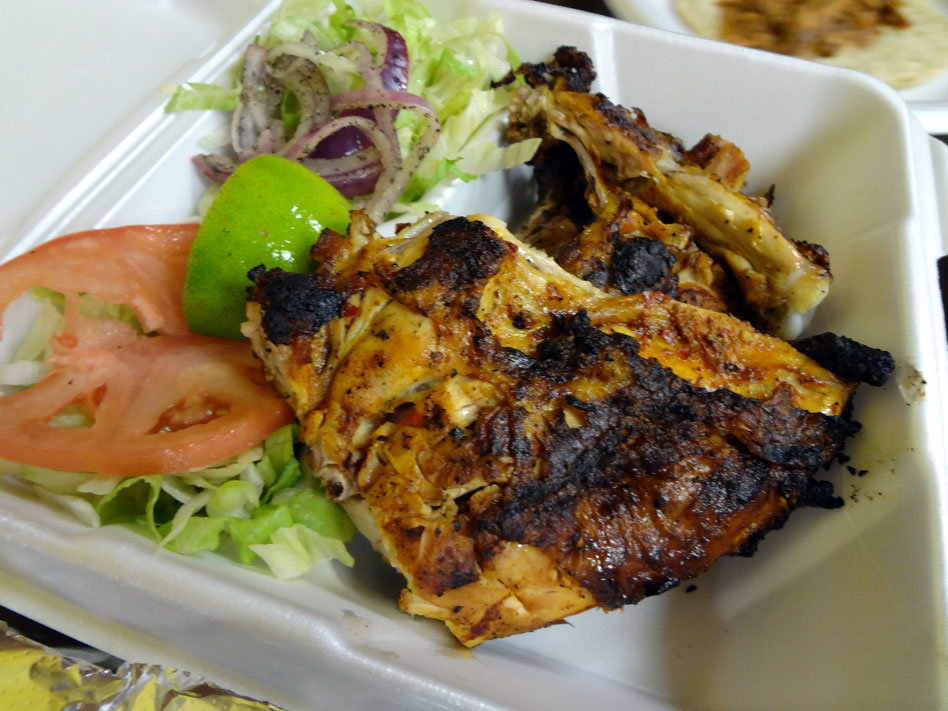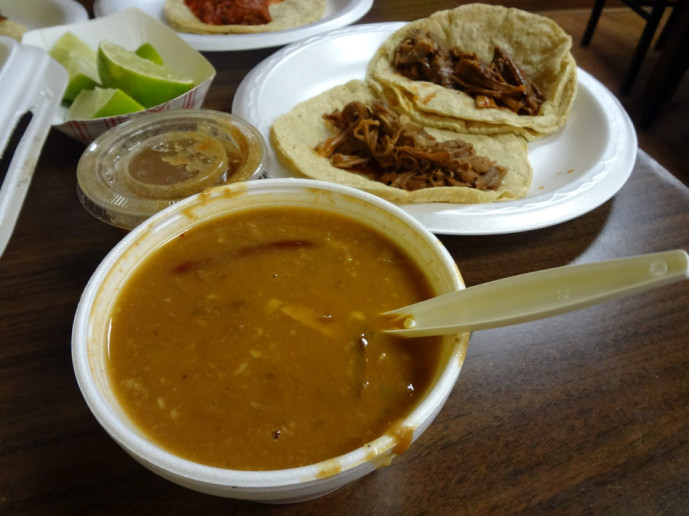 The roasted chicken was good, but not amazing, and we definitely didn't remark over it as much as we did the roasted chicken at Pollo d'el Rey – this was a little dry and really needed the lime juice from the limes provided. I'm not sure if that's a stylistic thing or a quality thing. The lettuce was alright, but the beans were pretty darn good.
The tacos were pretty good. The chicken tinga – chipotle sauce – was really interesting, and the lamb barbecue tacos were typical but tasty.
Sadly, everything we ordered came to the table in styrofoam, which was a bit sad, both for the atmosphere and the planet. Even if they have a lot of take-out traffic, they are often full of sit-down diners, too, so the thought of all that styrofoam going to every table makes the tree-hugger in me a bit sad.
Overall, our experience at El Autentico Sinaloense Pollos Asados was, sadly, just okay. We weren't very disappointed with the food (aside from the aforementioned dryness of the chicken), but we weren't very impressed either. This was unexpected, since the parking lot is always full and we'd assumed that it must be amazing. Perhaps this is another case of ordering the wrong dishes at the wrong time of day and another visit will show us the true glory of El Autentico Sinaloense Pollos Asados. 3 stars.
El Autentico Sinaloense Pollos Asados
5303 Buford Highway NE
Doraville, GA 30340
emily
Nerd. Foodie. Gamer. Homecook. Perpetual planner. Gardener. Aspiring homesteader. Direct response graphic designer. I use too many damn commas.