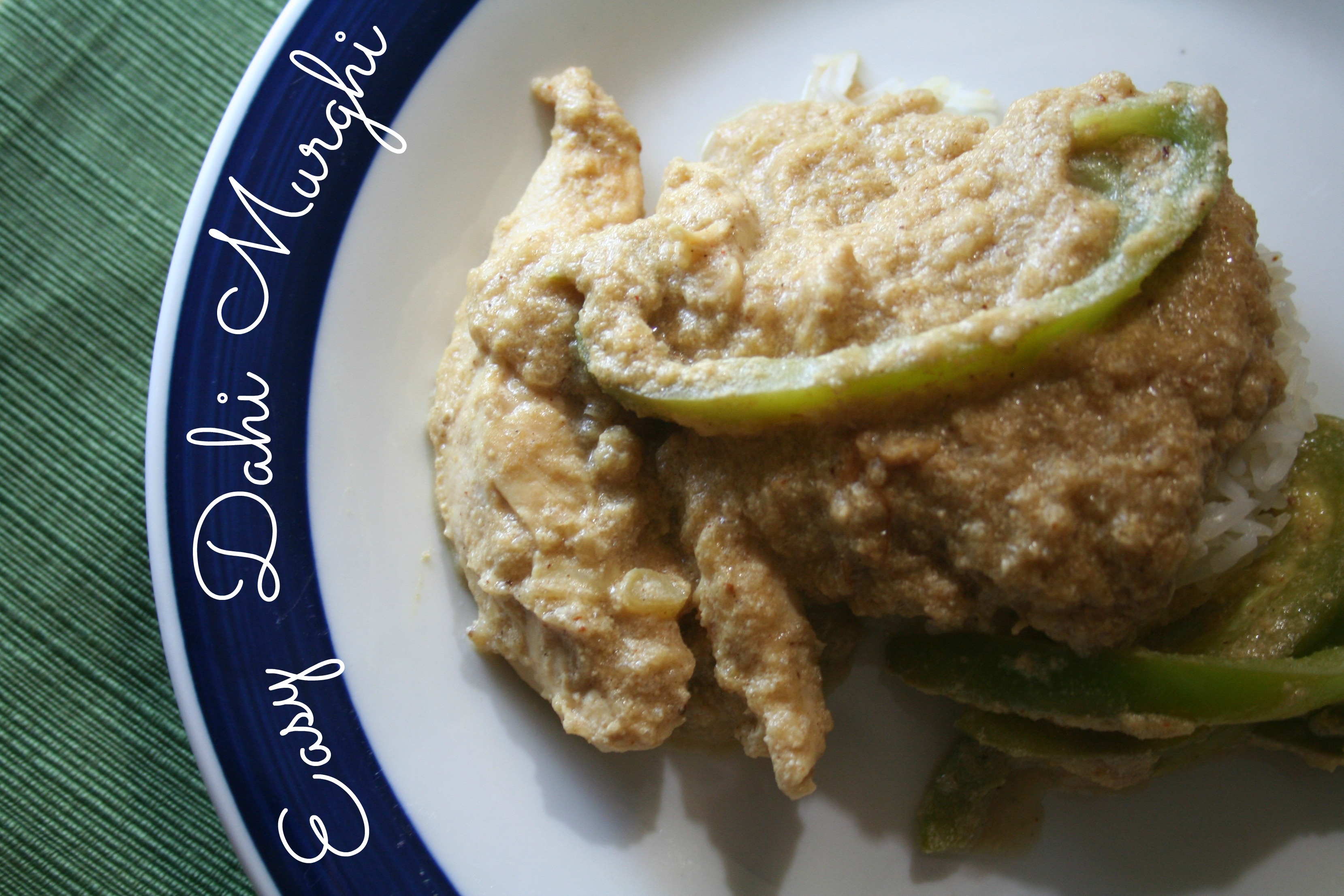 It's time for another delicious recipe from Julie Sahni's Classic Indian Cooking.  This is "Dahi Murghi", or "Fragrant Yogurt-Braised Chicken".  Unlike the Easy Murgh Masala I made previously, this is yogurt-based instead of tomato-based, so has a thicker, creamier sauce.  Again…you'll have to excuse my inability to take a halfway-decent picture.  Any suggestions on doing this better? >.>
Not unlike the last recipe from this cookbook, I went through a couple iterations before deciding on this one to share with you.  The first time I made this, I reduced all the ingredients by about two thirds, including those for the sauce.  Hypothetically this should have worked out just fine, but instead it  made the sauce really difficult to deal with; there weren't enough actual sauce ingredients to make a thick, satisfying dish.  Instead everything got kind of over-cooked, and it didn't end up sauce-like at all.
The second time around I kept the sauce ingredient ratios about the same, which meant the in the end everything came out the way (I assume) it's supposed to; there was actually enough sauce to cover the chicken correctly!
This dish has an additional step of pureeing the onions, cream-components, and spices into the gravy, so don't jump into this recipe before prepping your blender or food processor (I may or may not have done this, I admit nothing)!  While an additional step, though, it doesn't really make the process any more difficult, just a little longer.  What's great is that you can do a lot of multi-tasking while you cook, letting one thing heat up while you slice or puree something else.
For your own edification, here's what each step of the sauce-creation process looks like.  I find pictures helpful, just so you get a sense of what it should look like as you proceed:
The only 'odd' ingredient required for this recipe is ghee.  Ghee is a fancy way of saying 'clarified butter', however, so you have 2 options:
Be lazy and lucky like me and find ghee in your local grocery store.
Clarifying your own butter isn't difficult, it's just time-consuming, so I felt really lucky to have spotted a jar of ghee at my local Publix.  I was really surprised, to be honest, and I don't think I've seen it in every Publix I've been in.  If you want to check out your own local grocery, check out the butter/dairy section; I found mine (for some reason) with the margarine.
This is another slightly-sweet (thanks to the garam masala) Indian recipe, and I like it very much.  It turned out being a little too white for my taste, so while the the sauce simmered down in the final steps, I added some thinly-sliced green pepper to soften.  I felt weird eating food without any vegetables in it, I guess.  White sauce, white chicken, white rice…?  Somebody add a little green in there!
Anyway, this is another low-key and tasty recipe I've adapted from Julie Sahni's Classic Indian Cooking.  Do try it out and let me know what you think!
Easy Dahi Murghi
Adapted from Classic Indian Cooking.
Serves 4
Ingredients:
1 lb chicken (cut of your choice, I've made it with white tenders)

1 large onion
1 green pepper (optional)
1 tbsp vegetable oil
1 tbsp ghee
1 cup plain greek yogurt (I used Chobani 0% fat – make sure you're getting plain and not vanilla!)
1/4 cup sour cream (I always use reduced fat)
1/3 cup water
1 tsp garam masala
1 tbsp minced garlic
1/2 tsp red pepper
Instructions:
Heat the vegetable oil in a pan until hot.

While the vegetable oil heats, slice the onion thinly.
Fry the onion in the heated vegetable oil until brown and limp.
Add the garlic garam masala, and red pepper, and cook for around one more minute.
Add the yogurt, sour cream and water and bring to a boil
Reduce heat and over, simmering for 5 minutes.
Remove from heat and let cool.  Then puree in a food processor or blender.
Using the same pan, add and heat the ghee until hot.
Sear the chicken until it's no longer pink.
Add the pureed mixture and bring to a boil, then reduce heat to a simmer and cover for ~30 minutes.  Check frequently to make sure the sauce isn't sticking.
After 30 minutes if the mixture is still a little too thick, you can slowly add a little water or milk at a time and mix until the proper consistency is reached.  If it's to thin, uncover and increase the heat to boil off some of the liquid.  She describes the consistency as a "velvety smooth white sauce".
Finally she recommends letting it sit covered for at least an hour before serving, though I didn't have the patience to do this.  So either let sit…or CONSUME (with rice or fancy bread)!
Mary Gezo
Formerly of both n00bcakes and !Blog, the two magically become one on Spatialdrift; expect some lazy baking and serious nerditude. Also, I love semicolons.