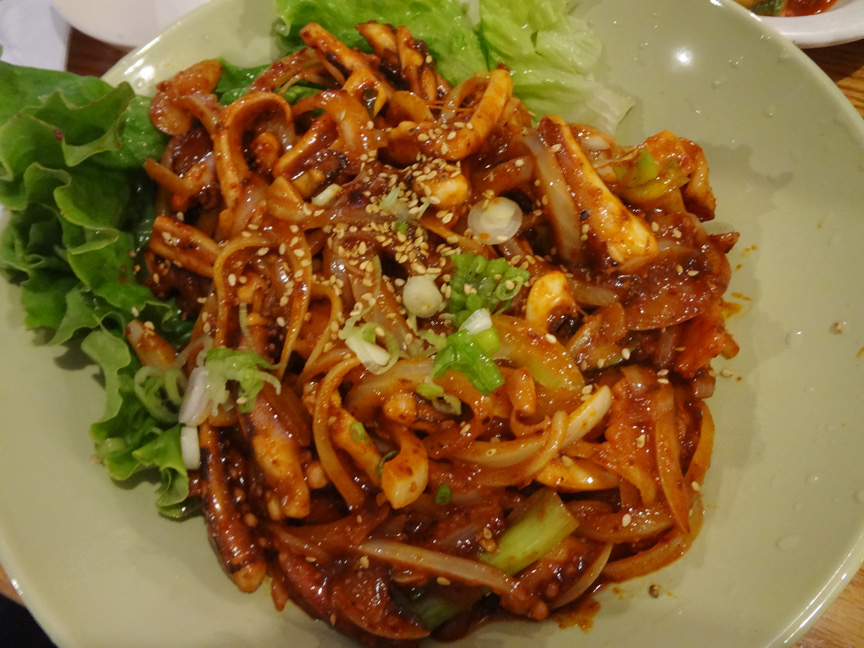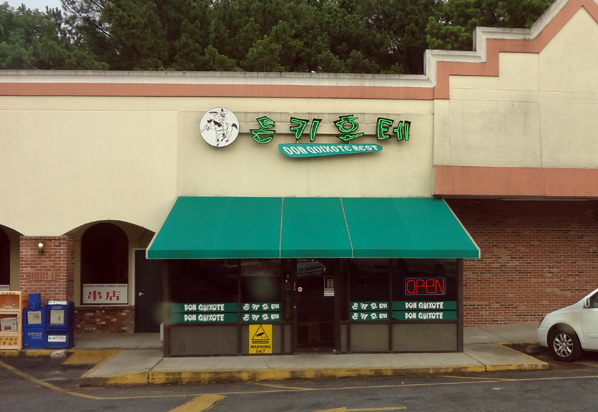 Last week, I was a little confused, and thought that our meal that evening would be our 100th on Buford Highway. It turned out it was just #99, which leaves the excitement for this week instead! Anyway I was a bit ticked to see Don Quixote, since our first post ever was Pancho's, a Mexican restaurant, and I was enjoying the idea of the symmetry.
As it turned out, Don Quixote being our 100th restaurant wasn't the only thing I was wrong about. I knew that the place would be korean-run, but with a name like Don Quixote (which I do realize was a spanish novel, not a mexican novel), I thought it might be a korean take on mexican food. But, nope, this was just a korean restaurant, straight up. Which is fine!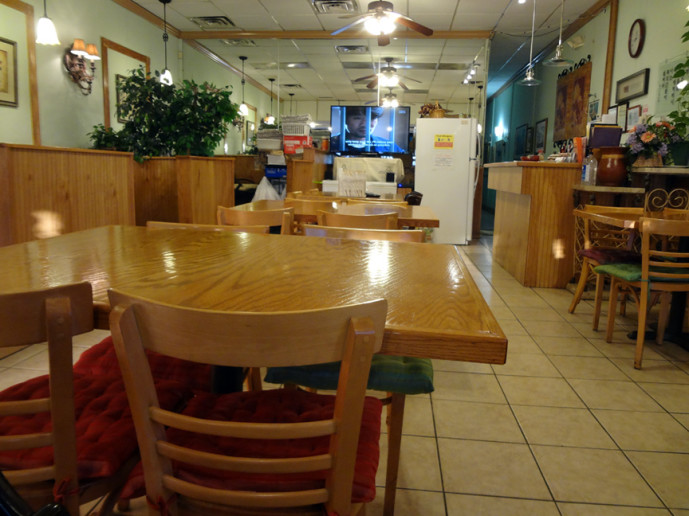 On this particular adventure, we were joined by Grant and Marie (and toddler), which is always a joy. We enjoyed great conversations, including talk about child-rearing and canning preserves, while eating our respective meals and sharing bites.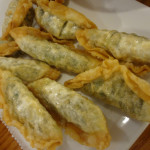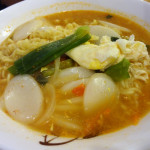 Grant and Marie ordered yaki mandu (fried dumplings), dduck ramyun (AKA dduk or tteok ramyeon – ramen with rice cake), and bulgogi dubbab (bulgogi beef over rice with vegetables). I sampled the dumplings and the dubbab. The dumpling was good, but the dubbab was just super! The texture of the bulgogi was quite amazing – more tender than any bulgogi I've had before.
Adam and I got haemlul pajeon (seafood and spring onion pancake), bulgogi bibimbap, and o-jing-uh bokkum.
The seafood pancake was different than others I've had on Buford Highway, or even at a korean restaurant in Hong Kong. Little to no batter, and much more green onion. It's probably healthier for not having so much batter, but I am not sure if it's more authentic than what I've had, or regional, or stylistic on the part of the chef. I'm sure it was my favorite (the batter's grains convert to sugar after all), but it was still interesting and tasty and it held together well.
I'll let Wikipedia explain bibimbap, for those of you unfamiliar with the dish: "Bibimbap (비빔밥, Korean pronunciation: [pibimbap], sometimes anglicized bi bim bap or bi bim bop) is a signature Korean dish. The word literally means "mixed rice". Bibimbap is served as a bowl of warm white rice topped with namul (sautéed and seasoned vegetables) and gochujang (chili pepper paste), soy sauce, or doenjang. A raw or fried egg and sliced meat (usually beef) are common additions. The ingredients are stirred together thoroughly just before eating. It is best served hot."
As I mentioned with Grant's dish, the bulgogi is quite tender here at Don Quixote. I don't know what they do differently, but I like it! The bulgogi came out with a nice spicy sauce that united all the ingredients together in one very enjoyable dish.
O-jing-uh bokkum, or ojingeo Bokkeum, is korean spicy stir-fried squid. Essentially the same dish that we ordered at Kang Nam and Korea Garden, except those times the protein of choice was stir-fried octopus. Don Quixote had octopus too, but we just weren't in the mood. It was delicious, but not spicy.
Nobody likes when anyone pulls the race card, but since this is a korean restaurant for koreans, I would rather assume that we were given the "white" version of the dish without being consulted, than assume that the dish is usually that weak and unspicy. When we were warned that the dish was spicy we took out typical tack, nodding enthusiastically and smiling to try to indicate that spicy food was the desired result of our order, but in this case, as is often the case, it was to no avail. Disappointing, but oh well – people do think they are helping us, after all. Life goes on and I do love squid.
For expecting a strange and/or bad korean-mexican restaurant, we were pleasantly surprised by Don Quixote. The space is surprisingly small given the scale of the larger building it is housed in, but it wasn't cramped or uncomfortable. Our service was friendly and explanatory. Overall, the food was average-to-better-than-average. The bulgogi's texture, as mentioned several times by now, was exceptional (though So Kong Dong is still my fave for spice/taste). This is a simple, korean mom-n-pop hole in the wall – and this isn't a bad thing. 3.5 stars.
Don Quixote Restaurant & Cafe
5805 Buford Highway NE
Doraville, GA 30340
emily
Nerd. Foodie. Gamer. Homecook. Perpetual planner. Gardener. Aspiring homesteader. Direct response graphic designer. I use too many damn commas.