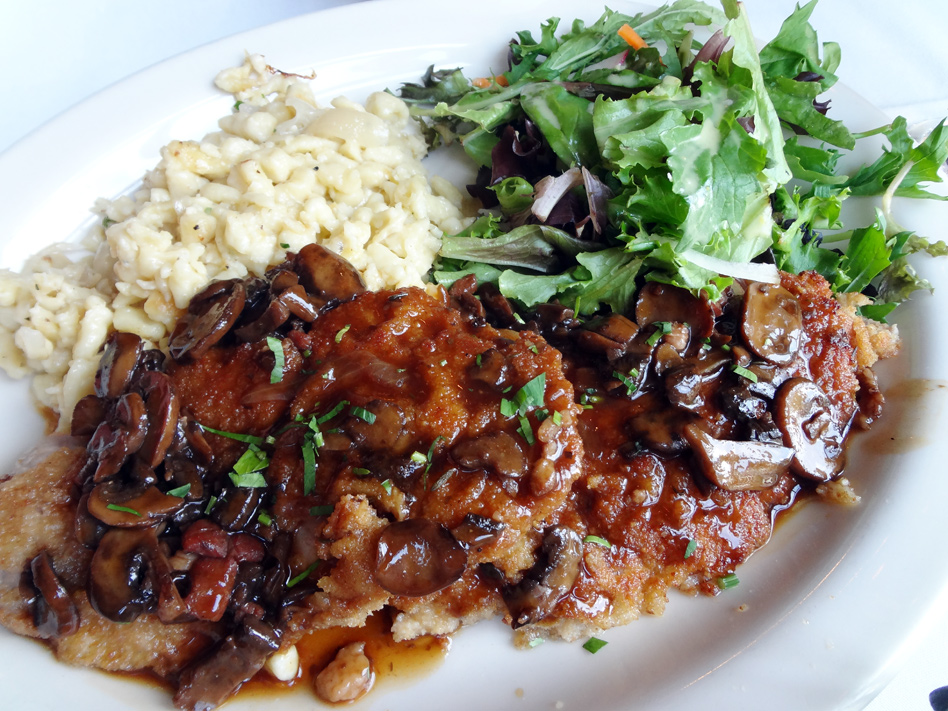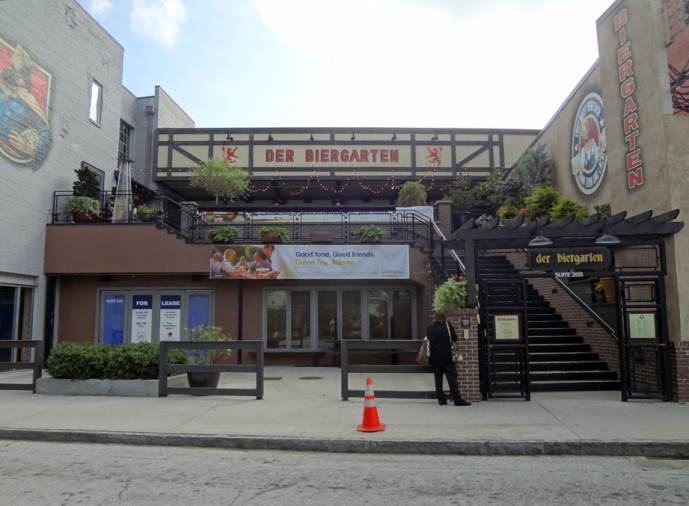 A little while back, our dear friend and best man Vasilios was in town, so we swung by the new location of Cafe Intermezzo to visit with some old friends and then moseyed over to Der Biergarten to take in some fine german cuisine.
I'd heard a lot about Der Biergarten in the nearly four years since it opened, but had never made it downtown to give it a go. The Dinner And A Cause card provided an excellent excuse, however, so there we found ourselves.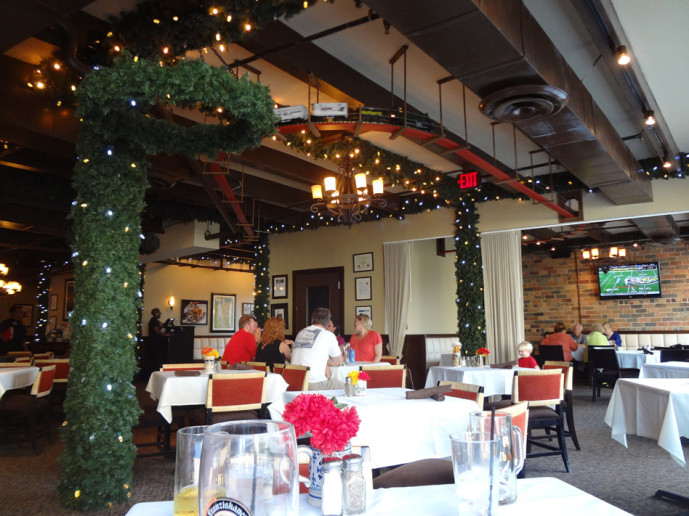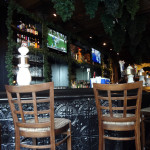 For some reason, the interior of Der Biergarten is permanently in Christmas mode. Fake green garlands and trees abound. I suppose it's an attempt at some sort of Black Forest feel, but it's really kind of strange. Makes the place seem less upscale, in my opinion.
Anyway, our server was super-friendly, and we very quickly got our appetizer and first round of beers ordered. We got a large pretzel ($9), with the obatzda up-sell for $3. A nice trio of kickin' mustards was provided for this, and frankly, I preferred the mustard to the cheese dip, which surprised me. Adam liked the obatzda more than I did, though he still prefers the mustards as well.
For our first round, I ordered Kostritzer Schwarzbier ($6), Adam ordered a Franzkaner Dunkel Weiss ($6), and Vasilios ordered a Krombacher Dunkel ($6). When the beers arrived, I was served a lighter beer than Adam, which raised my suspicions, since I knew that I had ordered a black lager. A quick inspection of the glasses proved that our beers were indeed switched. The funny part was that we each preferred the beers we were mistakenly served over the ones we ordered. So we left it that way.
Our entrees: Adam and I ordered a Jagerschnitzel ($20) and a Rinderrouladen ($17) to share, and Vasilios got the Weiner Schnitzel ($23).
I simply could not believe how much food I got with my jagerschnitzel. The half that I ate before passing my plate to Adam could absolutely be a complete portion on its own.
Adam's Rinderrouladen was very picturesque and interesting. It looked really small on the plate, but the amount of meat that was rolled up was actually quite a lot. Add in the mashed potatoes and the red cabbage, and it is definitely a hearty meal. I couldn't quite finish my half. It was tasty, but we both preferred the jagerschnitzel.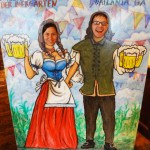 Vasilios definitely seemed to enjoy his wiener schniztel. He and Adam went on to have a second round of brews, while I nursed the dunkel weiss.
We snapped a quick photo with a stand-in cutout, and wandered over to the game room, which adjoins an entire second beer hall with bar. The second area has a much more authentic feel than the area we ate in. We had a fun time in the game room playing table shuffleboard.
I hate to harp on the decor, but Adam and I both felt that the Christmas-y feel really dragged the experience down and lent a less-than authentic feel (not that we would know, we've never been to Germany). The second space that we glimpsed from the game room just seemed more tasteful.
We're neutral about the train that runs through the place, though I am sure kids adore it. Having said that, though, I'm not really sure why you would bring your kids to a beer hall in the first place. It just doesn't seem like a good fit.
We had a good time at Der Beirgarten. It wasn't quite what I expected, but it was still nice. Our service was very good and very friendly. Since there is so little german/eastern european food in Atlanta, we feel lucky to have Der Beirgarten at all. There may be some initial sticker-shock when looking at the menu, but the beer prices are quite reasonable, and the sheer volume of food provided is such that everything seems well worth the price. 3.5 stars.
Der Biergarten
300 Marietta Street
Atlanta, GA 30313
emily
Nerd. Foodie. Gamer. Homecook. Perpetual planner. Gardener. Aspiring homesteader. Direct response graphic designer. I use too many damn commas.