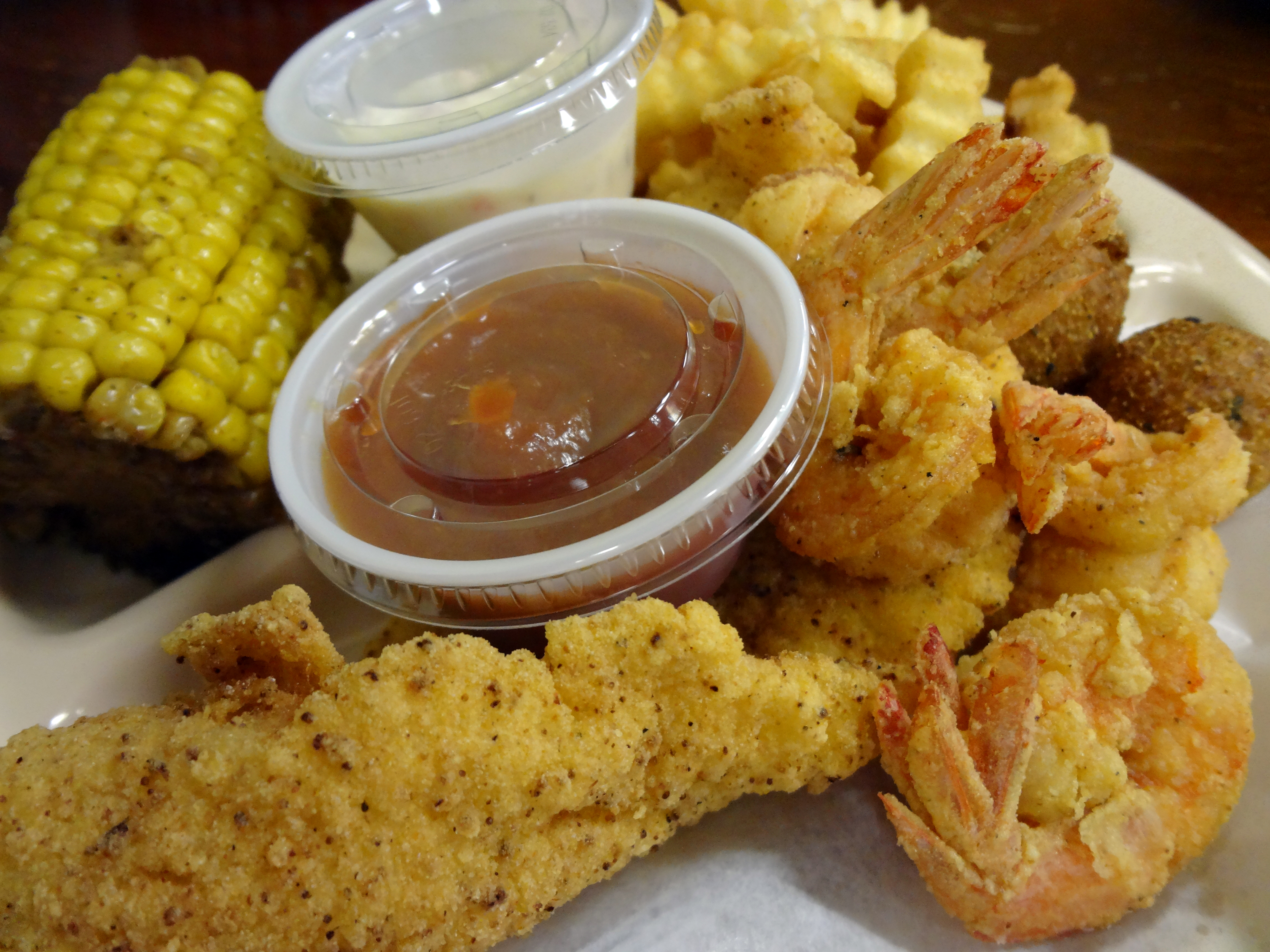 This is one of the rare spots that both Emily and Anish have reviewed separately. To see Anish's review, go here.
This week's BuHi brought us to Crawfish Shack Seafood, the last eatery on BuHi south of the Chamblee, situated in a weird little complex of buildings inexplicably called the Cancun Plaza. (I saw no latin connection; this is just like the Aloha Plaza all over again!) Also, we have heard some good things about this joint, so we've been looking forward to it.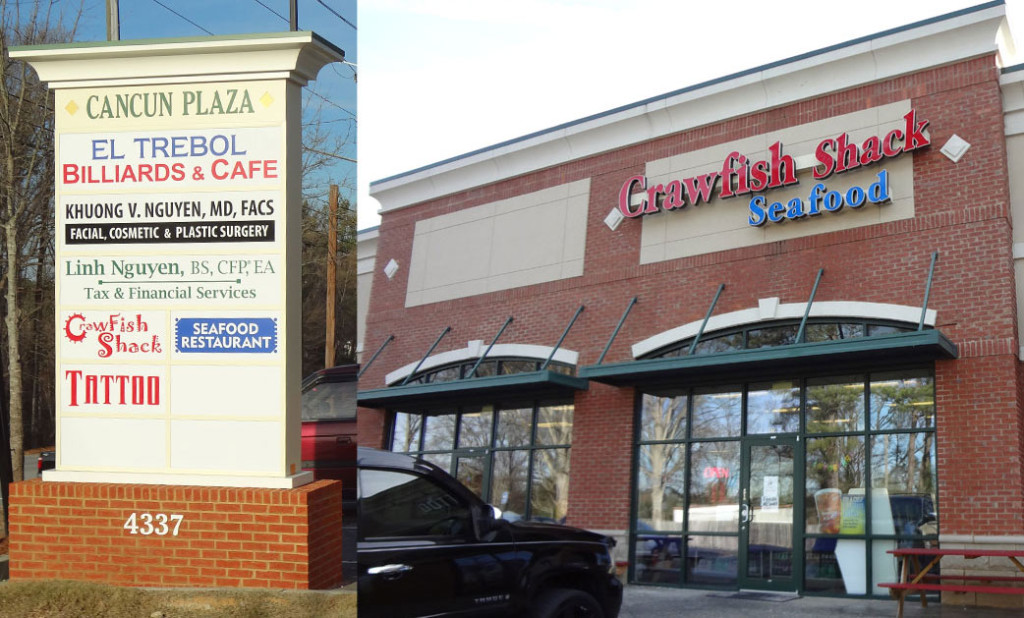 This is an order and sit kind of place, that also sells familiar Louisiana brands like Cafe du Monde coffee, as well as fresh seafood at market prices. Most of the seating is family-style, and the decor is beach-themed.
The front door proclaimed "Egg rolls are back!" and thusly, it was necessary that we order an egg roll ($1.50). It came with sweet and sour sauce and was, well, very much an egg roll. I guess I was expecting some kind of cajun twist. If there was one, it was either too subtle for me, or I was too dense for it.
Adam and I weren't sure what to order, so we picked two different types of meals and split them. We got the fried crawfish po-boy ($9.99) and the Meal #3: Grouper, four shrimp, two hush puppies, and two side items of our choice – cajun seasoned fries and cajun corn on the cob ($9.99).
The po-boy, in case you don't know, is a Louisianan submarine sandwich that here at the Crawfish Shack is served on Amoroso bread with remoulade, tomato, and pickle. We both really enjoyed the po-boy. It was large, cut in half for easier eating, and while we found it completely impossible to prevent the little chunks of catfish from falling out, the taste was worth the trouble.
Meal #3 is a combination plate with boiled, steamed or fried grouper and shrimp. If you select fried, as we did, you can choose between light batter (corn flour) or heavy batter (cornmeal). While not paleo, it was nice to see gluten-free meals on the menu. We went for the heavy batter, because we're terrible people who hate ourselves. Oh well, this is why we exercise. The cajun fries were not as good as the ones from the Georgia Tech standby, Wingnuts. However, the cajun corn was quite delicious, and had a wonderful slow heat.
We went back up to the counter after our meal to snag a fresh sugar cane drink and a small basket of beignets, but to my dismay, the restaurant was out of both! Infinite sadness. (Untrue, I consoled myself with a honey milk boba tea from Quickly.) But I definitely plan to come back to try them, and if I do I'll be sure to mention it!
All in all, we really enjoyed Crawfish Shack Seafood. There really aren't a lot of Louisiana-style fish joints around, so compared to something like Long John Silver's, the Shack is a clear win. Adam noted that the menu was full of little up-charge items, and stated that he wasn't sure if he was being nickel-and-dimed, or if, as a small independent restaurant, they were just operating on tight margins. Either way, it's definitely not the cheapest joint on Buford Highway, but I suppose seafood is never cheap this far inland. 3.5 stars.
Crawfish Shack Seafood
4337 Buford Hwy NE, #170
Atlanta, GA 30341
emily
Nerd. Foodie. Gamer. Homecook. Perpetual planner. Gardener. Aspiring homesteader. Direct response graphic designer. I use too many damn commas.