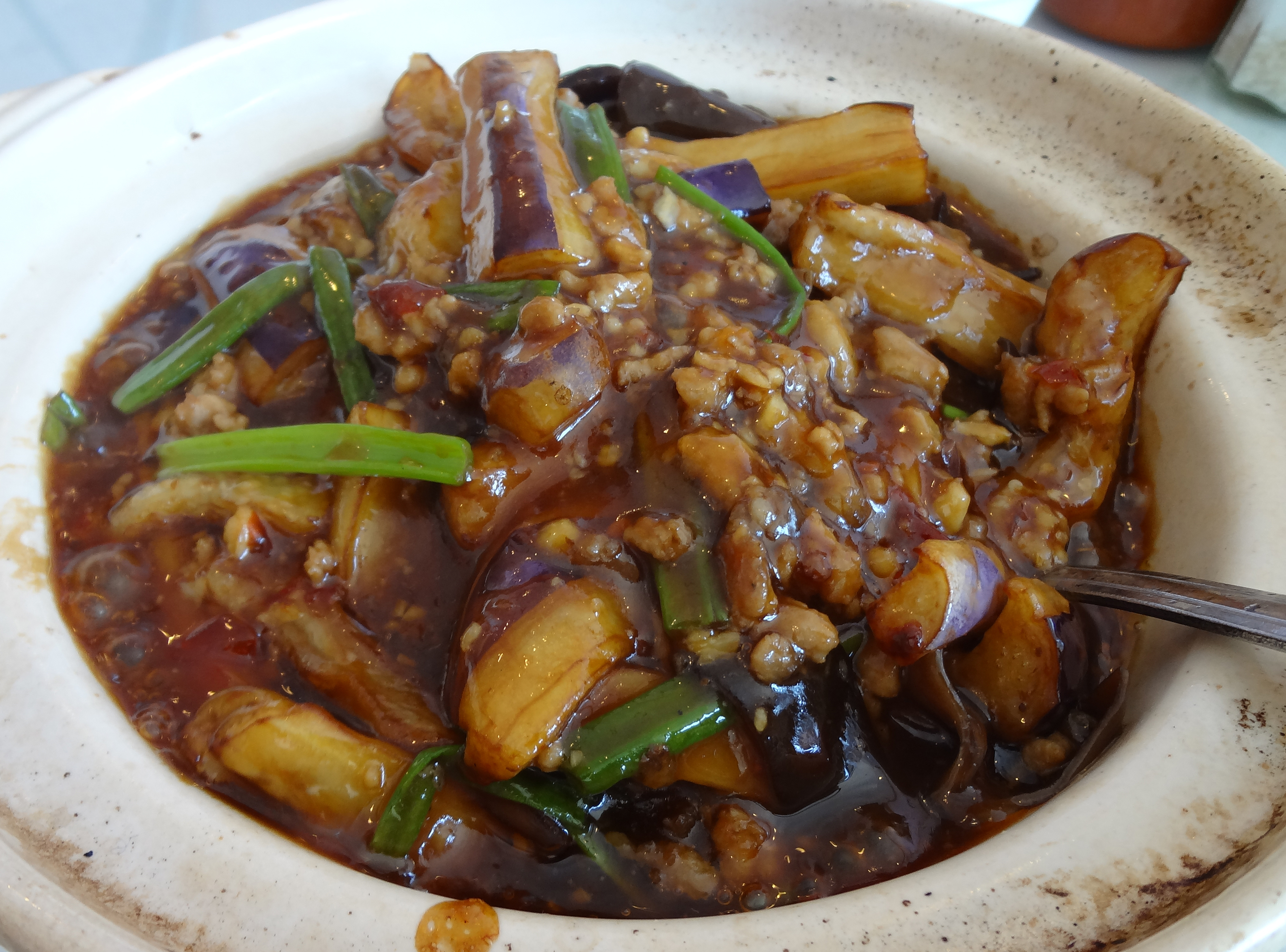 As of late May 2014, Golden BBQ opened in this space.
Earlier in the year, when we should have been reviewing Coco's Chinese Restaurant, it was closed, either due to a change of management and chef, or just a change of chef, I'm honestly not sure which. In either case, Coco's has been closed for several weeks, and has only just recently reopened. So in we went!
The inside is pretty run of the mill – kinda pink, kinda red, drop ceiling, etc. Nice, and clean though, and the tiled checkout station was a nice touch. We were seated quickly, given menus, and served ice water and tea. Then we were informed that Coco's "also has chinese food like Beef and Broccoli and General Tso's Chicken." This was a heart-warming but unnecessary show of concern for two young white folks in an authentic chinese eatery. We love getting some culture, and we're not afraid of spice.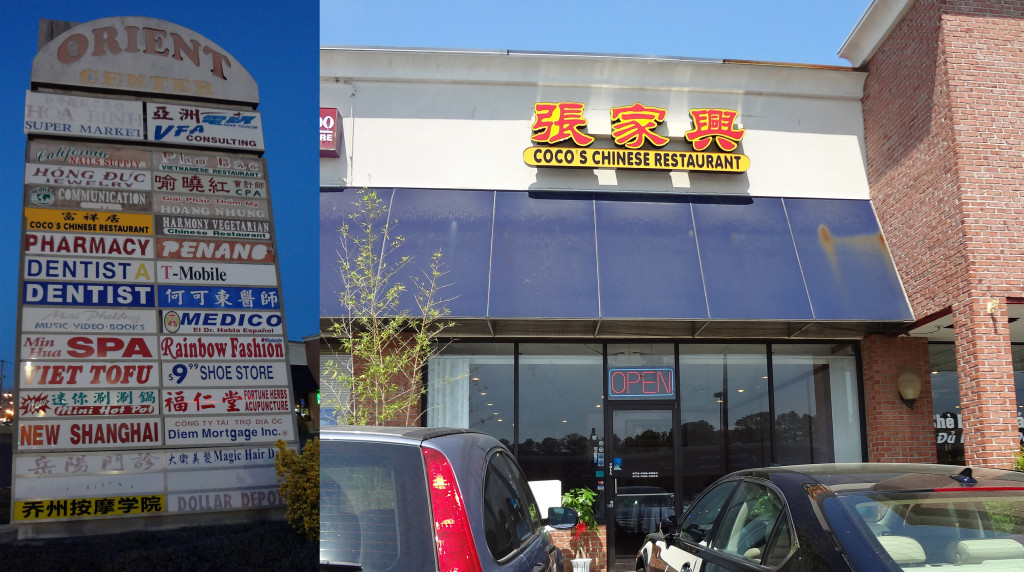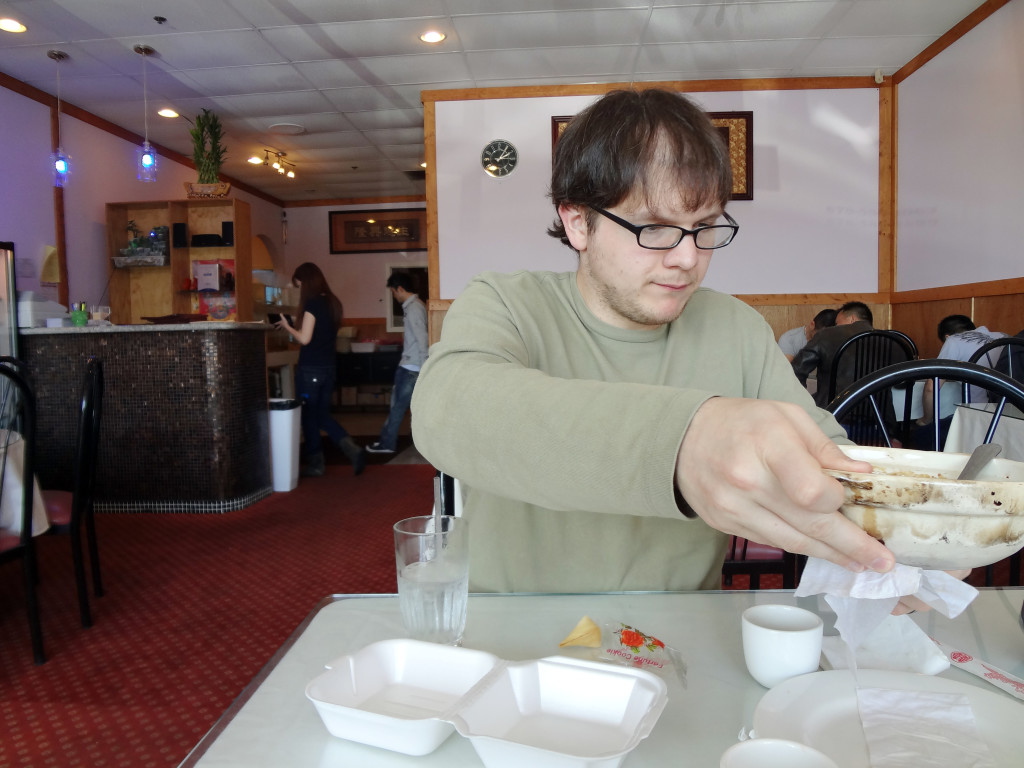 I did say "authentic chinese," not because I have ever been to China or really have much of an idea of what the common chinese citizen eats, but because this menu is definitely not like your common takeout chinese restaurant menu. It features a lot of unusual/presumably ethnic ingredients like sea sponge, frog legs, intestines, etc. In fact, Coco's menu is the closest both in variety and authenticity to Chef Liu's that we have seen on Buford Highway so far.
To start, we ordered a bowl of hot and sour soup ($1.95) and an order of dumplings ($4.95), hoping for pork soup dumplings, also known as Shanghai dumplings. Unfortunately, they weren't pork soup dumplings, but rather gyoza (AKA the "potsticker" dumplings that you can get in the frozen section of the grocery store). Adam and I were divided as to whether or not these were frozen – they seemed fresher and less compacted than the frozen sort to me, but Adam thought it was possible that they were frozen, and of course, it is plausible. Either way, I don't think they were special enough to warrant ordering again.
Also, I guess we made our wait staff uncomfortable by only ordering only one bowl of soup, because we were comped a second bowl. Interesting, but not unwelcome. The hubs and I both enjoyed the soup – it is thick and flavorful, just not a spicy broth with the ingredients bobbing around, like you get in most places. The extra bowl didn't hurt, either.
We also ordered a spicy pork and eggplant casserole ($8.45) and a shredded pork with stir-fried rice noodles dish ($7.75). The eggplant dish was good, but not amazing, and it definitely was not spicy.
The shredded pork dish was amazing. I adored it, and we both blew through it. The noodles were light an airy, and the vegetables were fresh tasting, and not overcooked. Same for the pork (though I can't help but wonder if using the word "shredded" was a mistranslation). The overall impression the dish leaves me with is a lighter, fresher version of the soul-soothing chinese takeout comfort foods we all indulge in from time to time. If Coco's delivered, my waistline would be in serious trouble from ordering this dish so much!
We think that since the dumplings were a miss, and the casserole was just okay, in comparison to the really great hot and sour soup and shredded pork with stir-fried rice noodles, Coco's Chinese Restaurant needs more investigation. But we're keeping it positive, because the service was great, atmosphere nice enough, and the prices were very satisfactory. Speaking of prices, we saw an all-chinese menu out front with $4.95 lunch specials. What a deal! We're giving Coco's 4 stars – we look forward to going back soon to see if they continue to live up to this rating.
Coco's Chinese Restaurant*
4897 Buford Hwy
Chamblee, GA 30340
*Note that at the time of this writing, the Coco's website has not been changed to reflect the new menu.
emily
Nerd. Foodie. Gamer. Homecook. Perpetual planner. Gardener. Aspiring homesteader. Direct response graphic designer. I use too many damn commas.