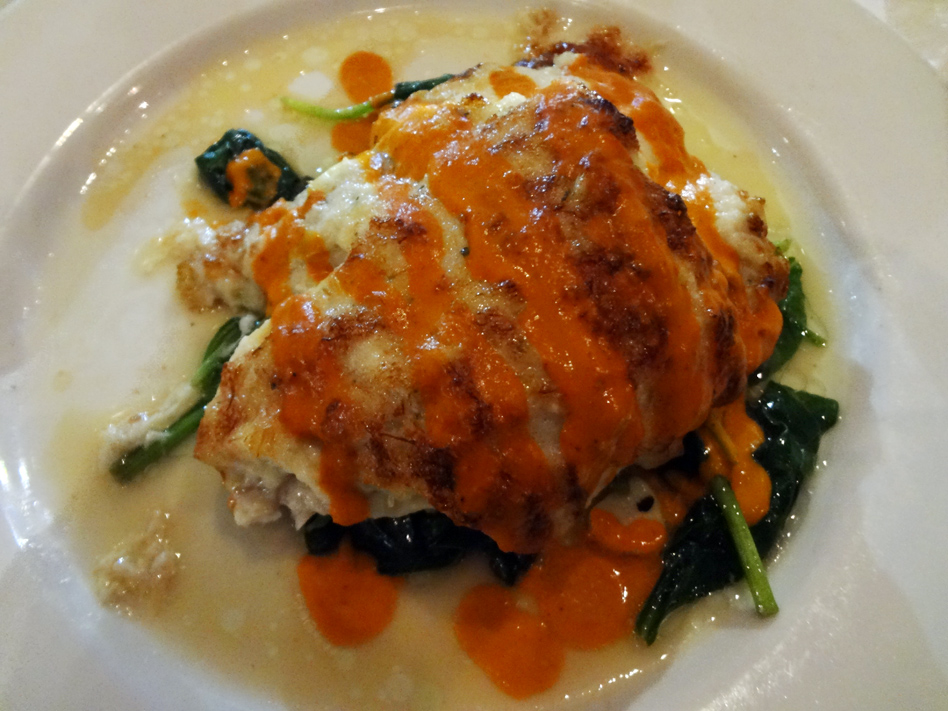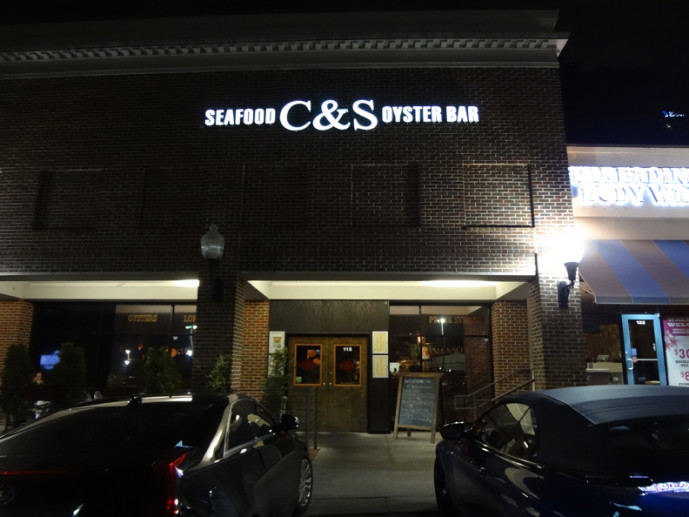 Just recently I was happily invited to dine at Clark & Schwenks Seafood & Oyster Bar. This swank, pseudo-midcentury seafood restaurant has been here on Cobb Parkway all this time, and I never knew.
As you can see the inside is pretty upscale, belying its strip shopping center location and busy parking lot. C&S seems perfect for a romantic evening out, and definitely doesn't come off either as chintzy or kid-oriented. A great pick for a date night or anniversary dinner spot.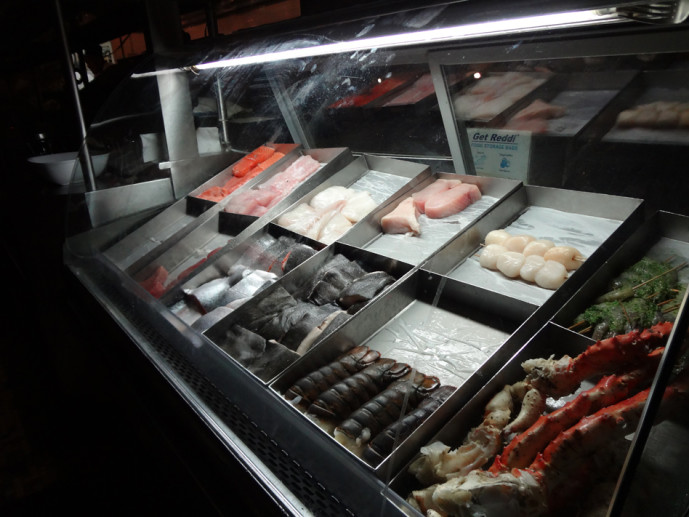 We got our meal started off right with the seafood tower, also known as le C&S plateaux de fruits de mer. Similar in format to seafood towers everywhere, this one was definitely very fresh and cold, which you don't always see.
Next up we sampled three appetizers. Unfortunately I didn't have a chance to snag a taste of the sea scallop dish, but isn't that dish gorgeous? What a looker with those colorful melon balls.
My favorite was the steelhead trout crudo – it was very tasty. Steelhead is so delicious. The name scares off some people I've heard… I can't imagine but if you are one of those people, go give this (or the other steelhead dish you'll see in a minute) a try. If you like salmon, you won't be disappointed, I promise!
Before we get to the main entrees, I need to discuss the sides because they were quite yummy. Since we were a large group, we were able to order a variety and share around.
Of course, everyone was really excited to try the lobster mac and cheese, though it's not actually macaroni but another pasta called orchiette/orecchiette, a southern-italian pasta named for its ear-like shape. Regardless of the type of pasta, this dish was hot, very rich and cheesy, and the silky taste of the truffle oil was evident. This dish has all the soul food elements with all the the high class ingredients.
The parmesan truffle fries were a less decadent version of the familiar comfort food dish with a high-class twist. The lightness of the fries was perfect and the parmesan and truffle oil made them not only poppable but dangerously addictive.
Veggie dishes may not seems as exciting as the two previous cheesy, truffle-y refined carb dishes already mentioned, but they were also very good, especially the mushrooms.
Luckily, since I was dining with foodies, several of us wanted to try more than one thing, so we shared our entrees. I ordered the crab and parmesan-crusted flounder, and sampled the pan-roasted steelhead and the grilled swordfish.
The flounder is Clark & Schwenks' most popular dish. I can see why – it is a very accessible dish. The flounder, being a whitefish, is light and flaky and the topping and sauce add extra flavor to mingle with the subtleties of the flounder. Good stuff!
The steelhead was delicious and the rice croquettes were interesting. This is a great dish for people looking for simple but delicious fare without a lot of added fat from creamy sauces.
The swordfish dish was very intriguing. Swordfish is a meaty fish, so this read like the fish version of steak and potatoes. Satisfying to eat. The blue cheese fritters were delicious! I love blue cheese, so it was great to get a burst of that tangy, sharp taste in a fun fritter form. Definitely something to try if you are a fan of blue cheese.
This was a very enjoyable meal. The fine folks at C&S were very on-point, attentive, and kind to us throughout. If you are in the northwest 'burbs and are looking to get excellent seafood with a fine dining experience without schlepping into the heart of the city, go no farther than Clark & Schwenks Seafood and Oyster Bar.
This was a media dinner organized by Eating with Erica, PostFav, and Clark & Schwenks Seafood and Oyster Bar, and as such I did not pay for my meal. However, my thoughts and opinions are my own.
Clark & Schwenks Seafood and Oyster Bar
3240 Cobb Parkway
Atlanta, GA 30339
emily
Nerd. Foodie. Gamer. Homecook. Perpetual planner. Gardener. Aspiring homesteader. Direct response graphic designer. I use too many damn commas.