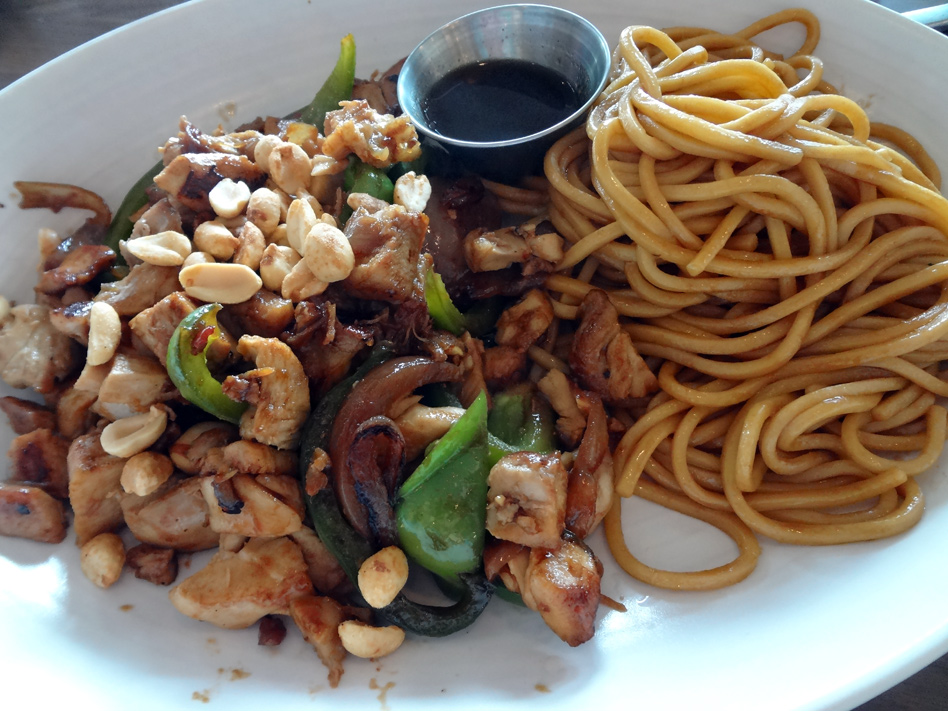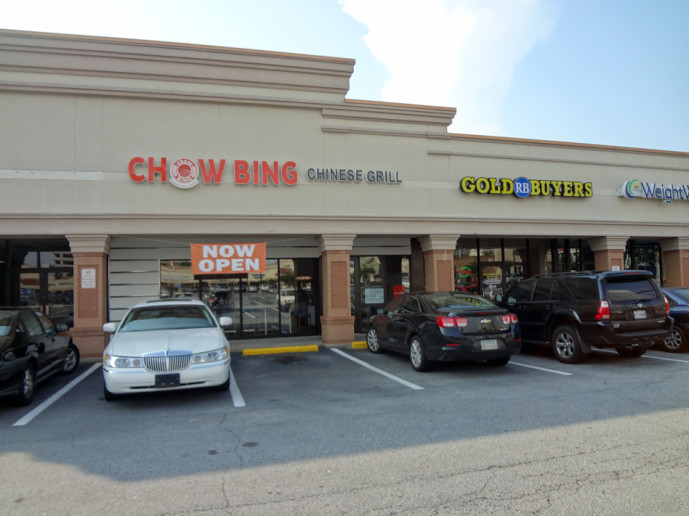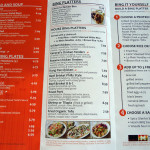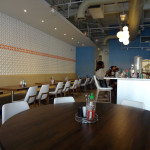 Gary Lin of Chow Bing has opened a new location in Buckhead, right in the Disco Kroger shopping center. I'm not familiar with the original Old Fourth Ward location, but Chow Bing is a really intriguing and heartening concept for the Chinese food genre.
Last month, Gary had a group of food bloggers out to visit the new location and sample the menu. He is committed to giving the public access to clean, healthy Chinese food made from "happy animals" – humanely raised meats and sustainably harvested seafood, along with organic tofu, locally grown vegetables (organic whenever possible). There is no MSG, no canned foods, and no microwave. The restaurant has a full bar, but is family friendly, with a kids menu.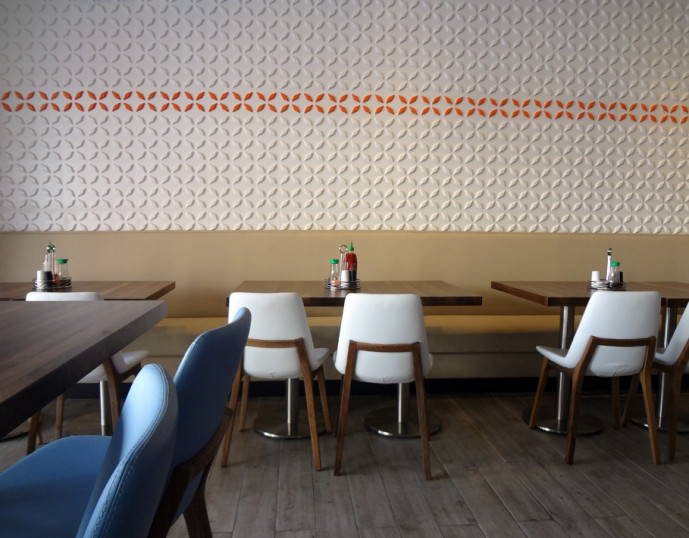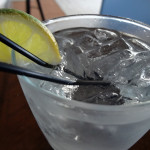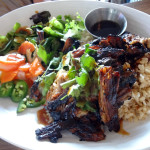 As a designer-y aside, the interior design is beautiful and right up my alley with its mid-century flavor – from the colors to the textures and the shapes, it's all very lovely (but not very Chinese, or at least not any period or trend that I am familiar with).
Gary got us started in a big way with wonton nachos, Sichuan wings, dumplings, and chicken tenders. A few folks ordered boozy bubble teas as well, and Adam got a gin and tonic from the bar.
Chow Bing offers a familiar, kid-friendly concept with an asian twist in the wonton nachos appetizer. Grilled Springer Mountain chicken, black beans, tomatoes, jalapenos, cheese, and a spicy cilantro sauce that visually fills in for guacamole smother wonton chips. A solid, fun dish.
Advertised on the menu as "tongue-numbingly hot", the Sichuan wings are true to their description. They weren't so hot as to make the wings tasteless or un-enjoyable, but these Sichuan wings have a pleasant kick to them that may encourage you to swing a few extra sips of your boozy bubble tea, should you order them. Nice!
Now the dumplings are a spot where Lin's commitment to cleaner, healthy Chinese food in America shines. Think of all the greasy, pre-frozen pot stickers that you've ever consumed, and then toss them right out of your memory! These house-made dumplings are the clean, high-class cousins of those other pot stickers, tasting fresh and light.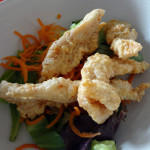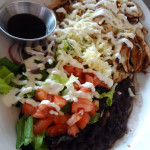 Like the dumplings, the chicken tenders were so light and fresh for being a fried food. Really exceptional.
Some of the great-looking dishes that hit the table that evening included the Philly-style beef brisket, wine-marinated roast pork (one dish with brown rice and the other with lo mein). Adam and I split the Kung Pao chicken with lo mein and the newest addition to Chow Bing's menu, the Chow's Chicken Box. This comprises garlic steamed rice, honey & lime slaw, hard-boiled egg, Chinese sweet pork sausage, and french fries, all topped with a fried chicken breast, scallions, and soy sauce.
The chicken in the Chow Box was great; it was quite succulent. The integration of fries in the dish – as if in a poutine – was unexpected. The menu promised fries, but it was easy to assume that they would be on the side. Overall, a strange but interesting and decent dish.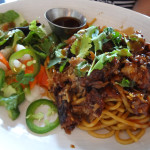 The kung pao chicken was solid, though we should have followed Gary's advice and gotten the fried rice – the lo mein was also made in Chow Bing's light, non-greasy style, which kind of took away the essence of why we love lo mein – the guilty pleasure of it. But the kung pao chicken itself was fine.
In sitting and talking with Gary Lin, I was really touched by his obvious dedication to pulling Chinese food out of the cheap-fast-greasy-sugary gutter that it's been resting in for a while. As science progresses and we learn more and more about nutrition and what is good and bad for our bodies, people get more and more health conscious, the affordable Chinese joint – and Chinese cuisine overall – gets more and more of a bad rap. Gary wants to change this perception, and offer high-quality, responsible foods to his customers. He is passionate about his mission and is giving this new Chow Bing location all of the attention, love, and energy that he has. I have a ton of respect for this, and I wish him the very best of luck. 4 stars.
Chow Bing Chinese Grill
3330 Piedmont Road NE, Suite 22B
Atlanta, GA 30305
emily
Nerd. Foodie. Gamer. Homecook. Perpetual planner. Gardener. Aspiring homesteader. Direct response graphic designer. I use too many damn commas.