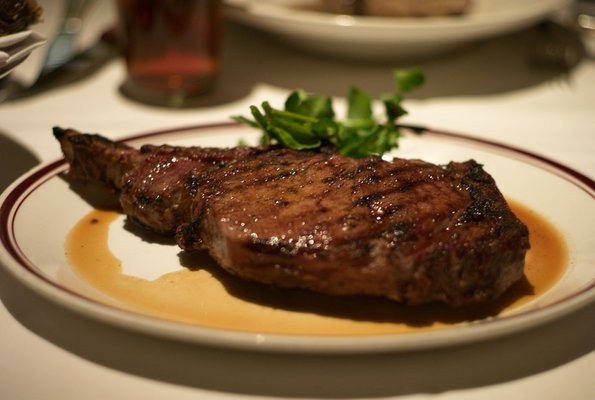 There are a lot of high-end steakhouses in the Buckhead area, it is called Steak Alley for a reason. Steakhouses to me are good for the purpose they serve, catering to client type dinners and providing a menu where the customer knows what to expect and there aren't any surprises. Most people can walk into a steakhouse and order without even taking a look at the menu. You have your filets, ribeyes, a couple of other cuts and then a few fish/pork/chicken dishes. The sides are usually the same and the appetizer list usually features some sort of seafood tower. Not much diversity but like I said, they serve their purpose. There was even a period of time where I was so "steaked" out that I started ordering sea bass, sole, and other items on the menu because streaks just got boring after awhile (do not fear, my head is back on straight now). Thus, although I enjoy dining at the various steakhouses around Atlanta, it would be hard for me to fathom dropping $120 dollars of my own money on a meal when I could use that towards a visit to somewhere like Bacchanalia or Restaurant Eugene (two places I have yet to visit).
Chops has two sections to their restaurant; the formal dining area and an area they call the lobster bar. I dined at the lobster bar which had that true "Buckhead" feel which some people often find pretentious but I believe it caters towards the business crowd they mainly serve. This means a loud, boisterous crowd where noise levels get elevated as the night progresses and the drinks flow. This is probably why I would prefer steakhouses to corporate affairs verse personal ones.
On to the food, I feel as though one is obligated to get the ubiquitous seafood tower at a steakhouse when dining with a large group and here was no different. I must say it was a pretty massive and impressive platter that included clams, oysters, lobster tails, and jumbo shrimp. Not a clam guy myself but everything else I had tasted fresh and was satisfying. It's one of those "wow" factors when serving clients and a price tag of it fits the bill.
Here is my take on the standard cuts of steaks served at most steakhouses. For me, most filets are too mushy for my taste. I usually lean towards the rib eye due to the extra fat content, flavor, and chew. In this case, I got the New York strip which kind of fits in between the two and I wasn't hungry enough to order the 20 OZ of rib eye (call me a baby in this case, I am cool with that). The NY strip came out medium rare just as I had ordered and overall was a pleasant steak that satisfied my craving. I would probably say it ranks in middle tier of steaks I have had around Atlanta. Although, if I were to return, I would probably opt for the rib eye or the Waygu NY strip. We ordered a plethora of sides which again, were what I expected them to be and nothing really blew me away there and left a lot to be desired.
Overall, I thought the overall experience including the service was pretty good at Chops. For me, it wasn't the worst steak I have had in Atlanta nor the best. I didn't have huge expectations coming in and chops pretty much fit the bit of a typical steakhouse.
Ratings:
Food – 3.5
Vibe – 3.5
Chops Steakhouse and Chops Lobster Bar
70 W. Paces Ferry Road NW
Atlanta, GA 30305
anish
I am a 20-something white-collar worker that enjoys the great food options Atlanta has to offer. I enjoy sharing my dining experiences and opinions to anyone who will listen. I hate being the guy next to your table taking cell phone pics but understand its place as a necessary evil in the food blogging world. I love to research places beforehand (some would say to a fault). The theory is if I am going to spend time and money eating out, it is worth the 10 or so minutes to vet it out beforehand. I have a laundry list of dining places I still want to go to but for every one I check off, four probably get added. For me though, that is probably the biggest perk of living in a big city.