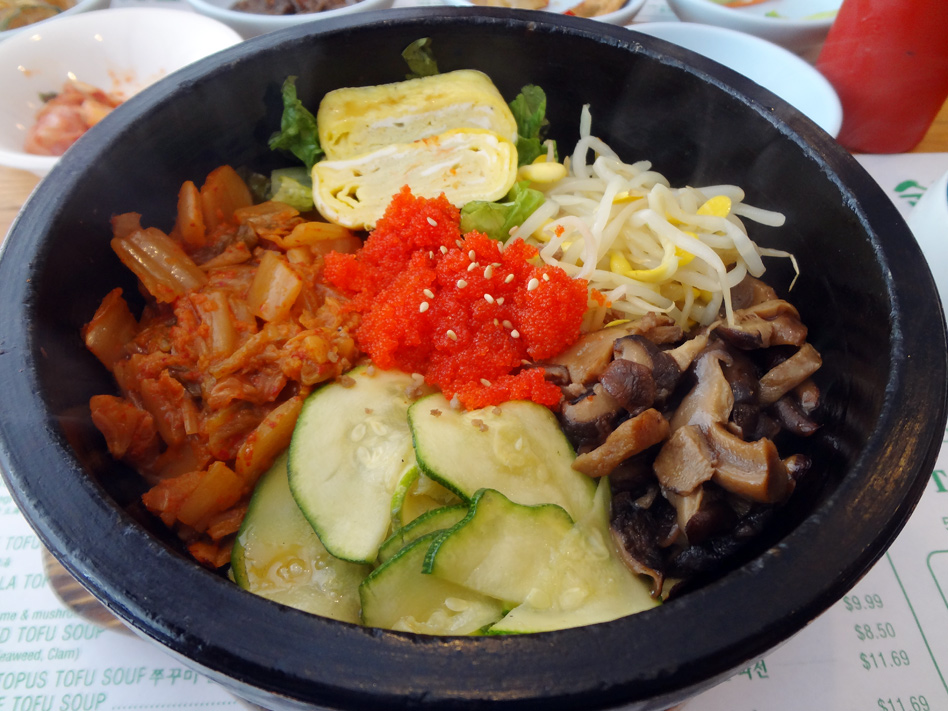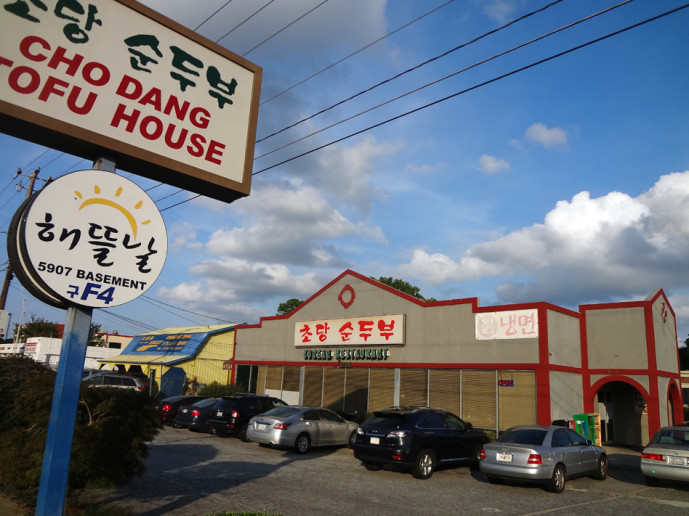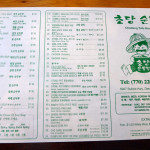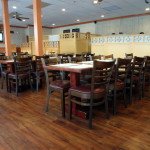 Cho Dang Tofu House is a korean restaurant in an interesting gray and red building just north of the intersection of Buford Highway and Oakcliff Road. Adam and I stopped in as part of our continuing Buford Highway exploration. We beat the dinner rush and were quickly seated by friendly staff in an interior that was certainly nicer than the outside had led us to believe.
The menu isn't so small as to feel constricting, but it also had enough intriguing things on it to make ordering a little difficult. In light of the joint being called a tofu house, we got the seafood and beef tofu soup (#1, $7.95), since we'll be going to the infamous Woo Nam Jeong Stone Bowl House soon, we also ordered the stone-pot kimchi bibimbap with stone-pot purple rice ($8.99).
As the restaurant experienced a steady stream of customers coming in, we were served out banchan spread, which we heartily attacked. The cold soup was so obviously given to me (as it was not at So Kong Dong Tofu House all that time ago) that the fact that the cold soup may be for the bibimbap finally occurred to me.
A quick Google search by Adam turned this up in the affirmative, so there's a new item for my korean food education. It makes particular sense to me with the stone bowl bibimbaps, where this rice and vegetable dish is served in a super-heated stone bowl that retains the heat will and quickly cooks the food inside. In this case the contents of your stone bowl will certainly burn, despite enthusiastic stirring, and the cold soup lets you stop the process. Neat!
The bibimbap was quite delicious. Adam puts it best: "The Kimchi Bibimbip was good to eat. It's a great example of many flavors being combined into a single coherent dish that did not disappoint." Plus, it was so pretty! It was interesting to watch the roe cook in the stone bowl and to note the difference in taste. I've never had cooked roe before. I enjoyed it!
Next up was the tofu soup. We've had tofu soups before. Like the kimchi soups, they always come out boiling hot and splattering in stone bowls. This one had clams, shrimp, chunks of beef, and other delectable bits in it. Still, it was just another flavor of your basic tofu soup. Here's what Adam has to say: "The seafood beef tofu soup was fine, but I think I finally learned my lesson in the Korean soups department: they aren't my thing. I much prefer drier Korean dishes as compared to soups.
We also got purple rice with our tofu soup, cooking away in its own stone bowl. This was both fun and good to eat. Mixed with the tofu soup, the combination was more appetizing than either dish on its own. It's nice the way the overcooked rice gets both crispy and gummy in certain spots – it adds textural interest.
Cho Dang obviously has a strong following, and with good reason. It seems to be a solid choice for korean fare! The service is good (they were unflappably patient with a rambunctious and demanding table near us). We need to go to Woo Nam Jeong before I can make sweeping proclamations, but Cho Dang definitely seems worth a try. 3.5 stars.
Cho Dang Tofu House
5907 Buford Highway NE
Doraville, GA 30340
emily
Nerd. Foodie. Gamer. Homecook. Perpetual planner. Gardener. Aspiring homesteader. Direct response graphic designer. I use too many damn commas.