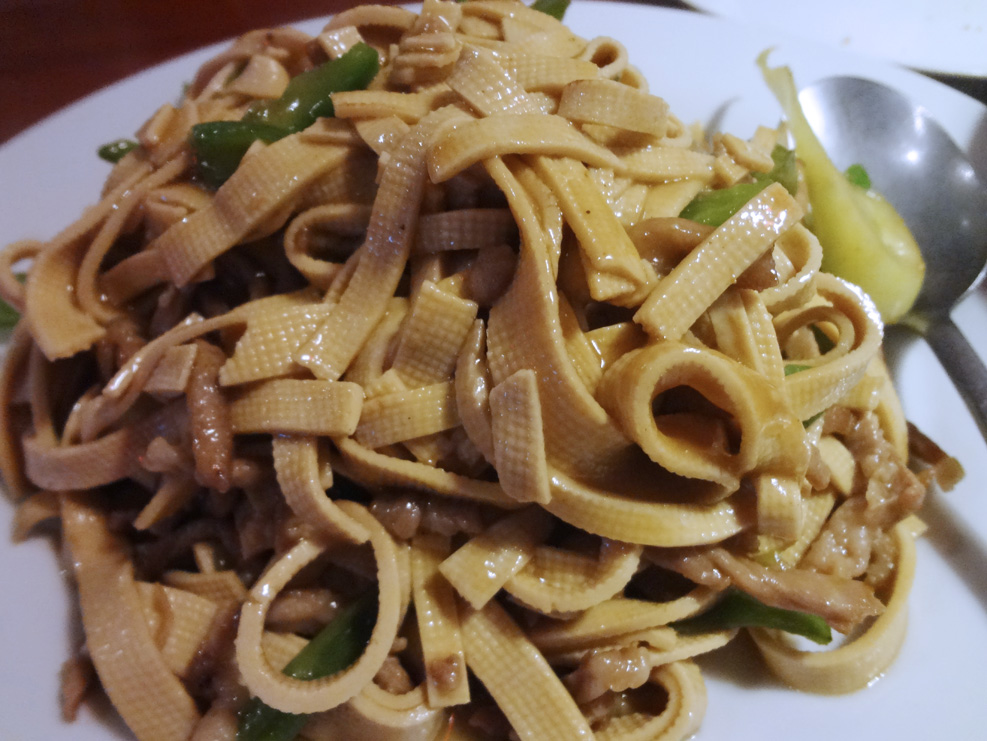 This unique restaurant closed during the summer of 2015.
For this week's Buford Highway Food Expedition, Adam and I swung by El Dorado, a joint underneath the Shooter Alley whose sign proclaims it to be a restaurant and cantina, but it was super sketchy-looking. Plus it was evening-time, and Shooter Alley was hoppin'. We decided that we'd come back to do El Dorado during the daytime with a group – just in case. So, we moseyed over to China Village Restaurant across the street.
Staffing China Village, there was what I presume to be a huband-wife team – a single man in the kitchen and a single woman on the floor. When we walked in, she was in the back, so we waited a while, but when she came out she quickly and kindly sat us.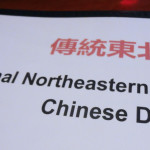 The restaurant's menu proclaimed it to be a restaurant serving traditional northeastern style chinese cuisine. From what I can tell, that means there's korean influence to these chinese dishes.
The menu was very helpfully split out into two sections, traditional and american. We promptly ignored the american-style section and we ordered a scallion pancake (like the ones we get at Chef Liu), a korean dish called Jjamppong, and pork with pepper and dried tofu.
The scallion pancake was indeed just like the ones that we get at Chef Liu – the very pleasant chewy texture and slight oiliness were just the same, and delicious.
The server was a little concerned about us ordering the jjomppang, but we assured her that we like spicy foods. The soup that came out, though, was not very spicy. Not sure if we're that hardcore (I doubt it) or if she told the kitchen to ease off for the americans. Either way, it was still tasty.
The pork with peppers and dried tofu was the star of the evening. The dish came out with really interesting, funky noodles that I assume were made of soybeans/tofu, since dried tofu was mentioned, but I didn't see anything else in the dish that could fit that description. I've done some looking around on Google to put a name to these noodles, but I haven't been able to come up with anything, probably because I have no idea what I am talking about! As you can see in the photo, the noodles have a pressed texture. The texture and taste of the noodles in your mouth is very interesting. Somehow simultaneously more gooey and more crisp than regular noodles – they clearly go beyond my ability to adequately describe. In short, I am really intrigued by these noodles, so if you know anything about them please let me know!
This dish has kick – more kick than the soup we were warned away from. The pork was cut in that long style that you see sometimes and the bell peppers and sauce all went really well with each other and the noodles. It is a great entree, definitely our favorite.
Overall, China Village is interesting. Quiet and mostly empty when we were there, with a friendly if slighty judge-y staff. I saw several more things on the menu that I was very interested in ordering, and the seeming uniqueness of what we got with the pork and tofu dish earns this otherwise fairly average joint and extra half star in our eyes. I look forward to going back and trying more things, like the Pig Ear in Chili Oil, Da Lu Mein with Pork, one of the several hot pots, or the Angel-Hair Sugar Pulled Sweet Potato dessert. Plus, if I am dining with a mixed group of adventurous and non-adventurous foodies, I know that, like at Northern China Eatery, there is an americanized menu for my friend to rely on. 3.5 stars.
China Village Restaurant
5872 Buford Highway NE
Doraville, GA 30340
emily
Nerd. Foodie. Gamer. Homecook. Perpetual planner. Gardener. Aspiring homesteader. Direct response graphic designer. I use too many damn commas.