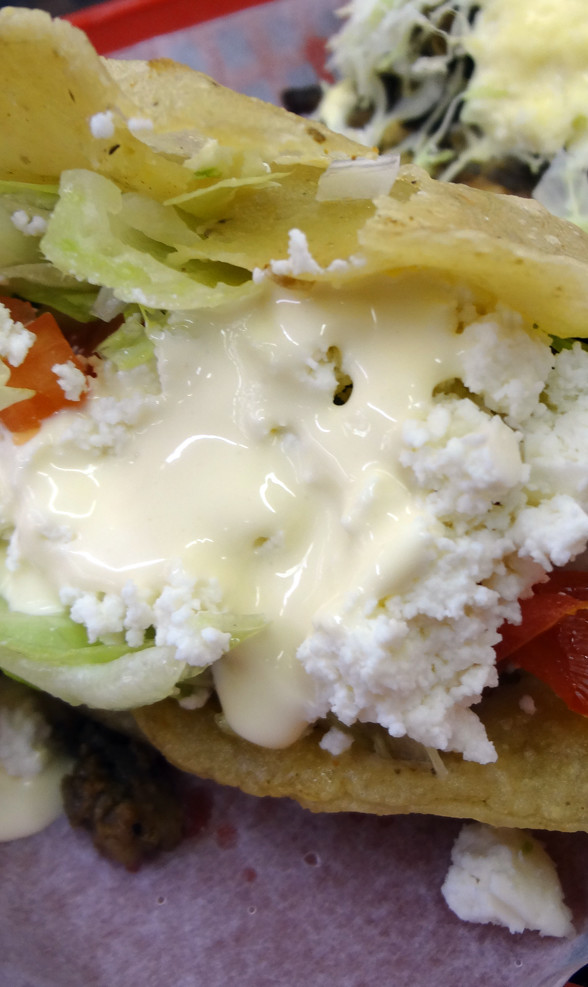 Last weekend, the hubs and I headed out to Chicago Supermarket to try the little eatery in the back. This was our third attempt to get there during their hours of operation, and we finally made it.
We made our way back to what we thought was the ordering counter and slung some broken spanish at the patient woman by the register. There was definitely some confusion, but it was through no fault of hers.
Adam and I grabbed some Jarritos, three tacos (carne asada, carnitas, and chile relleno), a steak sope, and a quesadilla relleno.
Everything was fine enough, but not amazing. Perhaps we came too late in the day, since some of the items seemed like they might have settled a bit over time. The quesadilla in particular had a huge trough of congealed cheese at the bottom. Though I do love me some cheese, even congealed.
Ashley and Stephen grabbed a taco, a couple quesadillas, and a gordita. The gordita wound up being a soggy chicharron affair, which was neither what Ashley intended to order, nor something any of us gringos felt like consuming.
Ashley: "This is basically the fast food equivalent of mexican food in that it's alright, it fills you, and it's cheap. But for a nominal increase of expenditures, you could get much better quality at a stand-alone restaurant not even a mile down the road. I give it 2 stars."
This experience was kind of sad given some of the glowing reviews I've read from years past. Even the photos seem to be glimpses into a brighter, quirkier, and tastier alternate-universe Chicago Supermarket. Perhaps we are just totally clueless gringos. Perhaps we should have come earlier in the day. Perhaps Chicago Supermarket is past it's peak. Who can say? Not I, with only one visit under my belt. But for now, it's gotta be 2.5 stars – simply below average.
However, I'd like to not end on such a bad note. Here is some nice background info – those glimpses into Supermercado Chicago's illustrious past:
Blissful Glutton's Chicago Supermarket: Doraville/Buford Highway
Scoutmob's CHICAGO SUPERMARKET: COME FOR THE PIÑATAS, STAY FOR THE TACOS
Foodie Buddha's Supermercado Chicago Taqueria Review – Doraville, GA [First Impressions]
Chicago Supermarket
5263 Buford Highway NE
Doraville, GA 30340
emily
Nerd. Foodie. Gamer. Gardener. Cook. Perpetual planner. Aspiring homesteader. BuHi Food Expedition leader. Pixelcrafter. I use too many damn commas.