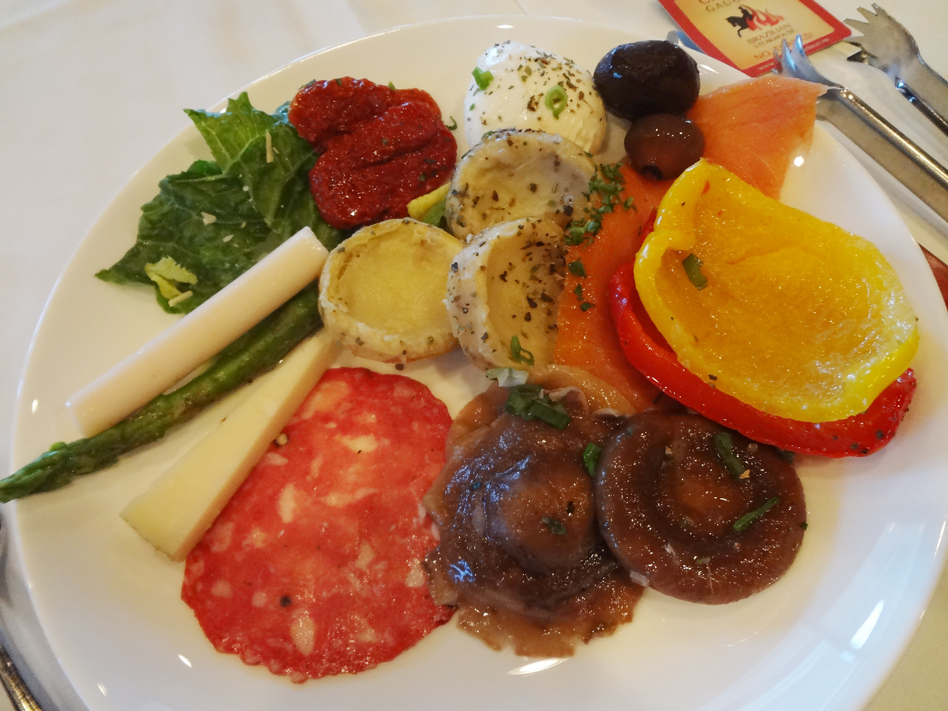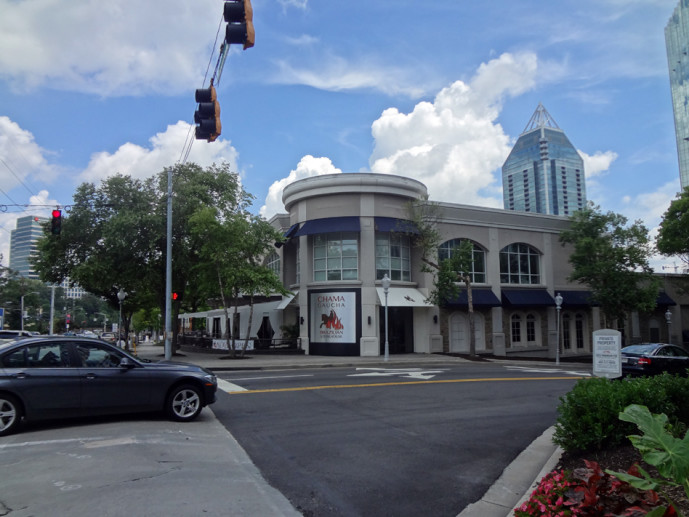 A while back (ahem, in June) a bunch of coworkers and I headed to the newly opened Chama Gaucha in Buckhead for a division celebration. I was still in awe of how close Chama Gaucha was to the venerable institution of Fogo de Chao – you could easily walk the four blocks between the two restaurants in about five minutes.
With no prior knowledge, you could easily conclude that Chama Gaucha is newer than its competition down the road… the architecture is more modern and the interior gets more natural light through large windows.
The set up is exactly the same as it is at the four other brazilian steakhouses I have visited (all in America, I should note, though I would love to try one in Brazil) – you sit and order drinks, cruise a fancy-pants salad bar, and then contentedly drown in the never-ending waves of salt-crusted cuts.
Here, too, are the red and green coasters to signal your gauchos. And she standard sides are present on the table: pao de queijo, plantains or bananas, mashed potatoes, and in this case, polenta as well.
The waves of meat proceeded largely as expected. Most of the cuts were as expected, though each steakhouse has its own specialties (Red and Green's chicken hearts for example). The novelty here for me was the shrimp and we consistently had a hard time getting enough shrimp to the table (those little sea cockroaches are darn tasty), but they were just so tasty. Overall, the Chama Gaucha experience isn't wildly out of line with other examples of the genre.
Another novelty: spicy onions and peppers were walked to our table and offered like a cut of meat, which is not something I'd seen before at other brazilian steakhouses, where it's all meat all the time.
After that, there wasn't anything else to do but sample some of the decadent desserts that were being ordered and passed around the table. They were each delightful in their own way – the cheesecake was classic, the molten cake was warm, rich and gooey, and the chocolate mousse was moist and smooth.
Even if you're a diehard Fogo de Chao fan, I'd still recommend trying the new kid on the block. Chama Gaucha has at least as much to offer, and even a little more in terms of atmosphere an additional tableside items. The price is a bit cheaper, even. I definitely recommend it! 4.5 stars.
If you have any thoughts on Chama Gaucha vs. Fogo de Chao (or Red and Green), share them in the comments below. I'd love to hear what you think!
Chama Gaucha
3365 Piedmont Road NE
Suite 1350
Atlanta, GA 30305
emily
Nerd. Foodie. Gamer. Homecook. Perpetual planner. Gardener. Aspiring homesteader. Direct response graphic designer. I use too many damn commas.