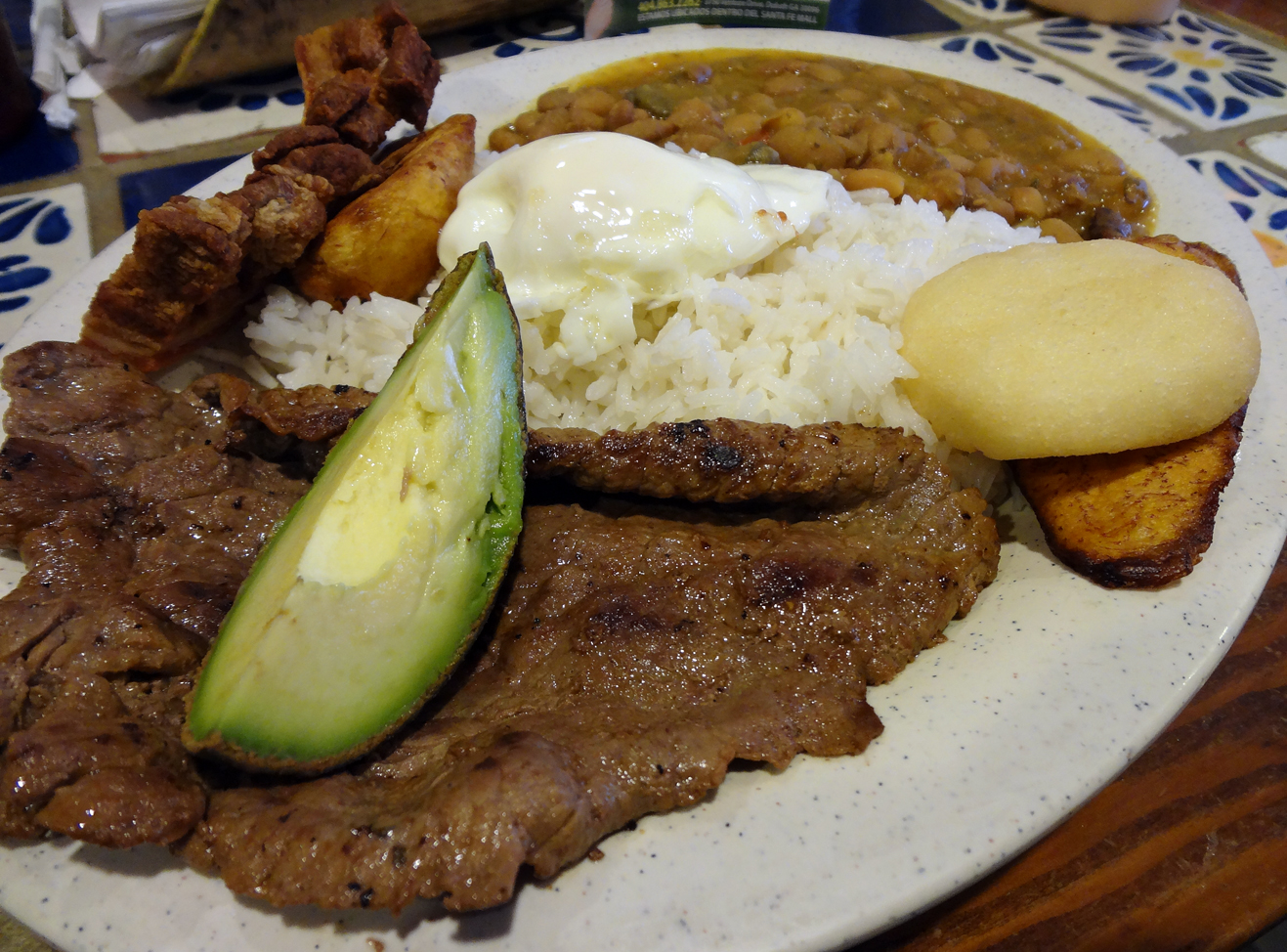 Casa Vieja is a colombian restaurant that is somewhat off Buford Highway, but it's pretty darn close, being on Shallowford Road, just a half-mile north of the intersection with Buford Highway.
My coworker, Ty, had been here years ago and loved it, so a group of us from the office made the trek out to BuHi to give it a try. There were four of us – Teck, Ty, Jaimyn, and myself.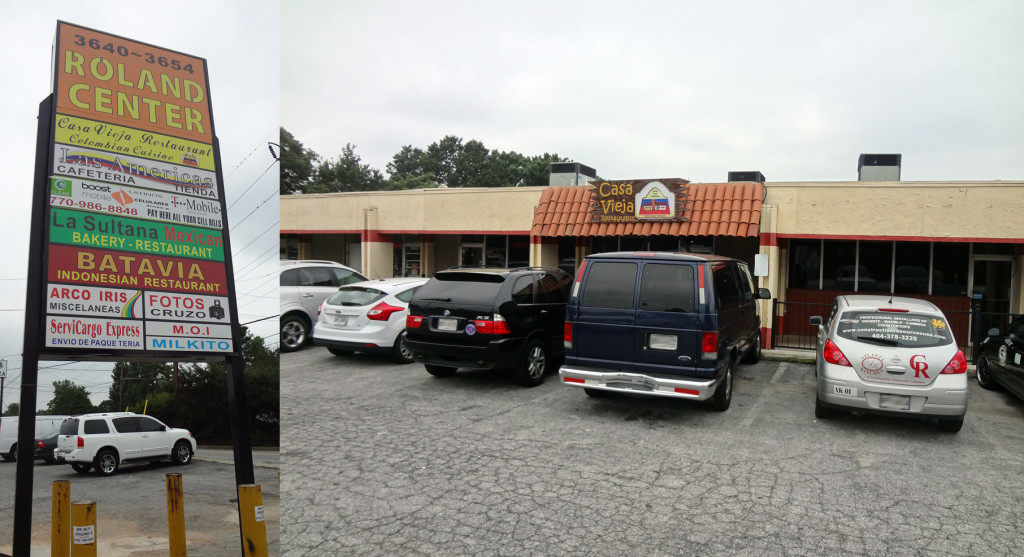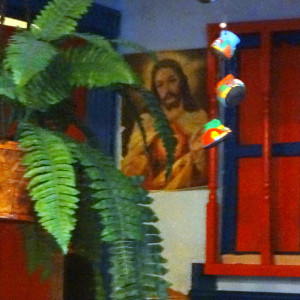 The inside of this restaurant is done up like a town center, with a cantina, a hospital, a tax center, and other "buildings" around the edges of the dining area. We sat near to what I think may have been a church, what with the sacred heart, that may serve as a stage for live music on the weekends. We were also near the entrance to the tax building (which incidentally, is a real door that does really lead to the tax preparation place next door).
The chairs and walls are brightly painted, and the tables have nice tiles.
Our waitress did not speaking english overly well, and our spanish was all pretty terrible, but she was very patient with us and helped us select the right dishes. She talked me down from the full bandeja paisa, which was a very good thing, because the mini bandeja paisa was HUGE.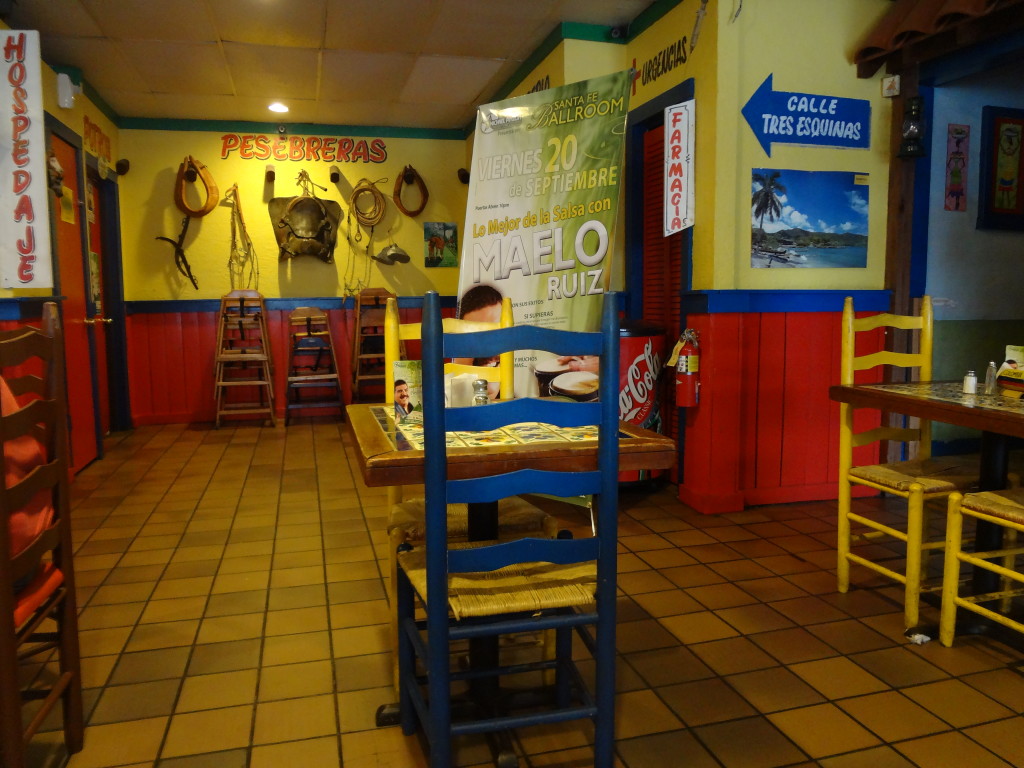 We all split two beef empanadas, and I split the mini bandeja paisa (skirt steak) with Teck, who split his chuleta valluna (pork cutlet) with me. Both dishes were amazing and huge, too! I can't imagine how big the full bandeja paisa must be! Everything was very tasty. I especially enjoyed the pork cutlet with the red hot sauce our waitress brought us. The skirt steak tasted quite good with the fresh tomatillo sauce on the table as well.
Everyone seemed to enjoy their food, though later Jaimyn mentioned that he wasn't a fan of the food. I guess I was too busy stuffing my face to notice. He also felt like the restaurant was dirty, though the rest of us didn't really feel that way, truth be told.
Fun atmosphere, amazing portion sizes, and great pricing. 3.5 stars.
Casa Vieja
3652 Shallowford Road NE
Doraville, GA 30340
emily
Nerd. Foodie. Gamer. Homecook. Perpetual planner. Gardener. Aspiring homesteader. Direct response graphic designer. I use too many damn commas.