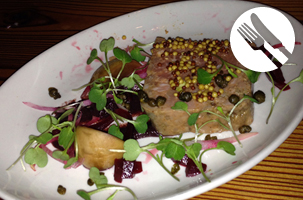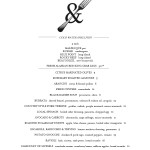 Decatur is one of my favorite areas in Atlanta and one I don't visit as much as I should. Decatur always seems to put forth not only well-thought-out food but drinks as well in a laid-back environment which is something I think everyone appreciates.
On this particular evening, I was able to visit Taco Mac to catch some college football, Brick Store for a couple of beers, Cakes and Ale for dinner, and Paper Planes for some post dinner cocktails. There probably isn't a more solid string of places I can think of for a night out in Atlanta that are all in walking distance of one another.
When we arrived to dinner, we were seated right away. I would say service took a bit long initially on drink orders but ended up not being an issue the rest of the night.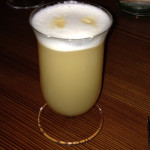 I usually order cocktails when out to dinner because my logic is I can drink the same bottle of wine or beer from dinner at home but cannot create a truly great cocktail (yet). The cocktail menu was laid out in order of strength which was a beneficial addition. I can't recall the exact ingredients of the drink I ordered but it was gin based and involved eggs, it was well-balanced and a good start to the meal.
One of the things I liked most about Cakes and Ale was the food menu layout and how balanced it was. There is a good mix of seafood, meat, vegetarian, and pasta dishes. One of my favorite aspects of what are being deemed as these "seasonal ingredient restaurants" are the menus are ever-changing but they still keep a few select staple items on the menu. This makes people like me happy who like to order different items every visit but can also satisfy customers whom once they find a dish they like, enjoy the comfort of the predictability.
Oysters are probably my single favorite seafood/meat item so if they are available at a restaurant, I am usually trying to convince friends to order some. We tried both the Kusshi & Blue Point and both tasted great and I wish we had ordered 3x the amount. I am usually not one to dress up my oysters with many condiments and as I am personally not a big raw red onion guy, I passed on what came with these.
We had the burrata, pork terrine, gnocchi, and ravioli to start. The burrata was soft and velvety and was served with nice accompanying components. The terrine was universally liked for its rich taste and it was one of the best plated dishes we had as the radishes really made the dish pop visually. There seemed to be mixed opinion on which of the two pasta dishes were better. For me, the ravioli stood out of the two for its lightness as the gnocchi with the ragu was a bit too heavy for me.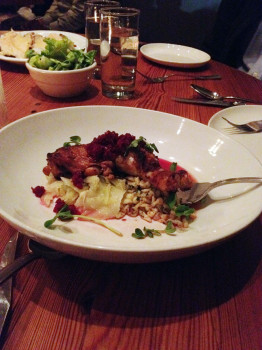 Now, coming into the dinner, I had read a lot of people complain about prices vs. portions. There is probably nothing that aggravates me more than the reviews of some couple saying they had to run to Taco Bell after their meal because quantity is more important than quality. I call this the Cheesecake Factory Effect that has almost trained people to expect massive portions when paying more than $15 a dish. However, in this case, I feel like some of the other reviews on price were validated, the ravioli being one. As stated, the ravioli was a good dish but $16 for a vegetarian pasta dish that was relatively small did seem a bit overpriced.
For entrees, there was a diner in our party that was partial to chicken over other meats and the staff did a great job of accommodating our request to sub out duck for chicken in a dish. Unfortunately, the dish ended up being one of least favorite dishes of the bunch but that was probably more our fault than the restaurants.
Now, for the trout. The trout was brought out in its entirety and filed table side. The fish was definitely well sized and super moist, I found myself going back to it a second and third time. It is one of those "comforting" dishes that appears to stay on the menu that is definitely worth coming back for. We ordered two sides, a polenta and mushroom dish, both were solid.
Also, we ended up ordering three desserts. The apple crisp with ice cream on top was probably my least favorite of the three. However, I really enjoyed the pumpkin cheesecake that was served on top of some shortbread with a few persimmons on the side. It was another beautifully plated dish. The third was a hazelnut Bavarian cake that was okay but the nougatine on top was hard to cut through and made the dish a little awkward to eat.

I feel like this menu was fairly large compared to most fine dining restaurants yet everything we had was pretty solid. One of the aspects I really enjoyed of the meal was the plating and vegetables. Often time at restaurants, they want the meat to shine and often times the sides get seen as an afterthought and look/taste like that. That was not the case here. I would venture to say out of all the higher end restaurants I have been to, Cakes and Ale is probably the first one I would recommend to a vegetarian. Simple but not simplistic. I read that in a review somewhere prior to coming to Cakes and Ale and feel that is the best way to summarize the restaurant.
Vibe: 3.5
Food: 4
Cakes & Ale
155 Sycamore Street
Decatur, GA 30030
anish
I am a 20-something white-collar worker that enjoys the great food options Atlanta has to offer. I enjoy sharing my dining experiences and opinions to anyone who will listen. I hate being the guy next to your table taking cell phone pics but understand its place as a necessary evil in the food blogging world. I love to research places beforehand (some would say to a fault). The theory is if I am going to spend time and money eating out, it is worth the 10 or so minutes to vet it out beforehand. I have a laundry list of dining places I still want to go to but for every one I check off, four probably get added. For me though, that is probably the biggest perk of living in a big city.