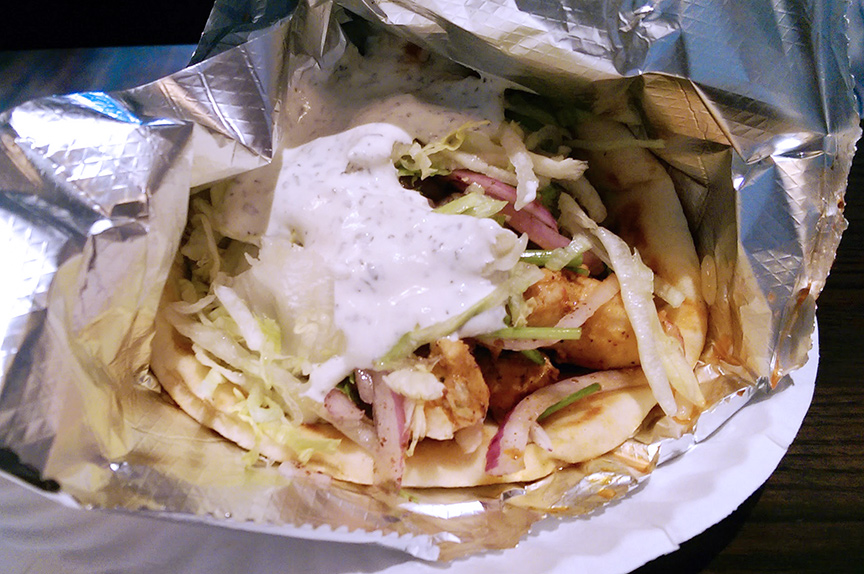 Cafe Agora has been a staple in Atlanta for its gyros, late night eats, hole-in-the-wall appeal, and its jubilant owner. Recently, they moved their Buckhead location (right near the intersection of Roswell, Peachtree, and West Paces Ferry) a block away which helped add a lot more seating when compared to their previous place. Having had double-digit visits to the previous spot, I was interested to see what the move brought beyond just additional seating. While some Cafe Agora lifers and purists may argue the new location may have taken away its hole-in-the-wall vibe and appeal, I found that the food hasn't changed much which is ultimately the most important component in my book.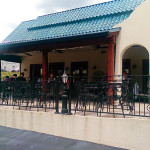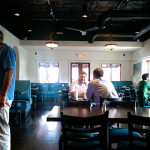 Upon arrival, you can see the addition of an outdoor patio with half of it being covered with ceiling fans and the other half being open in the sun, which gives you a couple of options depending on the weather. After walking in, you can peruse through their printed out menus before you order at the counter. You pay, grab your number, and then proceed to find a seat. On this particular lunch visit, it was evident the new expanded seating made the restaurant feel a little less full during lunch but that served as a perk as you didn't feel rushed to leave once you had finished your meal (a la Antico). They do have a couple of seats at a new fully stocked bar but at the end of the day, you are coming to Cafe Agora to stuff your face with delicious food.
Cafe Agora serves a pretty traditional menu with apps that include humus, eggplant salad, babaganush (eggplant, taihini, garlic lemon juice, and oilive oil), ezme (eggplant with olive oil and garlic), and piyaz (white bean based salad). If all of those sound good, I would definitely recommend starting off with the mixed maza platter which gets you all of the above and gives you a nice variety of apps to try. On previous visits, I have tried the falafel (definitely one of my favorite vegetarian meals) and gyros but was hungry this go around and opted for agora mixed grill entree which gave me a variety of different meats (chicken and lamb sis kabob, adana kabob, kofta kabob and beef/lamb gyros). I would be lying if I said I was able to tell all those meats apart within the platter but I do know all of them were delicious. The mixed grill also comes with a side greek salad and rice which are nice compliments to the dish but the meat and the pita are the star here.
Lamb is one of my favorite meats in general so it should be no surprise that I would recommend the lamb/beef gyro over the chicken but you can't really go wrong with either. One of the things regulars of Cafe Agora will also note is Al (the owner) is always walking around, making customers feel welcome, and gathering feedback which is always a nice touch to a restaurant. If you are lucky, he may also provide you with a small sample of baklava or rice pudding to cap off your meal.
The beauty of a place like Cafe Agora is that everything I have tried from apps, entrees, to desserts have all been great and the consistency is always there, day in and day out. Its a reliable meal at a fair price point which is what makes it one of my favorite lunch spots around town. Unfortunately at times, its definitely a lot of other peoples favorite spot too. You would imagine when moving to new a bigger location, parking would be better but staying in around the same Buckhead area, it can still be a hassle with there not being many spots available. I ended up having to pay for parking right near the old location so I would recommend going during off hours if you can but the meal is more than worth that slight inconvenience. Cafe Agora also has a new location in Midtown that I haven't been able to visit but reviews seem to just as good as the original.
Food: 4.5
Vibe: 4.0
Cafe Agora
318 E Paces Ferry Rd NE
Atlanta, GA 30305
anish
I am a 20-something white-collar worker that enjoys the great food options Atlanta has to offer. I enjoy sharing my dining experiences and opinions to anyone who will listen. I hate being the guy next to your table taking cell phone pics but understand its place as a necessary evil in the food blogging world. I love to research places beforehand (some would say to a fault). The theory is if I am going to spend time and money eating out, it is worth the 10 or so minutes to vet it out beforehand. I have a laundry list of dining places I still want to go to but for every one I check off, four probably get added. For me though, that is probably the biggest perk of living in a big city.