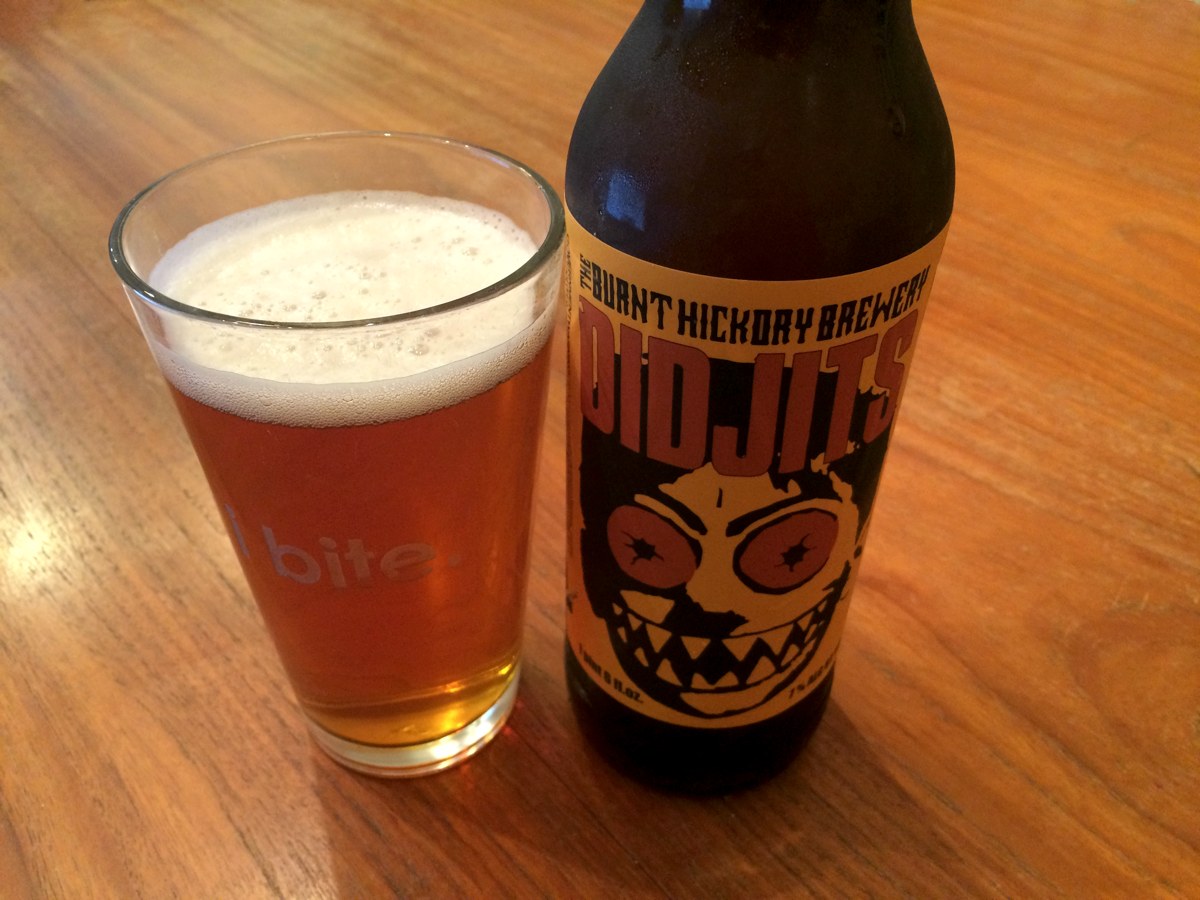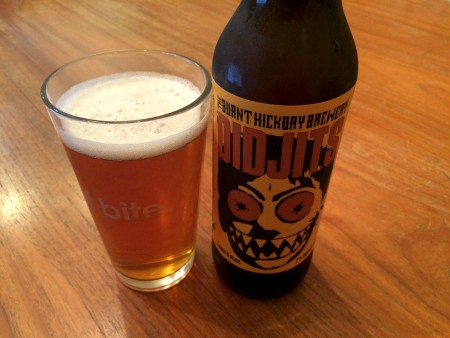 Brewery: The Burnt Hickory Brewery
Location: Kennesaw, GA
Brew: The Didjits Blood Orange IPA
Merchant: Ale Yeah, Decatur
Service: 22 oz Bottle
Style: American IPA
Color: Orange (14 SRM)
IBU: 50 (Rough estimate)
ABV: 7.5%
Temp: Cold
Expectation: Citrus flavored IPAs are trending. I've had a few and they've all been good to very good. Some border on being "fruit beer" and others just support the hop character. But seriously, being a big fan of the the American IPA style there is probably little to no chance this bottle lets me down. I am extremely excited to try my first offering from Burnt Hickory about whom I have heard a lot of good things. The Didjits Blood Orange IPA is brewed quarterly and they strongly encourage us to consume it fresh. This was bottled May 6th (about 6 weeks ago) so that window is going to close soon. I better get started.
Pour: Didjits comes out a rich golden to orange color—classic. A beverage color totally owned by beer in this style. It's even a tad hazy which makes my mouth water knowing that likely means a hop wallop awaits. It has a decent little head, as you can see in the photo, but it quickly reduced to almost nothing.
Smell: The blood orange zest and hops are all over the top of it. It smells super tangy and sweet.
Taste: The first sip is nice and bitter with some tartness. Quite bitter in fact. There is a little sweetness too but it is covered by the orange real quick. The orange isn't overpowering though, just a zesty citrus flavor that supports the hop profile well. It's excellent. The body is great as well which is completely typical for the style. After a bit there is some caramel showing itself. Also popping in is a subtle black pepper flavor. Not sure if that's was they were going for or if it's an off-flavor, it certainly wasn't expected and but a deal breaker.
The carbonation is middle of the road and the there is a silkiness to it. The two add up to a beer that escapes down the gullet pretty quickly. The two characteristics are also keeping this from that dryness that sends many IPA's 7% ABV and under into hop bomb territory. That's not to say it's a bad thing, that's up to you and your preferences. Didjits is well balanced and not a hop bomb.
Late, near the end of the 22 ounces, the orange peel tarts quite a bit pulling at the back corners of the tongue. I surprised to find I'd like more orange zest but that would have been a nice touch within a pint. Finally, even though the head dies to a trace covering two minutes after the pour I do have to say; it stays there and laces the glass very well. Which is helpful if you are consuming with friends and want to induce sip envy.
Final thought: I really like Didjits. The handwritten bottling date on the label is a nice touch. It's fresh. It's hoppy. It's unique within an extremely crowded and consistent style. I wish the tartness of the blood orange peel would surface halfway thru the first pint but I'll leave that to the experts.
Pair with: If this was bottled in March I would probably bring some to Bacon Week. But seriously, bacon and peanut butter. Do it. On second thought, you could do worse than pairing this citrusy, hoppy brew with a big arugula salad covered in beets and goat cheese. Go savory with this one. I think that's what I'm trying to say.
3 Caps
Wayne Pelletier
September 1991. I drew from a tall, golden, hazy glass of a fresh and local hefeweizen in Bamberg Germany. Since then I've tasted more than a thousand brews. Here in the Greater Atlanta area we're pretty fortunate. Our local heavies: SweetWater, Atlanta Brewing and Terrapin all do world-class work. But the scene goes much, much deeper. That's where I like to find fresh pints. The goal is to draw attention to those finds on a 3-cap scale. Three seems simple but that isn't to say everything is great, average or terrible. Quite the contrary is the reality. I have come across very few craft/micro beers that are just no good. I assume these are all good beverages brew by good people with good intentions and you should as well. If I cross paths with a local brew that is truly terrible I won't waste your time, or mine, writing a review. 3 CAPS: Hurry. This is a rare brew worth going out of your way to find. I swear it. 2 CAPS: A very good beer. Stands out as great in the style. 1 CAP: A decent brew that is average for the style. Prost!