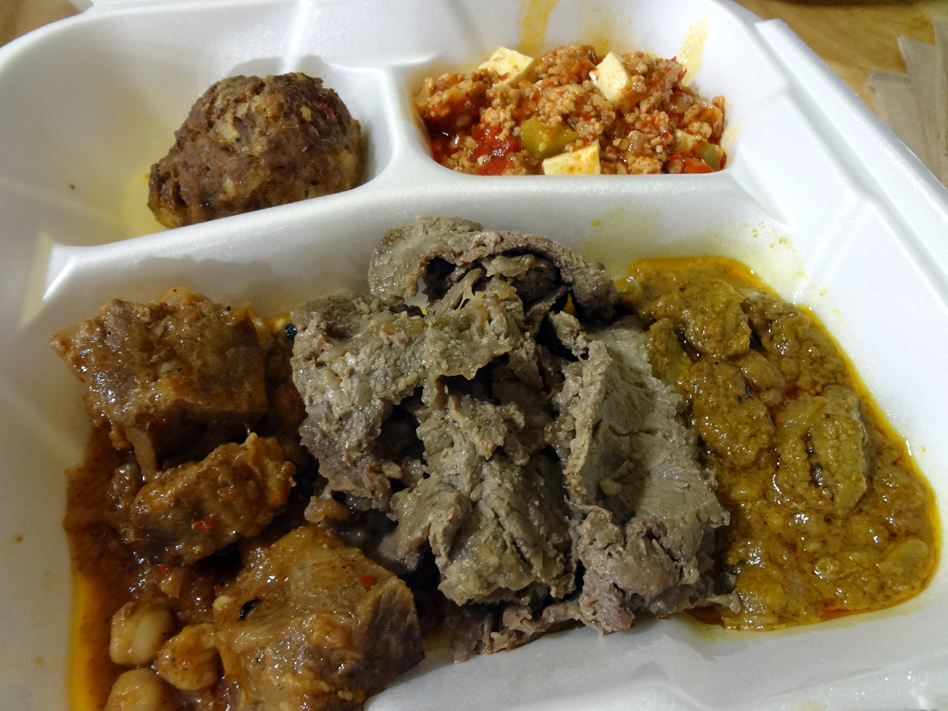 This week Adam and I finally got to dine at the Buford Highway Farmers Market food court. We've been to the Buford Highway Farmers Market many times, as we regularly shop there, but we'd never eaten anything other than samples before. On a Sunday afternoon, we dropped by to get acquainted with the food court/cafeteria area.
There were several food prep areas, a latin food area, a crepe area, etc., but they did not all seem to be open, so we gravitated to the hot bar at the end. Since the hot bar had a variety of ethnicities represented, we felt like this was a great place to get a range of food.
After staring at all the different delicious things, eyeballing the three-portioned styrofoam boxes, and having a hard time just picking a few things, we met Marian. Marian was so incredibly friendly and nice and she was happy to give us small portions of a variety of things, as well as chat with us about various spices, her favorite items and suggestions. She made the experience so nice!
We were eyeballing the samosas and were thinking of getting a lamb samosa, but Marian informed us that the chicken samosas have more curry in them (and the the potato samosas have the most). So we happily got a chicken samosa for $1.25. The rest of the food along the line is $6.99, and we got a russian meatball, mapo tofu with pork, lamb roganjosh, bulgogi, and a turkish chickpea and lamb dish.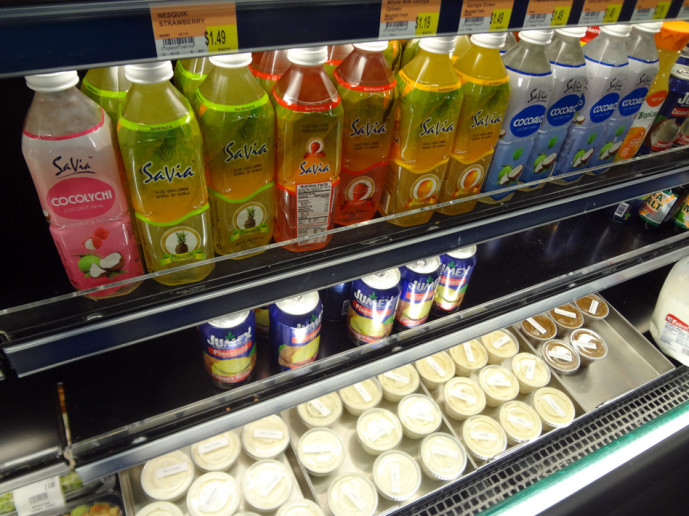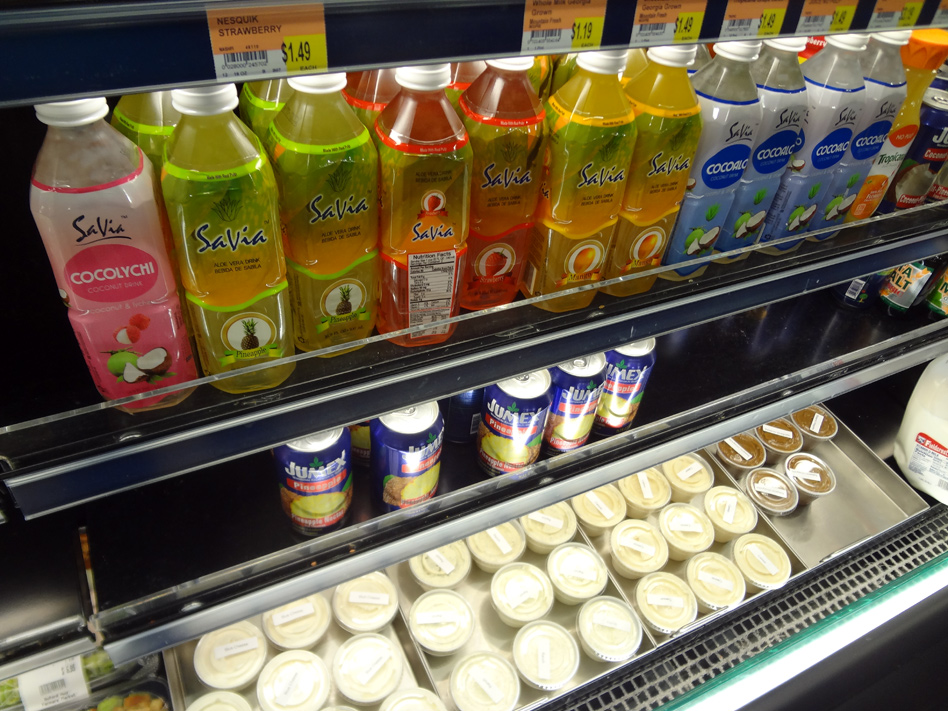 There was a variety of packaged foods like sushi available, a long with a large selection of drinks. I selected an aloe and pineapple drink, while Adam went for a Jamaican Kola drink. After paying, we made our way past the condiment counter to a seat along the edge of the surprisingly spacious seating area. The place is clean, neat, and cheerfully decorated with silk flowers.
After seating ourselves, we got down to the serious business of eating and drinking! The aloe drink was much like other aloe drinks I have had, though possibly less slimy than some of the others, which was nice. The Jamaican Kola tasted very much like Inca Kola, though I think Adam and I still both prefer the latter.
We got free rice, and it doesn't against the weight of the food line items, so that was really nice. It mixed well with our mapo tofu and helped us some up the saucy roganjosh.
The russian meatball was very savory, moisy and a little oily – in a good, comforting way, not an icky, drippy way. The mapo tofu was surprisingly not hot, but since this is a general public food line, I assume they try to keep it toned down so as to not scare folks off. But it was seriously NOT spicy… it seemed like the chickpea and lamb dish or the chutney for the samosa might have had a little more kick, which was a little disappointing. Then again, we are fresh off of our March trip to Hong Kong, so we have chinese mapo on the brain/tastebuds.
The bulgogi was good, but as I noted to Adam, I think So Kong Dong has warped my ideas about bulgogi. Their bulgogi is very different from the other bulgogi I've had on Buford Highway, and since it's what I had first, I expect something other than what seems to be the norm at korean restaurants.
The lamb roganjosh seemed to be mostly some kind of meat sauce; it wasn't as chunky as pictures I have since seen online. But I didn't really know what to expect, so I mixed it with rice and ate it up. Good but not remarkable.
The chickpea and lamb dish was one of our more favorite selections, with a really nice and flavorful mix of spices. But the samosa was definitely our favorite. It was so very good, as was the chutney. I could come back just for that!
I wish that some of the other stations had been opened, especially so we could have tried some latin food, but overall we were very happy with our experience at the Buford Highway Farmers Market food court. We left full for just $11, and we got a great variety of cuisines. For a cafeteria in a grocery, the quality was surprisingly decent and the service was exemplary. If you need a quick meal before or after picking up your groceries I would certainly recommend dropping in, but I'm not sure it's worth making a special trip to the farmers market just for the food court. But since the Buford Highway Farmers Market it an excellent place to shop for exotic ingredients and whole foods (you'll lose your shirt trying to buy most processed foods here), perhaps you should plan a trip if you've never been! 3.5 stars.
Buford Highway Farmers Market
5600 Buford Highway NE
Doraville, GA 30340
emily
Nerd. Foodie. Gamer. Homecook. Perpetual planner. Gardener. Aspiring homesteader. Direct response graphic designer. I use too many damn commas.