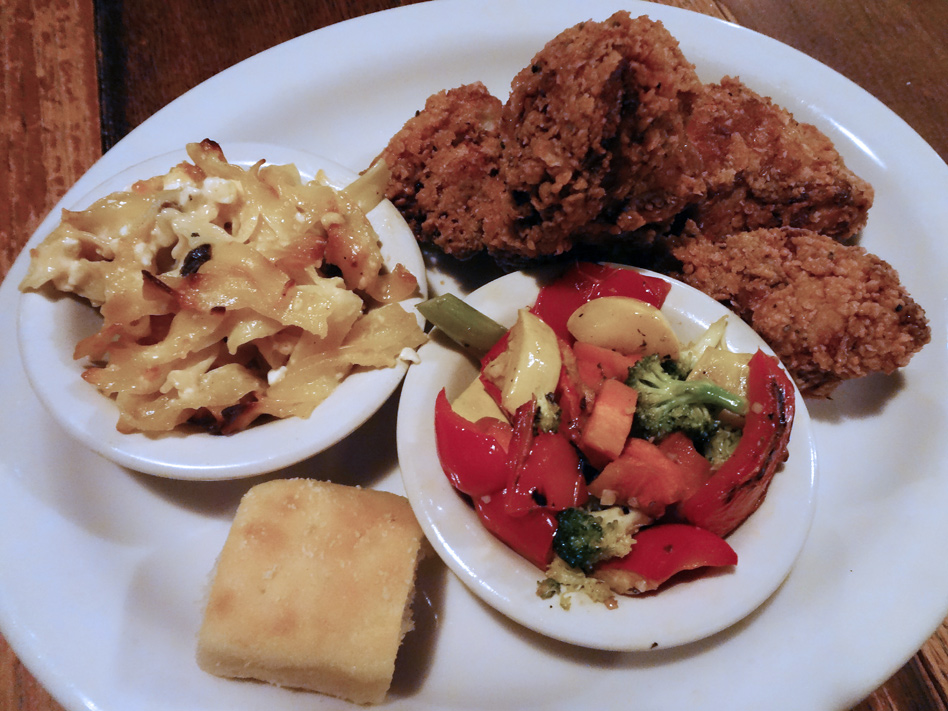 This Atlanta classic closed its doors for the final time in December of 2015.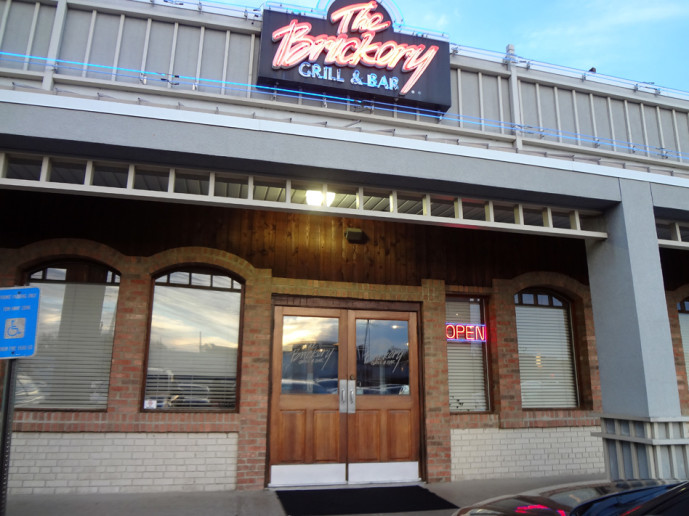 Last week Adam and I attended a blogger dinner at The Brickery in Sandy Springs. If you've never heard of The Brickery before – I hadn't prior to this visit – then you've been missing out for more than 22 years. Not only does this Brickery have a dedicated following (the place was pretty darn full on a Wednesday night), but they also do full-service catering.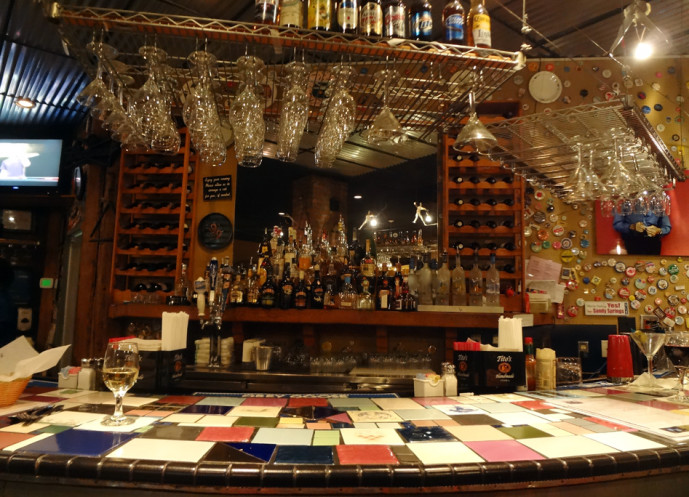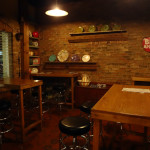 Additionally, The Brickery makes ten salad dressings in-house, and the summer menus have seen farm-to-table produce on the menu for 20 years. There is also a full bar.
Not only were we treated to a great night in a comfortable atmosphere with great company, but we were practically buried in an avalanche of tasty food. So settle in, 'cuz here we go, starting with the appetizers.
The blue cheese chips were huge! The blue cheese flavor was really nice and strong, but it still didn't overwhelm the chips' taste, which was also very noticeable. The blue cheese dressing is made by hand.
I loved the barely battered shrimp. It really was the perfect amount of batter and the shrimp were very big and plump, which a fresh texture to them. Great concept, great dish. The dipping sauce was pretty nice, but these shrimp could stand on their own just fine.
I am a big fan of brussels sprouts – and I'm elated now when Adam requests them with dinner, since he used to be a huge brussels hater. Perhaps it's due to my love of the sprouts that led me to be confused as to why this particular dish had noodles in it. I don't think it added much and I would have personally preferred to just have more brussels sprouts instead.
Next up was the onslaught of entrees. I missed out on having a photo of the crab cake plate but they were very tasty. The cakes came with very nice three dipping sauces and were clearly real crab cakes, no substitutes and no fillers. Plus they're gluten free! Two thumbs up.
I also missed out on a decent photo of the beef brisket plate. Unfortunately this item was a huge flop for me. I recognize it as being done in a particular sort of traditional way, but it's not a way I am a fan of – surprisingly dry with a sweet sauce. Well you can't please all of the people all of the time, and I suppose this time, that's me. No big deal.
The House caesar salad burger is a unique, messy, tasty burger. I am not the biggest fan of most burgers for whatever reason (I think I'm just very picky), but I enjoyed this one. Adam really enjoyed it, and would love to have another any old time. Right now would probably work for him.
The fried chicken was juicy with the correct amount of breading. It wasn't the best fried chicken we've ever or anything had but it was quite enjoyable!
The southwest salad features avocado, romaine, tortilla strips, and chiptole dressing. The portion side was huge and there was plenty of avocado – a product that some places will try to skimp on as much as possible. Not so at The Brickery, it would seem. Yum.
Now, on to the sides.
Ah, the onion rings. Another fried food dish, and yet again, the perfect amount of breading. None of that onion slipping out of the breading when you bite into it business.
The broccoli casserole was classically delicious.
Okay, it's time to take my proverbial german heritage card away. I was not a huge fan of the luchen kugel. But I saw some folks go back for helping after helping, so you can take my opinion of the kugel in that context. I suppose I just don't believe that raisin and noodles belong in the same dish, haha.
Finally, the desserts. Can you believe that anyone would have any room left?
The chess pie was Adam's favorite dessert. He describes it as reminding him of "all the good things about pecan pie but without the pecans."
This chocolate cake did not impress either of us. It was more of a brownie, in my opinion. Maybe it was because Adam had already fallen for the pie and I was too busy scarfing down peach cobbler.
Delicious. My favorite of the three desserts. It's probably hard to screw up cobbler, but this cobbler was great. I apparently was not too full to polish this one off.
I'm surprised I hadn't heard of the Brickery before, but it definitely seems to have a cult following. The people who have been love it and go back time and time again. It has a reputation as being a bit of an old fogey joint, but people who care about food don't care about that.
We had a good time at the Brickery and enjoyed a number of the things we had. It seems reasonably priced for the quantity and quality we saw in the items we had. Seems worth a shot to me! Adam feels they deserve 4 stars and says that if we lived closer, he'd be pulling to go there on a regular basis. I am more inclined to go with a lower score, but that may be due to my bias against american food restaurants, so I'll bow to his score. 4 stars for The Brickery.
Since this was a media event hosted by The Brickery, Adam and I received the food we sampled without charge. Regardless, the thoughts and words in this post are my own – or Adam's. Check out these posts by fellow bloggers:
Iron Stef of Dishes Delicious
Marie, Let's Eat
Friday Date Night
The Brickery
6125 Roswell Road NE
Atlanta, GA 30328
emily
Nerd. Foodie. Gamer. Homecook. Perpetual planner. Gardener. Aspiring homesteader. Direct response graphic designer. I use too many damn commas.