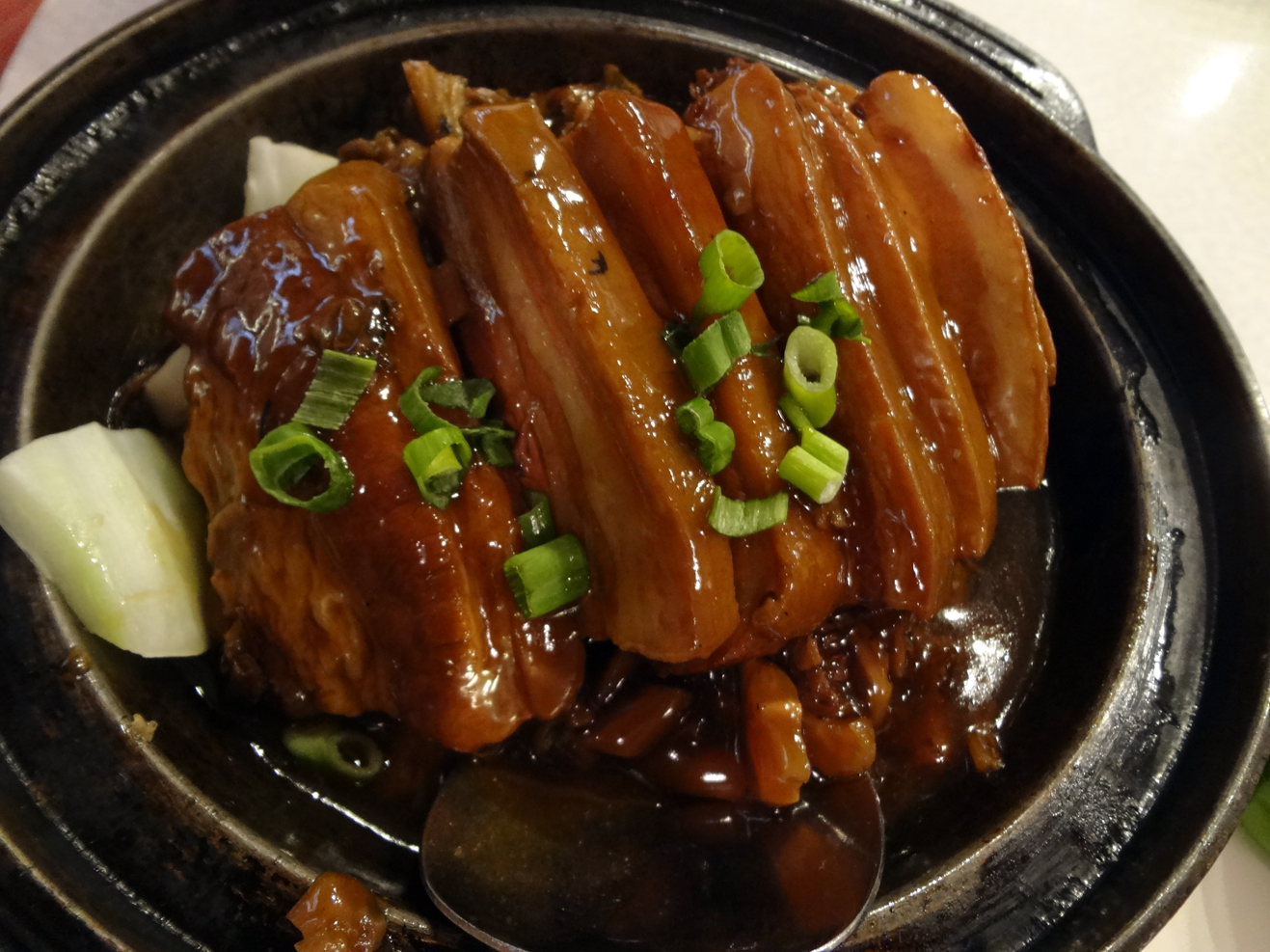 About a week ago, the hubs and I headed out to to Bo Bo Garden with empty bellies and a posse of friends: Ashley, Stephen and Mary. I was anticipating a fine meal after reading Marie, Let's Eat!'s post on Bo Bo Garden in the spring of this year.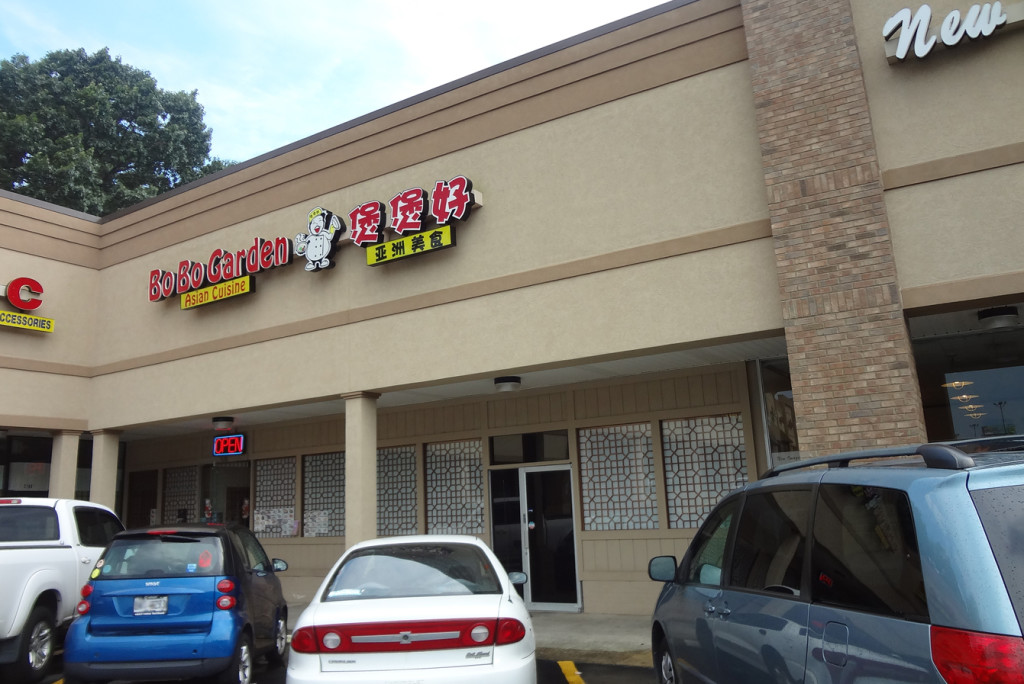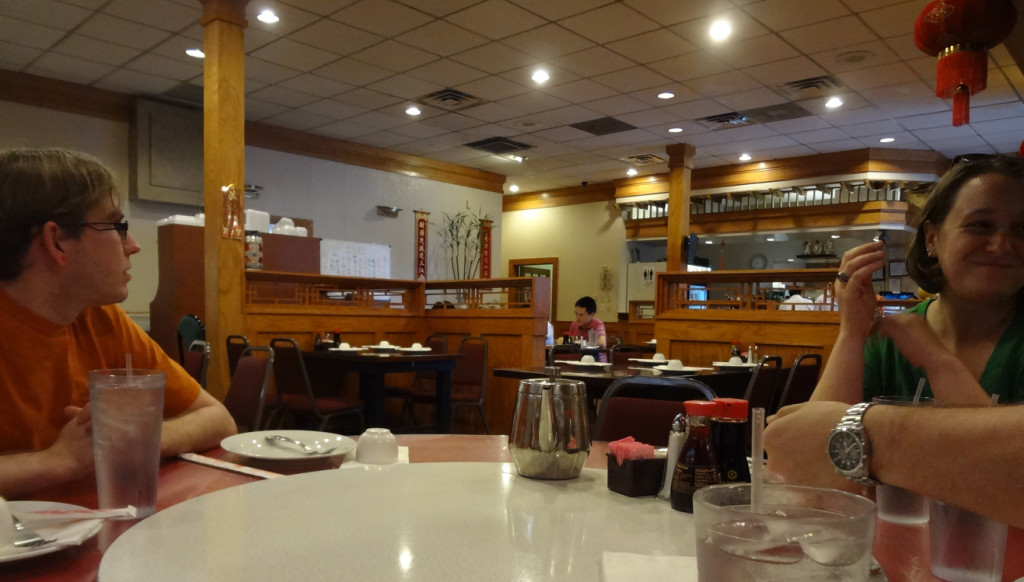 We were quickly seated in a corner table with lazy susan, right by the live fish. Four servers descended to pass out plates, cups, chopsticks, napkins, tea, and water, and had those tasks completed quickly.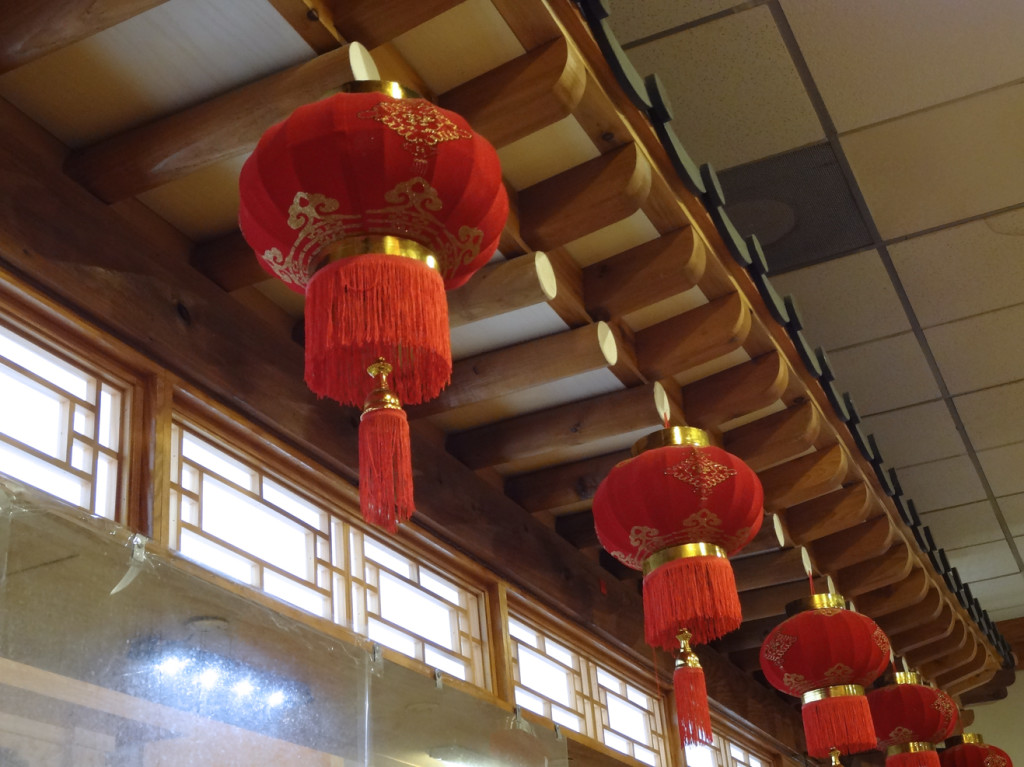 Our main server was a very friendly guy who made an effort to be funny and entertaining, which honestly made me a little uncomfortable. Maybe I am just weird.
We had trouble communicating with him, however, and later when we realized we had too many dishes on the table, we retraced the conversation and realized that while trying to ask a question about the contents of a dish we were ordering, we apparently ordered an additional entree. Conversely, the beers that three of us ordered never arrived.
Unfortunately, I was banking on the menu being available online, since I though Bo Bo Garden was relatively well-known. This is not the case however, so I don't have prices for all the dishes, and in some cases I don't even have the correct names. My apologies!
The scallop and pork soup and the three kinds of dumplings were good but not amazing. I appreciated having a different type of soup available instead of being limited to the time-honored traditions of egg drop and hot and sour soups. Still, being enjoyably different, it wasn't a standout. I am not the world's finest connoisseur of food; I'm just a chick who loves eating food, but I was completely unable to distinguish three kinds of dumplings. They tasted pretty much the same to me, I'm embarrassed to say. They were enjoyable though, and I did like the vegetable they came with, too.
The beef and vermicelli hot pot dish was pretty good, but not unlike other hot pots we've had along Buford Highway.
The mustard pork belly was another beast, however! A unique and tasty entrée, and while I picked around some of the larger parts of fat, I enjoyed the experience.
The extra entree we "ordered" was something involving shrimp and chives (or another chive-like vegetable). I liked it quite a lot, but seemingly more than others.
The salt and pepper seafood "casserole" that Ashley ordered was definitely my favorite – great textures and flavors in that dish! If I wasn't getting so full, I would have eaten it all! We still don't know what seafood was in it, really, since when we asked the first time, we wound up with the shrimp and chives!
Lastly, we had some chicken curry with buns. It was good, too. The buns had a great texture to them and went along with the curry nicely, as designed.
Here are some thoughts about Bo Bo Garden from the crew–
Stephen: The food was good and well-priced, but due to communication issues, ordering can be a challenge (as we got an extra plate but no beers). Overall, a good restaurant. Rating of 3.5 (probably would have been 4 if the customer service had been better).
Ashley: I think the food is well worth the price, the environment is enjoyable, but the language barrier of the server is the first occasion I've really had for which ordering became an issue, so I leave quite satiated if not out a little extra money because I didn't know I was ordering another dish. I would also say 3.5. At this point, if I were asked to choose among Little Szechuan, Northern China, and Bo Bo Garden, I'd go with Northern China
Mary: I thought it was delicious and the waiters were friendly, though poor English was obviously an issue. Still, I think it was with every dime we paid. 3.5 stars.
Adam: The service was nice, but really everything else was right about average. The food was good, but it wasn't great. The prices were average but not great. 3 stars.
I pretty much agree with everything said above. My additional thoughts that we are a little jaded about authentic chinese (the sign said asian, not chinese, but it is chinese right? I'm not crazy, right?) because of our great experiences at Chef Liu and Northern China Eatery. Really, if you keep things in perspective, Bo Bo Garden is more authentic than the majority of chinese restaurants in Atlanta, and I think that is deserving of mention. Which is what I just did!
Overall, I would probably have to give it a 3 or 3.5 star rating, but luckily for me, I don't have to think too hard about which one, since either way we'll average out to 3.5 stars for Bo Bo Garden.
Bo Bo Garden Asian Cuisine
5181 Buford Highway NE
Atlanta, GA 30340
emily
Nerd. Foodie. Gamer. Homecook. Perpetual planner. Gardener. Aspiring homesteader. Direct response graphic designer. I use too many damn commas.