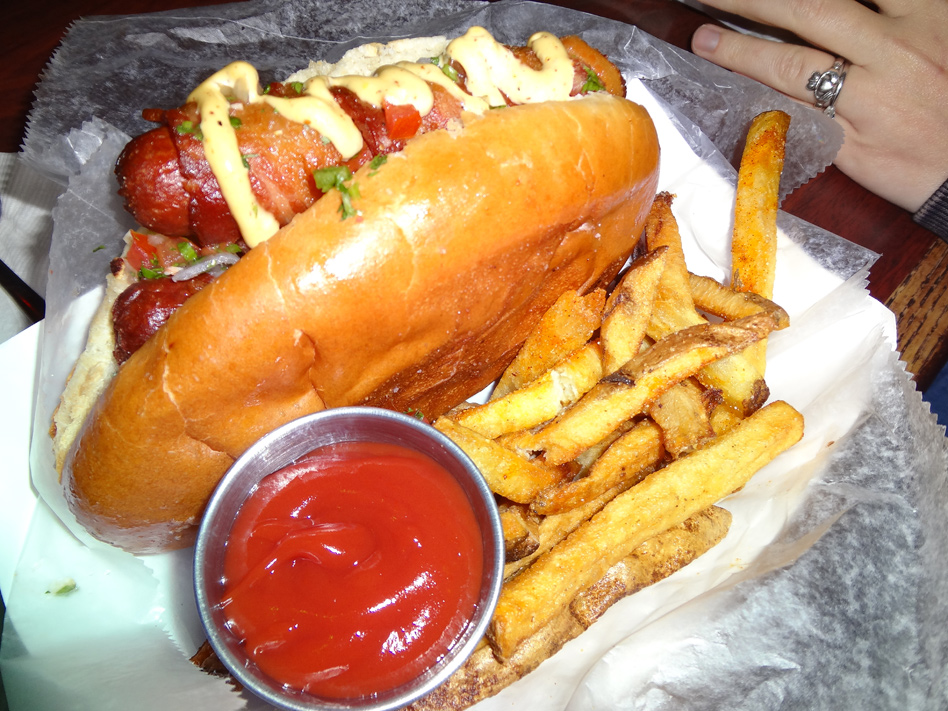 This restaurant used to be amazing before they redid the menu and screwed it all up. So I am sad but not surprised that it closed towards the end of 2014.
Over the holidays, Adam and I headed out to Big Tex Decatur for their Monday night trivia with our friends from Jacksonville, NC Ana and Johnny and their kids.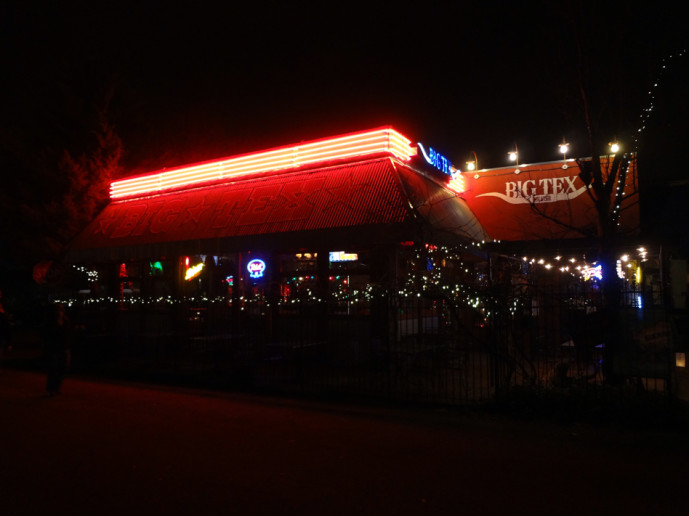 Friends, family, and long-time readers may know a bit about our history with this place, but for those who don't, here's the synopsis: When Big Tex Cantina – as it was known then – first opened, Adam and I were thrilled. We are big fans of Fox Brothers Barbecue (same folks later behind Big Tex), and not only did we have Fox Brothers cater our wedding, we went to Big Tex for our very informal rehearsal dinner.
That meal, and the others we had around that time were phenomenal… stacked enchiladas, brisket chili all over the place, crazy double pork chops… so good.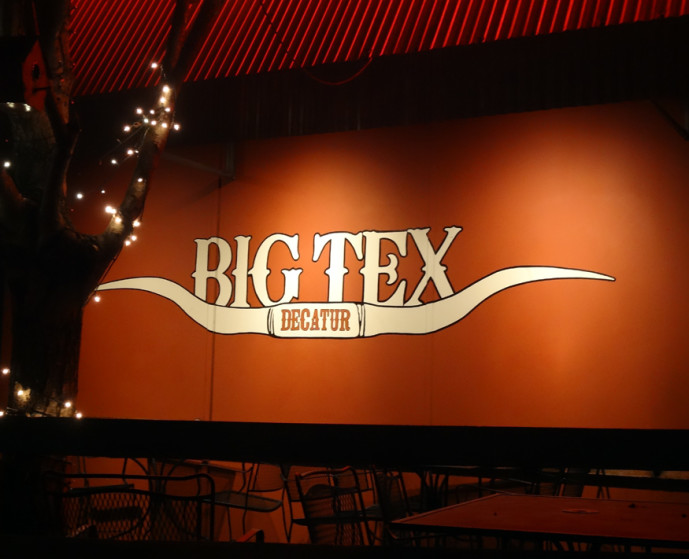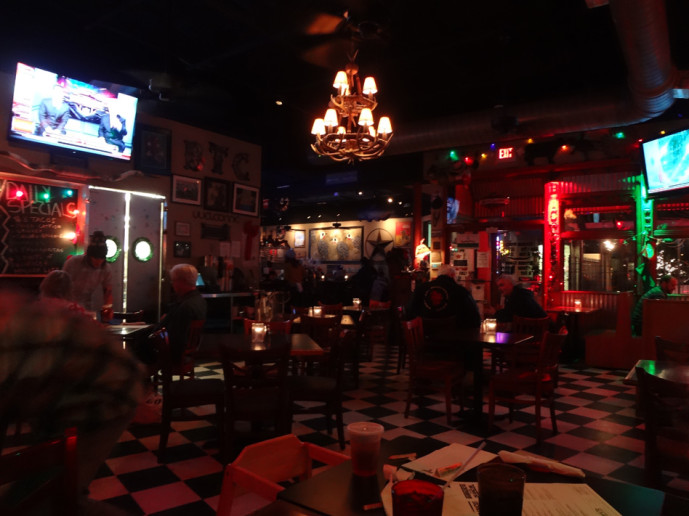 Unfortunately, a while later Big Tex purged many of what we considered their finest offerings from the menu, leaving it a somewhat southwestern burger joint with a couple other things tossed in. We hated the changes, and haven't been back since (probably two years and change)… until now. At some point they rebranded a bit and became Big Tex Decatur.
Since it had been quite some time, and we were in need of a Monday night trivia spot, we accepted that our nostalgic dishes are never coming back and resolved to go in with an open mind to see what we could find.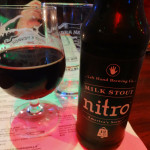 The interior looks just the same. The menu is still not what it once was, but is has certainly improved. The brisket chili is there!
We ordered some beers and two appetizers: the pimento cheese with chile bacon jam, house pickles, and crackers ($5), and the queso fundido – menonita cheese and pico de gallo with tortillas ($7), served in a hot skillet. My beer came rather flat, but the instructions on the back on the bottle's label said to pour hard, so I suppose it could have been my fault.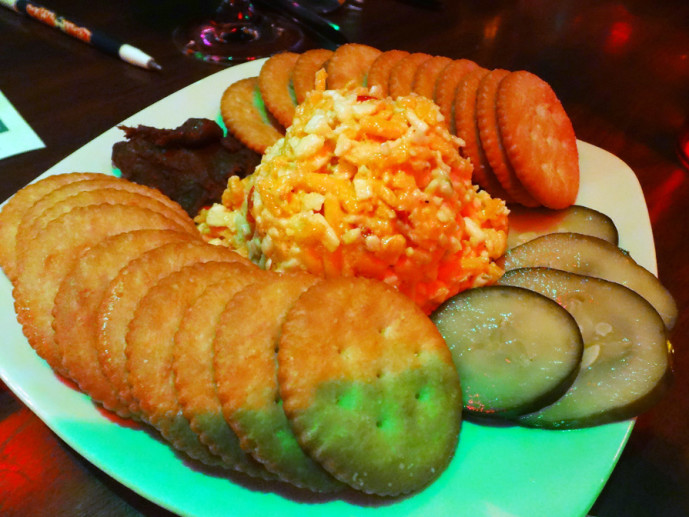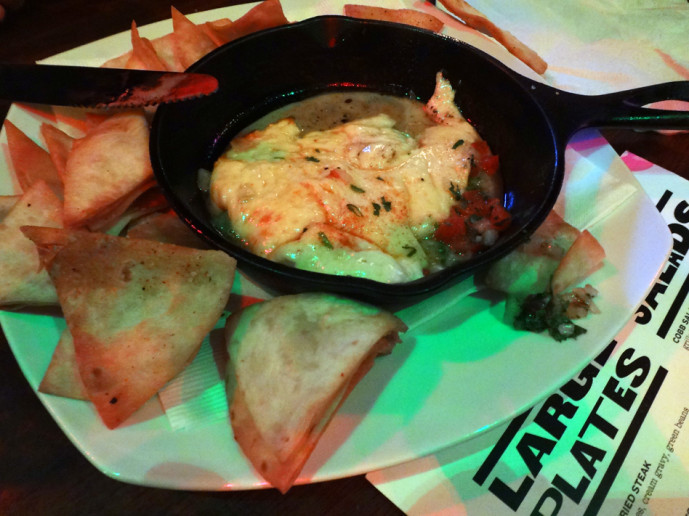 Adam and I, in typical style got two entrees to split. First, Sonoran Hot Dog entree, two hot dogs wrapped in bacon, in a single bun, and some refried black beans, guacamole, crema, pico de gallo, and tex sauce ($10). We also got the special for the evening, a tamale plate with three beef tamales, refried black beans, fiesta rice, guacamole, and greens ($11).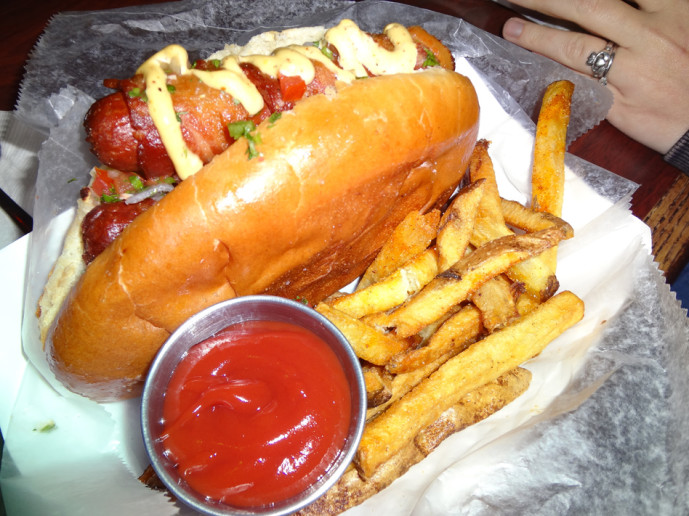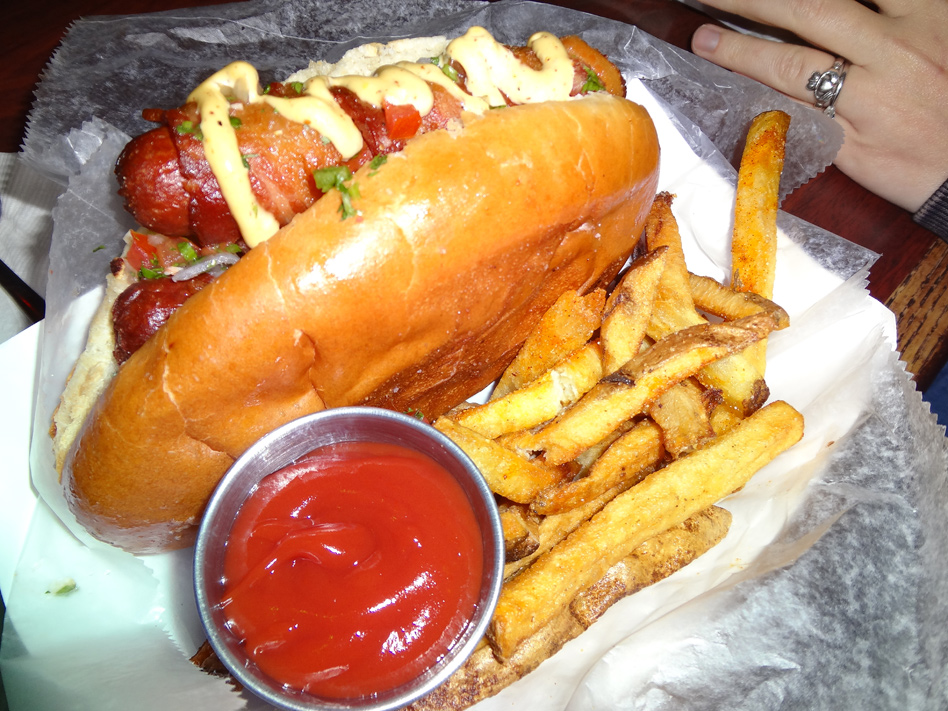 We were quite tickled by the hot dogs, especially because there were two, making it easy to share. They were tasty and novel.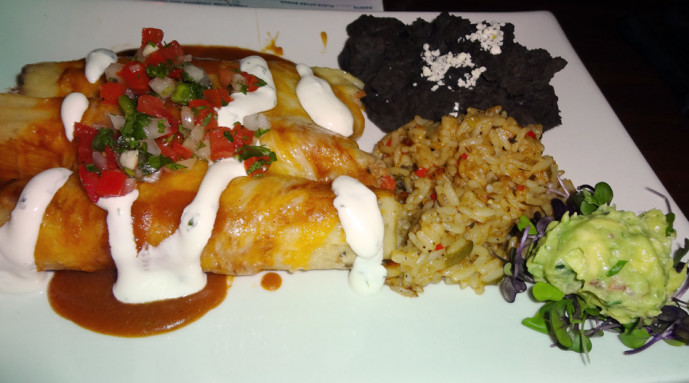 The tamales were very good, and not at all what we expected – we were imagining shorter, squatter and cornhusk-ier and were pleasantly surprised. We enjoyed our meal, even though we crashed and burned at trivia (after being in 3rd place at the halfway mark).
Ana got the steak salad, Johnny got a burger, Chance got catfish, and little Evelyn had a quesadilla.
Johnny was pretty impressed that his burger was hand-patted, and enjoyed the queso fundido as well.
I wound up "helping" chance a bit with his fried catfish, and was absolutely delighted at how scrumptious it was. It was a shame I was so full, but honestly that really didn't stop me from tucking away a good portion of the catfish. This is totally different from the dishes I miss most, but I think it's likely I'll order this on a future visit.
Ana and Johnny give Big Tex Decatur 3 stars. "The food was mostly good and we loved the atmosphere. The servers were very friendly but a little unavailable."
As for Adam and I? Overall, the food was unique and well-prepared with good pricing. We had a great time, despite losing. We were pleasantly surprised.
If you'd never been to Big Tex before, you'd probably find the menu to be creative and appealing. Just because we know what things used to be doesn't lessen the current reality. It's a great trivia spot and family-friendly to boot (I suspect the dropping of "Cantina" and addition of "Decatur" were to drive that point home). It's like a much classier Taco Mac. Would recommend to folks looking for those things. 3.5 stars.
Big Tex Decatur (formerly Big Tex Cantina)
308 W. Ponce de Leon Avenue
Decatur, GA 30030
emily
Nerd. Foodie. Gamer. Homecook. Perpetual planner. Gardener. Aspiring homesteader. Direct response graphic designer. I use too many damn commas.