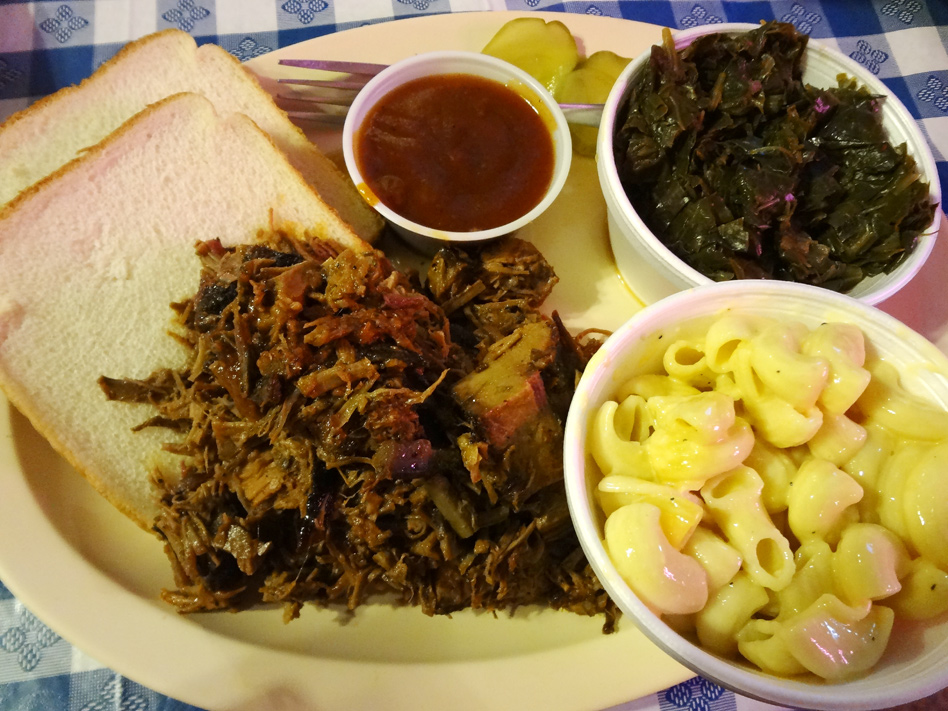 A couple of weeks back, we got to spend some time with Grant and Marie up in their neck of the woods for a change. We headed out to Big Shanty Smokehouse in Kennesaw for some more barbecue experience-gathering (with the best guides for the job, I might add).
Big Shanty Smokehouse is a converted home that has been expanded to seat what I can only assume is a small legion of dedicated diners. There is a nice patio and a slightly-sloping but fairly spacious addition where we sat.
It bring winter here, we arrived after dark and missed out on some of the character of the place – thankfully Grant took photos previously and has generously shared them with me for your benefit. Thanks, Grant!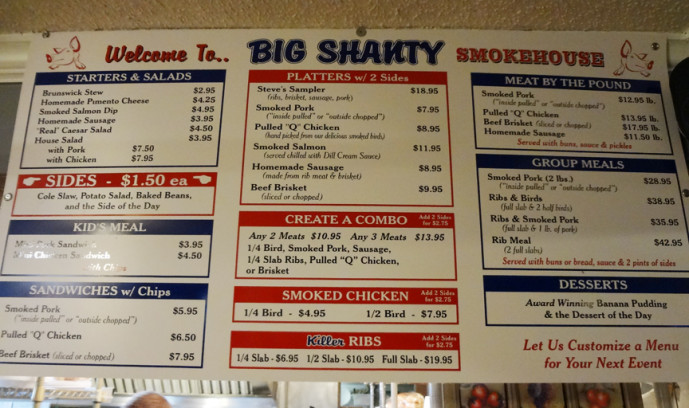 There's definitely a bit of a hole-in-the-wall feel, but it's a nice, comfortable and award-winning hole-in-the wall. After perusing the menu a bit Adam and I ordered the chopped brisket plate and the outside chopped pork plate with sides and a banana pudding to share.
Then we made our way downstairs to the slightly sloping room to be seated. After admiring the decor a bit, and watching Grant experience a range of emotions due to the antics of a particular sports team on the television, our food was brought out to us.
What the guy bringing our food couldn't carry in the first load was passed to him out an old window left in the wall. Quirky and neat.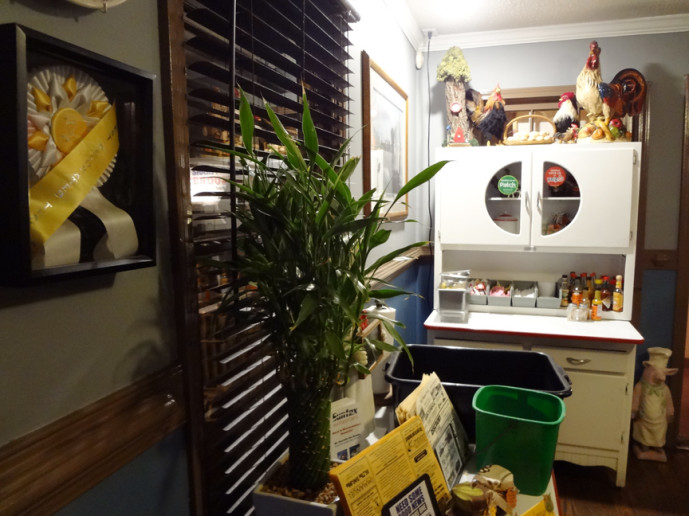 Both of our plates were excellent. I ordered collard greens and mac 'n' cheese as my sides because I didn't think I was in the mood for beans, but Adam ordered the beans and they were surprisingly delicious! There were multiple types of beans in the dish, which is not something I've seen at a barbecue place before.
The collards and beans were quite good, the mac 'n' cheese was tasty, and the meat was quite excellent. The portion sizes were astounding… so glad we didn't get any larger combination plates. The barbecue sauce was served on the side, which was really nice and the sauce itself was incredibly good.
Adam enjoyed everything he had, but we both kind of turned up our noses a week bit at the award-winning banana pudding. Adam's family recipe is simply superior, so it's hard to judge just how better than average it is when it's all not as good as what you're used to 🙂
Overall the atmosphere is pleasant, the portions are large and the quality of the food combined with the prices and portions make the value here pretty incredible. Too bad it's so far away from our stomping grounds, otherwise we'd probably become regulars! 3.5 stars for Big Shanty Smokehouse.
Grant and Marie have already reviewed Big Shanty Smokehouse, do check it out.
Big Shanty Smokehouse
3393 Cherokee Street NW
Kennesaw, GA 30144
emily
Nerd. Foodie. Gamer. Homecook. Perpetual planner. Gardener. Aspiring homesteader. Direct response graphic designer. I use too many damn commas.