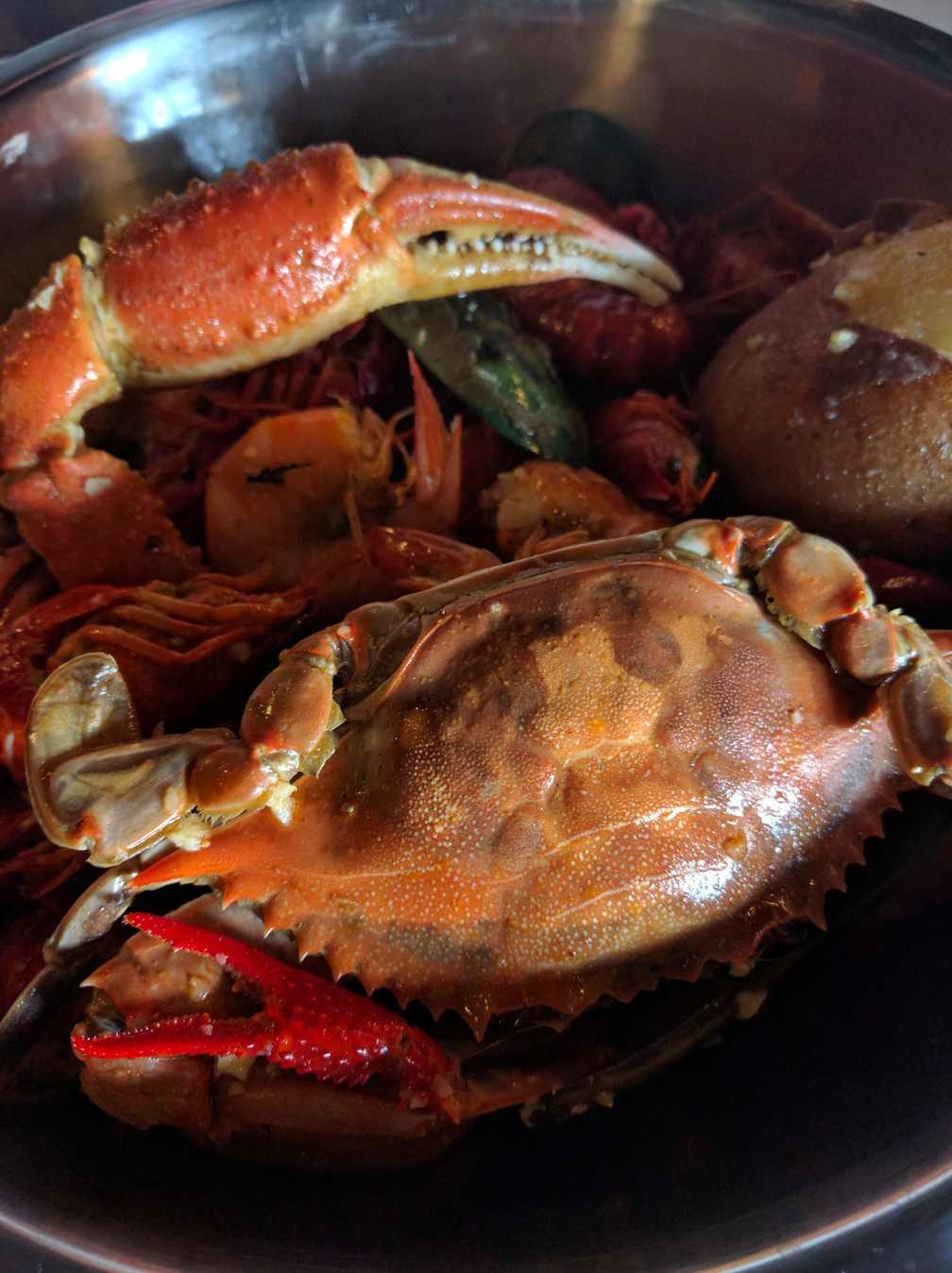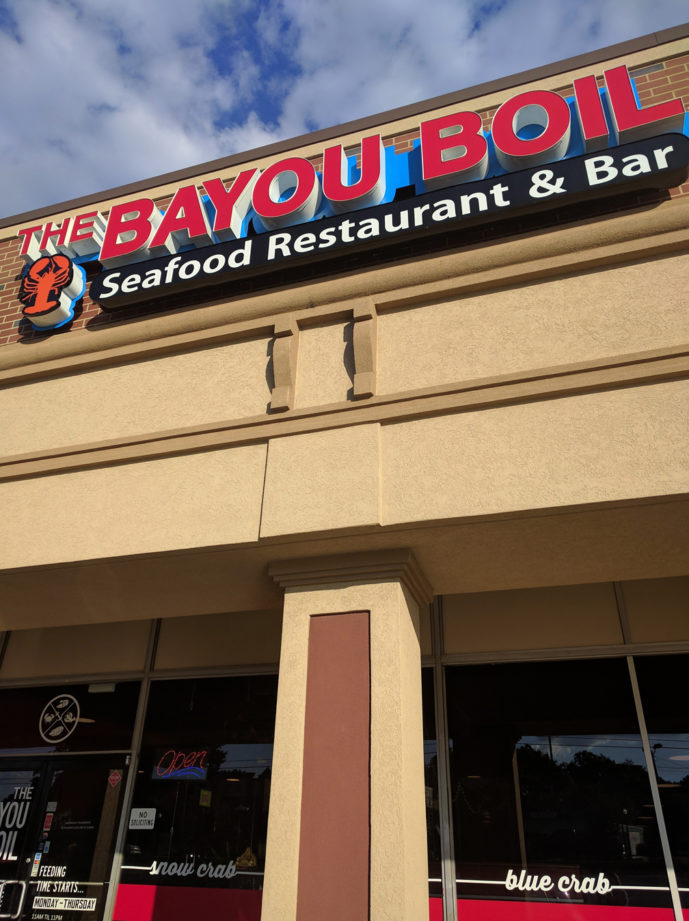 A lot has changed since our first jaunt up Buford Highway, and one up them is a little mini-explosion of seafood boil type places. The Bayou Boil had better reviews on Yelp, so that is where we started. Plus it's in the old Little Szechuan spot and the restaurant was good before it moved, so maybe there's good juju?
The inside is very nice, but not as nice as the staff who were all super nice. Sadly, this joint is coming up on a year without its liquor license, so the "and bar" part is stuck in bureaucratic limbo… boo. Also they had sold out of the crawfish beignets, so double-boo but of course neither could really be helped.
The menu was so excited that we ordered way too much food and I just couldn't muscle through. The good news is that the Bayou Bucket made for amazing cold-out-of-the-fridge leftovers later on.
The calamari was solid, good crispy breading. I'm always happy when there are tails! The aioli is not for me, but it has a good flavor that I can still appreciate.
The etouffee is not shy. It has strong flavor and a strong kick. As a spicy-lover, you don't often hear me complain about heat, but I felt like this dish had the kind of heat that interferes with one's ability to enjoy flavors. Still yummy, even if it's no Thibodeaux's. Plus, you get the benefit of a nice crawfish (crayfish? crawdad? …the menu says crayfish so I'm sticking to that) dish that doesn't involving picking them apart.
Now the signature Bayou Bucket was next. The waitress put our bibs on, too funny! I won't lie, being the crunchy-granola chick that I am, my first thought upon seeing the bucket was "I wonder if that plastic is BPA-free?!" The spice mix had good flavor and heat. I super-appreciated that there was only one potato and one corn on the cob – this bucket is not full of fillers. That's a good thing. But then I tried the corn… and it was fantastic. I'm not sure what they did but it was super yummy and though I am typically a fan of fresh, plain corn on the al dente side, the texture of this corn was great, and the spice mix of course made it ever better.
Overall, Adam and I had a good time at The Bayou Boil. In the grand scheme of the Atlanta food scene, Cajun isn't highly represented, so it's nice to have a convenient place to go get yummies like etouffee. The staff, as I said, were super nice and attentive, the decor is pleasant, and the prices are good, especially given the quantity and quality of ingredients. If you, dear reader, know who it is that they need to beg or bribe to get that liquor license pushed through, feel free to let me or Bayou Boil know… I feel like these good folks deserve it; and it would be a great accompaniment to the food. 4 stars.
The Bayou Boil Restaurant and Bar
5091 Buford Highway NE
Doraville, GA 30340
emily
Nerd. Foodie. Gamer. Homecook. Perpetual planner. Gardener. Aspiring homesteader. Direct response graphic designer. I use too many damn commas.