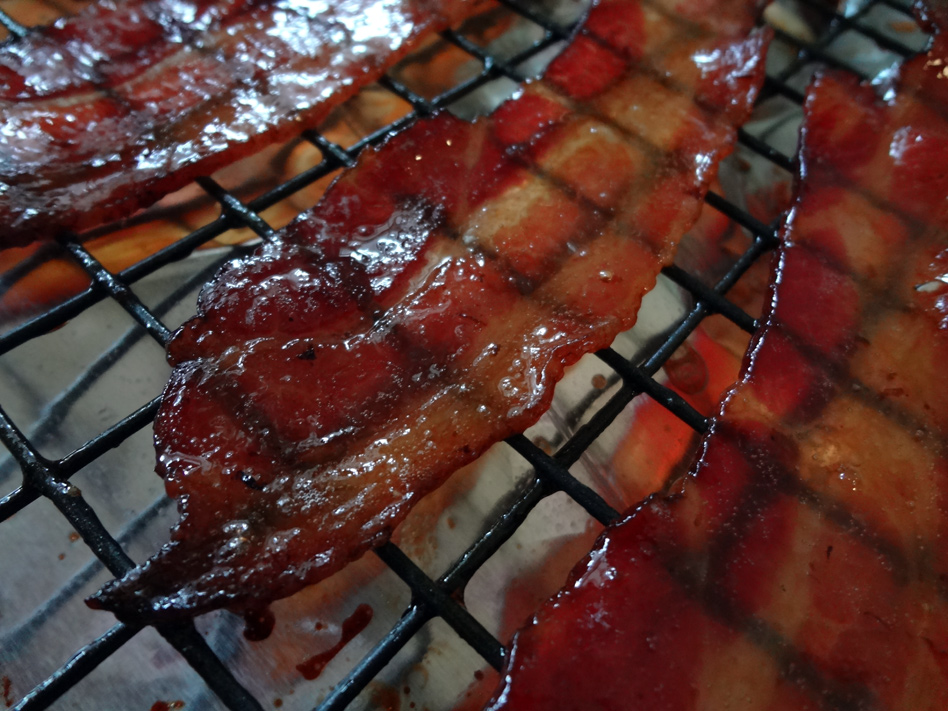 It's Bacon Week time once again!
We're kicking it off with a remix of part of a past recipe: the candied bacon from the maple bacon ice cream. Once again, with feeling! This year though, we'll be using a recipe found on CraftBeer.com, in order two best combine two of the best things food things life can provide: beer and bacon. Unlike our typical candied bacon recipe that includes vinegar, maple syrup, and apple juice, this one called for just brown sugar and beer. Nothing else, except bacon obviously.
Now, I didn't have any Dogfish Head Chicory Stout (or Clownshoes Chocolate Sombrero or Schlenkeria Marzen) on hand or nearby, so I decided to hipster it up and use some homebrew. So I used our '12 Allred Winter Warmer in this recipe.
Candied bacon is so straightforward and so fast to make. I really can't complain about executing the recipe, though I had a few tweaks, as always.
I don't know if I get went overboard, but I made the full recipe's worth of glaze, only used only about half the amount of bacon required, and still used all of the glaze on the first round (front and back). Maybe it's just me. I wound up making another batch for the second round of glazing, so I'm really glad I didn't just down the rest of the bottle of Winter Warmer.
Secondly I had cheap, crappy bacon (what can I say, money is a little tight this month), so I started out cautiously at less than 10 minutes per side as the recipe indicated. Nothing got overly cooked, and after a flip or two and I was confident that there was a decent amount of glaze on the slices, I went up to 10 minutes per side. If you use better bacon (Patak's anyone?) I don't think you'll need to worry at all.
However, it was at this point that my home filled with dark smoke. No bueno.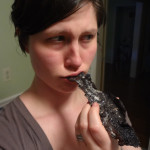 Not to be dissuaded on this, the fourth year of yon Bacon Week, I grabbed some more bacon the next day and tried again with a different beer (Dogfish Head Theobroma!) and tweaked the glaze recipe. Basically it consisted of the following:
2 tbsp maple syrup
1/4 c. brown sugar
1/4 c. Dogfish Head Theobroma
This time it went much better!
I got better-quality bacon, stuck to 5-7 minute intervals between flips and extra coats of glaze, and was consequently rewarded with delicious beer-candied bacon.
Now, I think the "beer-ness" of the bacon was very subtle. Maybe a more strongly-flavored beer would have done better, like the aforementioned chicory, chocolate-pepper, or smoked beers. But this was still tasty and I do think it has more dimension than the other recipe. I suppose in hindsight the best thing to do would have been to do a little of both to really see if there is a marked different.
At any rate, compared to the first attempt, this beer-candied bacon is a rousing success! A redeemed kick off to Bacon Week 2014. More Bacon Week experiments will appear here throughout the week, and don't forget to check n00bcakes as well.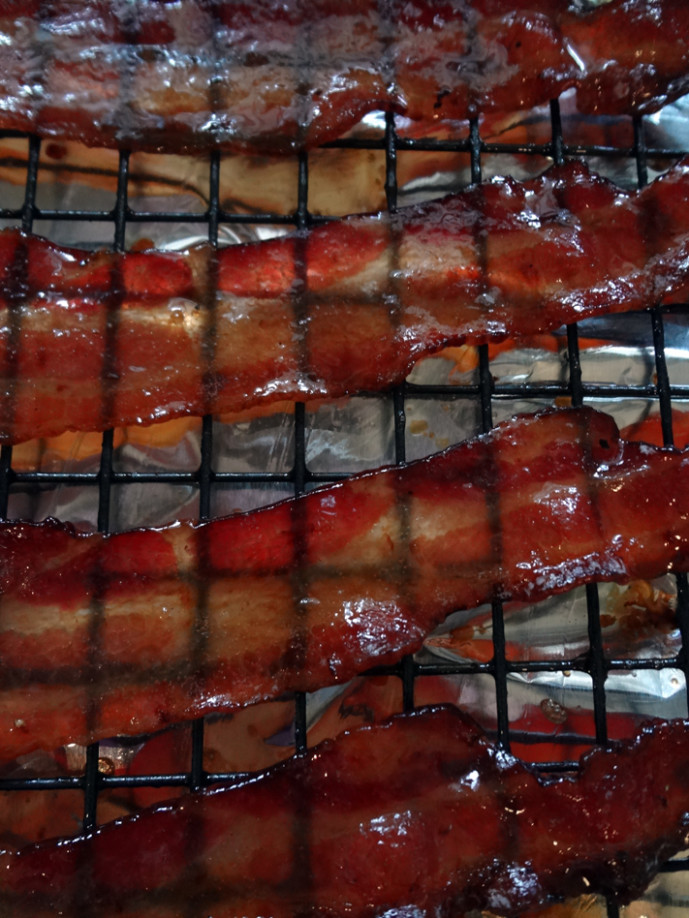 emily
Nerd. Foodie. Gamer. Homecook. Perpetual planner. Gardener. Aspiring homesteader. Direct response graphic designer. I use too many damn commas.