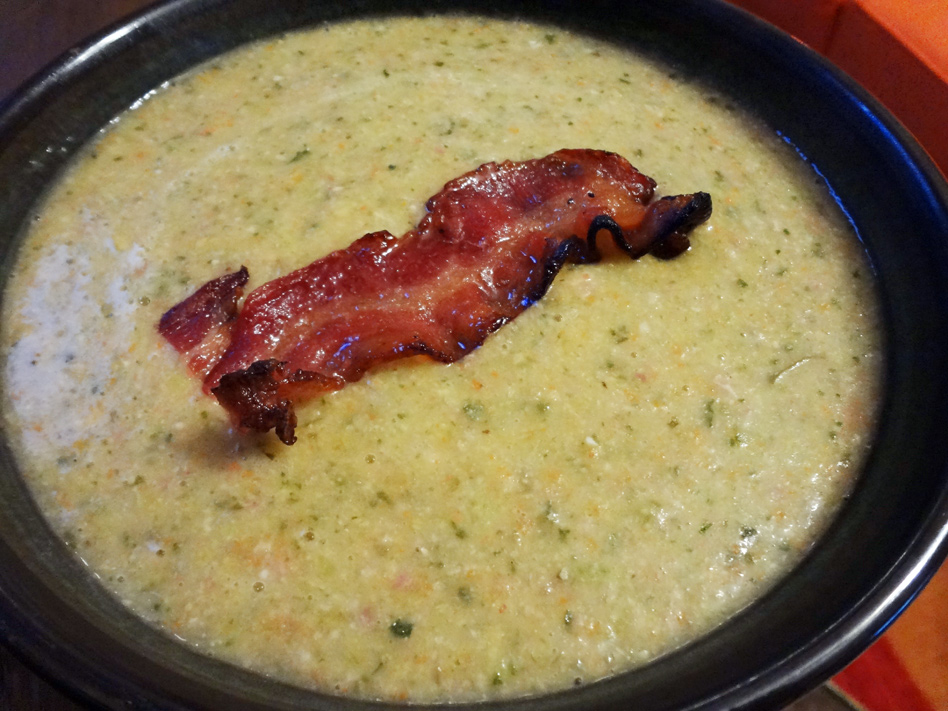 Our next Bacon Week cooking adventure is a fairly simple soup featuring a half-pound of bacon. The inspiration and the basic recipe is from Mrs. Ellwood's Simple Life and was found on Pinterest. I've never made chickpea soup before, but the hubs and I frequently enjoy lentil soup, split pea soup, and bean-heavy chilis, so trying a chickpea soup seemed like a natural next step. Plus we love hummus and chickpeas in general.
The ingredient list went a little like this:
1 can of chickpeas
1 carrot
1 stick of celery
6 or 7 slices of bacon
3 cups of chicken stock
2 tablespoons of chopped garlic
2 leaves and stems of kale
a couple pinches of rosemary
salt and pepper to taste
4 or 5 bay leaves while cooking (they were kind of old, that's why so many)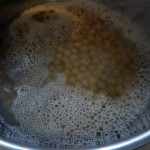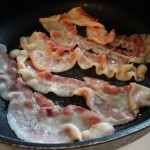 The original recipe called for spicy tortilla chips as a topping, but we felt like chips weren't necessary. Plus, I had 2 slices of undercooked beer-candied bacon from my first failed attempt for garnish – what better for Bacon Week?
We boiled the chickpeas for a while, then got the vegetables started in one pan and cooked up the bacon in another pan. Then we combined everything and simmered it all for about 45 minutes. Lastly, we took the immersion blender to it – perhaps too much.
As much as we love hot sauce, this was surprisingly tasty without. Though it tasted great with a little chipotle tabasco as well. We really enjoyed this soup; even if we blended it too long and it wound up being a bit like baby food, it was delicious bacony baby food. And what more could you want at the end of a long day during Bacon Week?
emily
Nerd. Foodie. Gamer. Homecook. Perpetual planner. Gardener. Aspiring homesteader. Direct response graphic designer. I use too many damn commas.