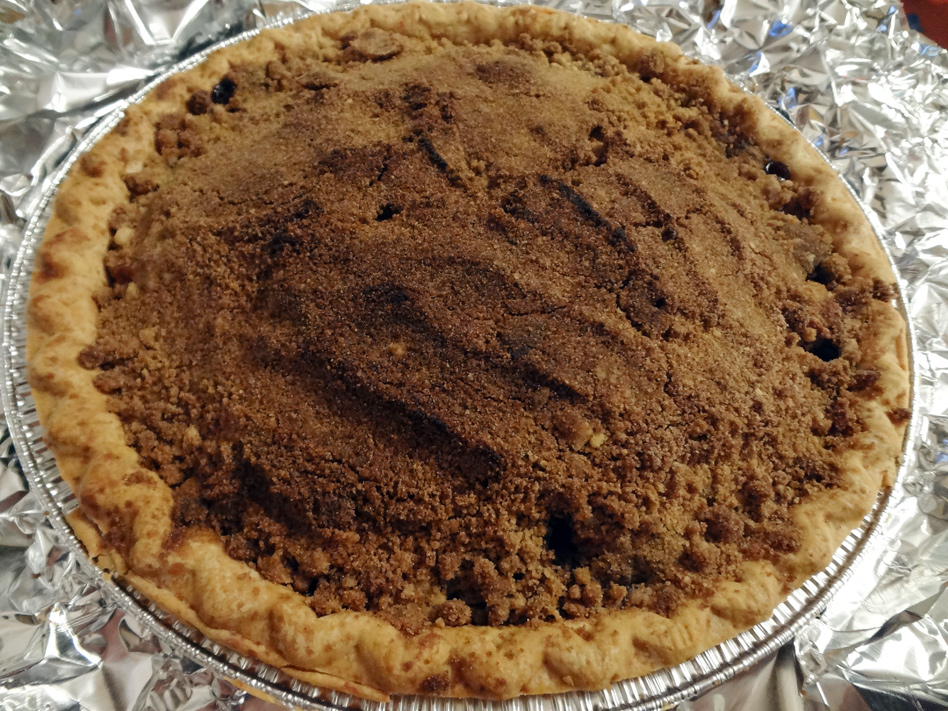 Remember the bacon apple pie from last year? It looked pretty damn amazing if I do say so myself, but its performance in pleasing my palate was less than I could have hoped for.
Well, I made a remix of this concept on the fly this year after accidentally burning a bunch of beer-candied bacon. Well, that was perfectly consumable bacon, glazed with lovingly made homebrew, so that little error was not just going into the garbage can, thank you very much.
We happened to have an excess of apples from our CSA hanging around the house this week, including some that were getting a little old and sad. So I decided to use a few to make a burnt beer-candied bacon apple pie – with pecans.
Ever since the somewhat disappointing bacon apple pie experiment last year, I have been continuing to use the base recipe from the Loveless Cafe, because I like that it is extra spiced compared to other pie recipes. So I used those same spices – cardamom, cinnamon, nutmeg, and cloves – with brown sugar, a little leftover beer-glaze, a quarter cup of pecans, a couple of apples and of course, about six slices of burnt beer-candied bacon.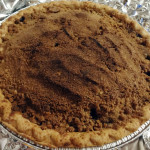 I mixed all those ingredients together in a large bowl and then put the mixture in a store-bought frozen pie crust because I am a total lazy poser who hasn't yet learned to make pie crust.
Usually I make my fruit pies open-top because, again, lazy poser who can't make pie crusts (including tops). But this time I looked up a recipe for a brown sugar crumble topping – better than nothing, right? The incredibly simple recipe requires only flour, brown sugar, butter, and cinnamon. After covering the fruit mix with the crumble topping, it was into the oven at 350ºF for about 40 minutes.
This pie certainly doesn't look as comely as its predecessor. Oh well.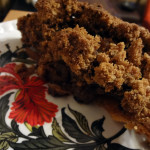 I think I should have put in some honey to help make the pie be more like the apple pie and pecan pie blend it was intended to be. As it was, it was tasty but a little too crumbly. You can see for yourself in the photo that "slice" is a kind word to apply to this portion of my burnt beer-candied bacon apple pecan crumble-topped Franken-pie.
But! The burnt taste of the bacon was successfully incorporated into a larger fall flavor palate: apples, spice, pecans, smoke… you get the idea. And that was the point after all, so it was a kind of success. I was kind of amazed it turned out at all. Hooray, Bacon Week!
emily
Nerd. Foodie. Gamer. Homecook. Perpetual planner. Gardener. Aspiring homesteader. Direct response graphic designer. I use too many damn commas.