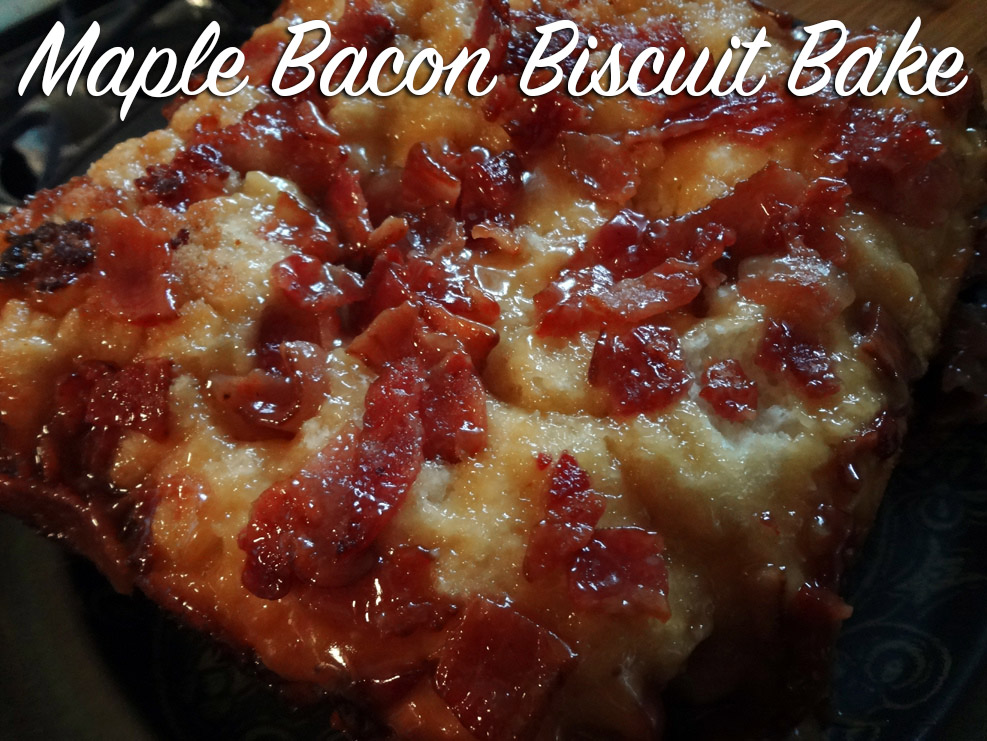 For this year's Bacon Week, I am contributing my experience with this Maple Bacon Biscuit Bake. After having done Bacon Week for several years, the recipes start to kind of look the same and fall into two categories: "crazy to pull off technically/oh god why" or "something you regularly make just with added bacon." For this year's recipe, slightly modified from King Arthur Flour, I've tried to avoid both categories as best as I can.
This is easy to make in an afternoon and novel, too – at least to me. It's like traditional biscuit meets monkey/pull-apart bread and they have a child on a Canadian pork farm. Like an upside-down pineapple cake, you put the sweet-bacony syrup on the bottom, the dropped biscuits on top, and then flip the whole thing after baking. It's dead simple, and I find having a non-sweet bread to go under such a sticky-sweet topping to be a nice change of pace from a cinnamon roll. Here's how it works:
biscuits
2 cups all-purpose flour
2 teaspoons baking powder
1/2 teaspoon salt
4 tablespoons cold butter
1 cup cold buttermilk
syrup
1/2 pound cooked bacon
1/3 cup brown sugar
1/4 cup all-purpose flour
1/4 cup maple syrup
2 tablespoons melted butter
directions
1) Preheat the oven to 475°F. Lightly grease an 8″ square or 9″ round pan; whichever size you choose, make sure it's at least 2″ deep, to prevent any boil-over. This is a good time to be cooking the bacon if you haven't already.
2) Syrup: Chop the cooked bacon into 1/2″ pieces. Combine the bacon with the remaining syrup ingredients, stirring until well combined. Spread in the bottom of the prepared pan.

3) Biscuits: Whisk the dry ingredients together in a bowl.
4)Work in the butter until the mixture is crumbly; some larger, pea-sized pieces of butter may remain intact.

5) Add the milk or buttermilk, stirring to make a sticky dough.
6) Drop the dough in heaping spoonfuls atop the syrup in the pan. We used large globs, as waiting for tiny ones to fall was too painful.

7) Bake the biscuits for 10 minutes. Turn the oven off, and leave them in the oven for an additional 5 to 10 minutes, until they're golden brown.
8) Remove the biscuits from the oven, and immediately turn the pan over onto a serving plate. Lift off the pan, and scrape any syrup left in the pan onto the biscuits. Pull biscuits apart to serve. Yields about nine large biscuits before flipping… or 16 according to the original recipe with the tiny biscuits, but I say it doesn't matter: cut them as small as you like to serve.
We enjoyed these. Having the thick glaze at the bottom and flipping it seems like the only way to go, though if we could have thinned it, that would have improved the experience somewhat. The only other thing I would have done differently is to include some crushed pecans and/or cocoa nibs to the topping for added interest.
On the whole though, it's truly a dead-simple recipe and one that seems exceedingly easy to riff off of. What if I had peach jam in there instead of bacon? Or a variety of nuts? Or anything, really. I think it has a lot of possibility. Anyway, fellow Bacon Week enthusiasts, I salute you with my bacon biscuit bake in hand. Meat be with you.
emily
Nerd. Foodie. Gamer. Homecook. Perpetual planner. Gardener. Aspiring homesteader. Direct response graphic designer. I use too many damn commas.