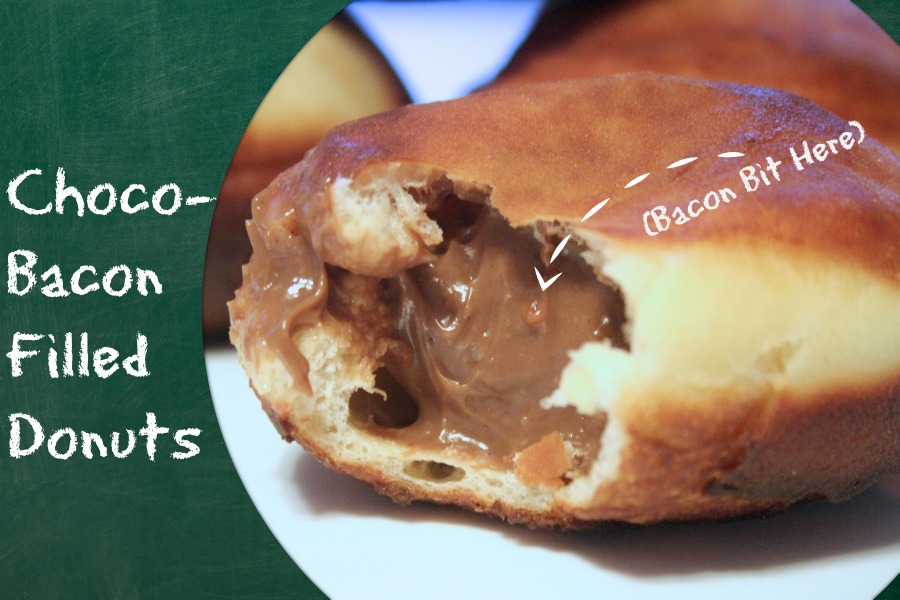 This recipe came to me after a couple of my previously planned ones totally flopped (don't expect to be seeing bacon-filled pierogies until next year, that's all I'm sayin'!). I think donuts full of chocolate and bacon, however, are a reasonable substitute, yes?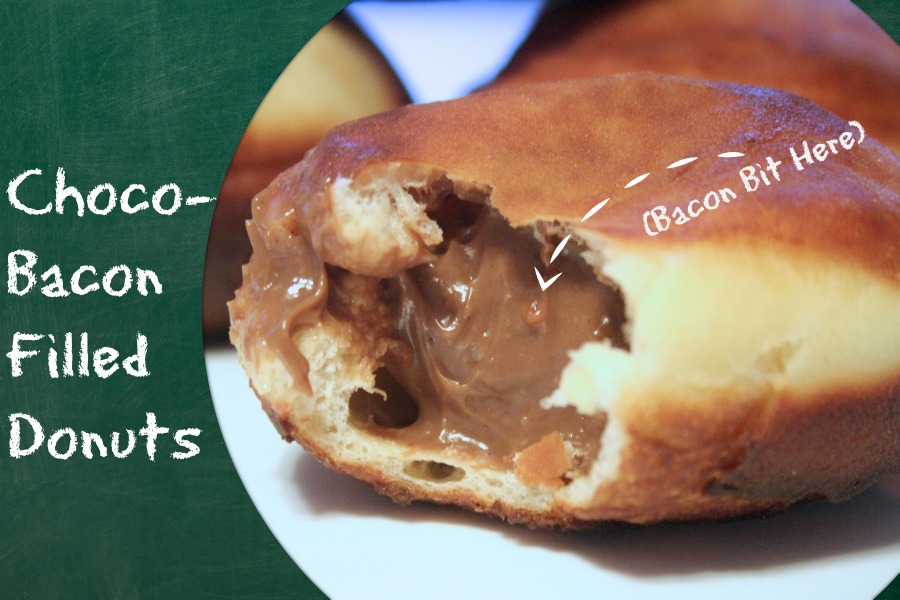 I don't eat doughnuts very often, but when I get the chance I always jump for the ones full of chocolate. Here was an opportunity for me to learn to make them myself!
I've had the cookbook Flour for a few years now (written by the head chef of the famous Flour Bakery in New York), and while it's taken me awhile, I'm slowly working my way through it. Cream-filled doughnuts are one of them, and let me tell you, I'm really excited with how well the fried dough came out.
…Alright, so they're not perfect, but for a first stab at fried donuts (as opposed to baked donuts), not bad, amirite (what's a little burned dough between friends)? What's even better is that they smelled and tasted just right, and they had appropriately empty insides perfect for filling full of delicious, custardy filling.
And that brings me to the filling. Custard is another fun food I almost never make. It has the silly illusion of being difficult, but as usual as long as you have a little patience, it's simple and super tasty. My favorite adjectives for any cooking experiment.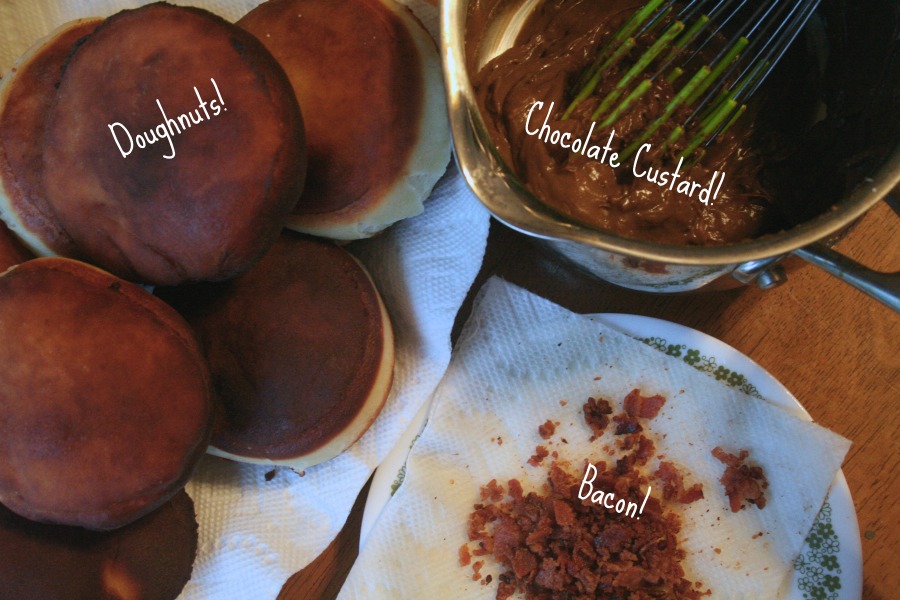 So, with the custard made and doughnuts fried, the final thing to do was figure out exactly how to integrate the bacon. To do that I decided to fry up about 4 pieces until they were nice and crispy and thoroughly pulverize them before adding them, along with about a half teaspoon of grease, to the filling. But alas, herein lies my one regret for this recipe: I was simply too stingy with my bacon modifiers. Having not made custard in a long time, I was afraid that if I added too much bacon grease it would negatively affect the texture of the custard, and I was afraid that if I added too many bacon bits, they would make the filling almost uncomfortable to eat. Turns out, I could've been far more aggressive with both.
While the doughnuts and filling ended up being very good, it simply didn't scream "bacon". That's what I get for not adding more bacon to something!
But hey, you live and you learn – and bookmark it for improvement in BaconWeek 2016!
Choco-Bacon Filled Donuts
This is a basic explanation of what I did – I have no guarantees of its excellence, or that the custard will fit in all the doughnuts! No guarantees!
Dough recipe altered from Flour, filling taken from ByronTalbott.com
Ingredients (Dough):
2 tsp (1 package) active dry yeast
1/3 cup milk, warm
1 3/4 cup flour
1/4 cup sugar
1 egg
1 tsp salt
4 tbsp butter, cut into pieces
Canola oil for frying
Ingredients (Filling):
3/4 cup whole milk
2 egg yolks
1/4 cup sugar
1 tbsp vanilla extract
2 tbsp cornstarch
1/4 cup dark chocolate chips
Fry 4 pieces of bacon until crispy, pulverized into small pieces
Instructions (Dough):
In a stand mixer, mix the yeast and warm milk and let sit for a few minutes to activate.
Add the flour, sugar, salt, and eggs to the yeast and mix for 1 minute on low until the dough comes together.
As the mixer continues, slowly add the butter and mix while it incorporate.
Once the dough is soft and cohesive, wrap it tightly in plastic wrap and refrigerate for between 6 and 15 hours.
Once your waiting is over, roll the dough out into a 6×6″ square, or until the dough is 1/2″ tall.
Cut the dough into 3 1/2 – 4″ circles and lay them on a floured baking sheet. Cover and let rise for another 1-2 hours. The dough should be puffy.
Fill pan 2-3″ deep of oil and heat it to around 350F (or, if you throw a pinch of flour into the oil, it should sizzle).
Add several pieces of dough into a pan (don't crowd them!) for a few minutes on each side. Place the fried dough on a paper towel-covered plate to drain.
Instructions (Filling):
Heat milk, yolks, sugar, and vanilla extract over medium heat until steaming.
Reduce heat to low and add the cornstarch. Mix continuously until the mixture thickens.
Add the chocolate and mix thoroughly.
Add 1/2 tsp of bacon grease (liquified) and the pulverized bacon. Mix thoroughly.
Instructions (assembly):
Fill a pastry bag (with pastry tip) with custard.
Jam the tip into the side of each donut and fill it liberally with custard.
CONSUME!!
Mary Gezo
Formerly of both n00bcakes and !Blog, the two magically become one on Spatialdrift; expect some lazy baking and serious nerditude. Also, I love semicolons.