Happy Bacon Week 2015 to you! It's another year of bacony recipes, and one I hope you enjoy. Don't know what Bacon Week is? Take a quick peek here first!
To kick things off this year, I have something not using bacon specifically, but rather what it lovingly leaves behind: its fat! Rather than throw my bacon grease down the drain (which you should never do, by the way) or simply freezing it before throwing it in the trash, I always keep mine in a jar to use occasionally throughout the year. A little bacon fat is a great way to spice up your morning eggs, a chili, or – as you'll see here today – make your cookies a little more interesting.
Earlier in the year I'd pinned a recipe for shortbread cookies made with bacon fat and I loved the idea so much, I figured it couldn't be that difficult to do something similar with your basic chocolate chip drop cookie. It turns out, while not particularly difficult, I still had to go through a few iterations to get it just right.
For my first attempt at these cookies, I said to myself, "DAMN THE TORPEDOS, FULL-ON BACON FAT!" Which is to say, instead of using any butter, as you typically do with cookies, I'd do a full 1:1 replacement with bacon fat. This yielded some pretty standard-looking cookie dough, which I excitedly rolled into balls and tossed into the oven. At that point, though, the similarities to "normal" chocolate chip cookies faded. An 8-minute bake time turned into 10 minutes, which turned into 15 – at which point I finally took them out. They didn't brown like normal cookies, and even after 15 minutes of baking they were still weirdly pale. They tasted okay, but honestly – and, I suppose, unsurprisingly – they were unappealingly greasy. And to top it all off, the texture was akin to eating a patty of sand.
Suffice it to say, they were not great.
So going "full-on bacon fat" was a bad idea, one I won't make again. My next iteration fixed the problem – I halved the amount of bacon fat I was adding and replaced it with good 'ole butter to make the texture and flavor a little better. This version turned out much better, with a decent texture and much less greasier flavor, but my ratios of sugars and flour were off (I didn't include any brown sugar, and I used a little too much flour). 3rd time's a charm, right?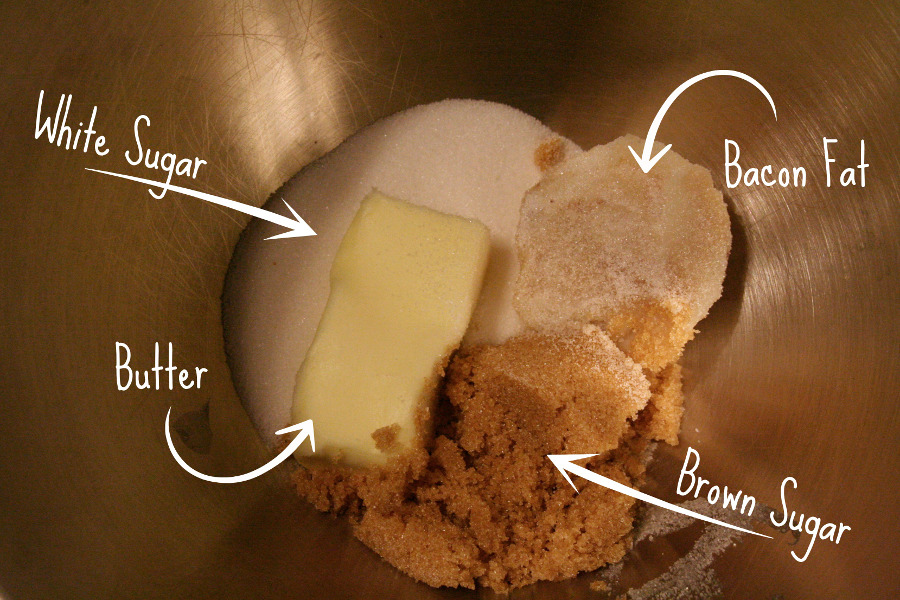 This time the cookies were perfect – half of my sugar I converted to brown to give it a more caramely flavor and I reduced the flour by a quarter cup to let the cookies be a little less stiff. These cookies came out sweet and tender with a distinct, yet not overpowering flavor of bacon in them. You know how you can tell from the dough if you're doing things right? I was pretty confident at around this point: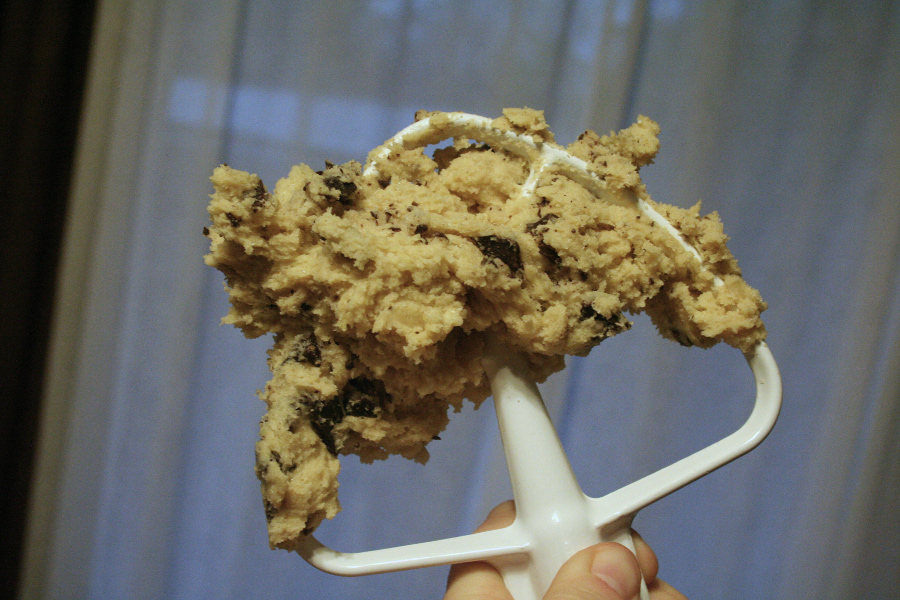 I've pawned these off on a handful of people, all with positive results. One friend pointed out they're great for people with less of a sweet tooth, as the bacon flavor does a great job offsetting the sugar and chocolate. I think these are great for a party, if you want to bring something a little fun and quirky. This recipe makes a straight-up perfect dozen of these little weirdos – and if you like both bacon and chocolate chip cookies, you should definitely make them.
Save that bacon fat, y'all – it's too useful of a cooking tool!
And join us for some Bacon Week times! Grab the badge and post a recipe of your own!
Bacon Fat Chocolate Chunk Cookies
Makes 1 dozen cookies
Ingredients:
1 1/2 cup flour
1/4 cup granulated sugar
1/4 cup brown sugar
1/4 cup butter
1/4 cup chilled bacon fat
1 egg
1/2 tsp baking soda
1 tsp vanilla extract
1/2 cup chopped chocolate (or just chocolate chips – I was in a chocolate chunk mood at the time!)
Instructions:
Preheat the oven to 350F.
Cream together the butter, bacon fat, and sugars until fluffy.
Add all other ingredients except for the chocolate and mix until dough forms.
Mix in the chocolate chunks so they're evenly distributed.
Roll pieces of the dough into balls, place them on your greased (or parchment paper-covered) cookie sheet, and press them down to slightly flatten.
Bake for 10 – 12 minutes.
CONSUME!!
Mary Gezo
Formerly of both n00bcakes and !Blog, the two magically become one on Spatialdrift; expect some lazy baking and serious nerditude. Also, I love semicolons.