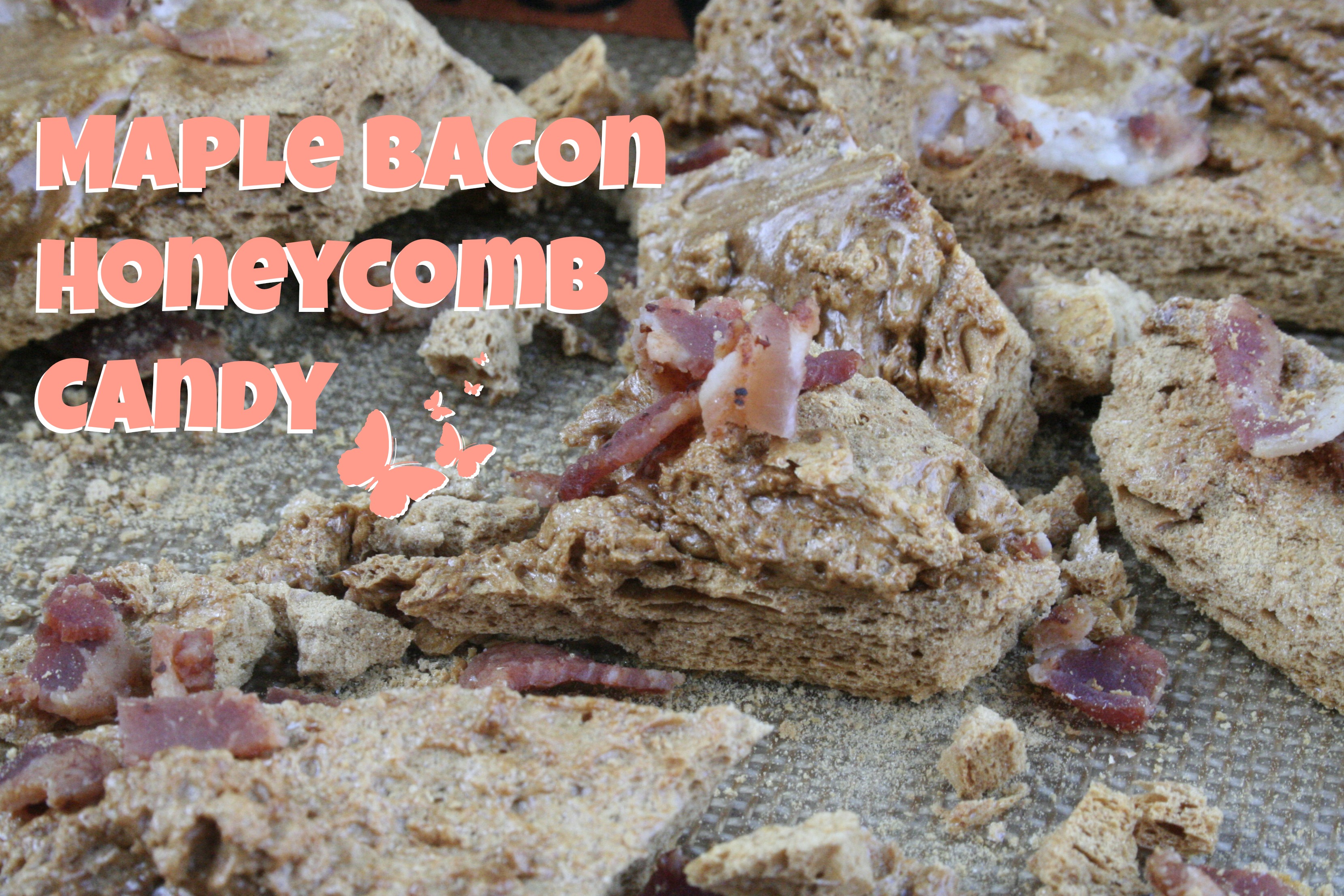 This was one of the more fun experiments I tried this week.  I've never made candy before, and this one sounded so good, I figured the simple addition of bacon bits certainly couldn't hurt.  Thus came, maple bacon honeycomb candy!
This candy is light and fluffy, and actually pretty easy to execute.  As with any recipe requiring boiling sugar, though, it does take patience and time; walking (or even turning!) away at the wrong time means your candy can go from light brown to a black nightmare.  Take it from me!
The honeycomb candy only takes a few ingredients (seen above!).
After cooking up your bacon to a nice, crisp texture, you heat together the sugar, maple sugar, and a dash of water and wait for it to get up to 300 degrees.  Once there, you toss in a tablespoon of baking soda, which turns your cup of boiling sugar water into this bubbling mess:
Boom!
The mixture goes wild and expands while you whisk like crazy to get the soda mixed thoroughly.
Once it's expanded, you pour it out onto a covered surface.  It's supposed to pour smoothly….though because mine was – alas – a bit over-cooked, it wouldn't pour and had to be coaxed by my room mate with the spoon. It turned out a little…chunky.
Once spread, I took my previously chopped-up bacon and sprinkled them on top.  Word of warning: make sure you do this immediately, as the candy hardens super-fast.  Mine didn't stick very well…next time I'll have to move faster.
The original recipe calls simply for flaky salt, and I was correct in assuming that replacing that salt with bacon was quite good!  The dark, caramely flavor of the candy blends well with little flecks of salty bacon.  My candy ended up being a little too over-done, but it was still pretty good!
Wondering why this is called "honeycomb" candy, despite having not honey in it?  Now you know!
The candy reminds me a lot of pumice in terms of its weight (not taste); it's so light and airy, it's
This candy is yet another testament to the fact that anything with little bacon on it is even better!
Bacon Week's almost over – have you done any bacon-ing?
Maple Bacon Honeycomb Candy
Recipe from Food52 – plus crispy bacon sprinkled on top!
Mary Gezo
Formerly of both n00bcakes and !Blog, the two magically become one on Spatialdrift; expect some lazy baking and serious nerditude. Also, I love semicolons.