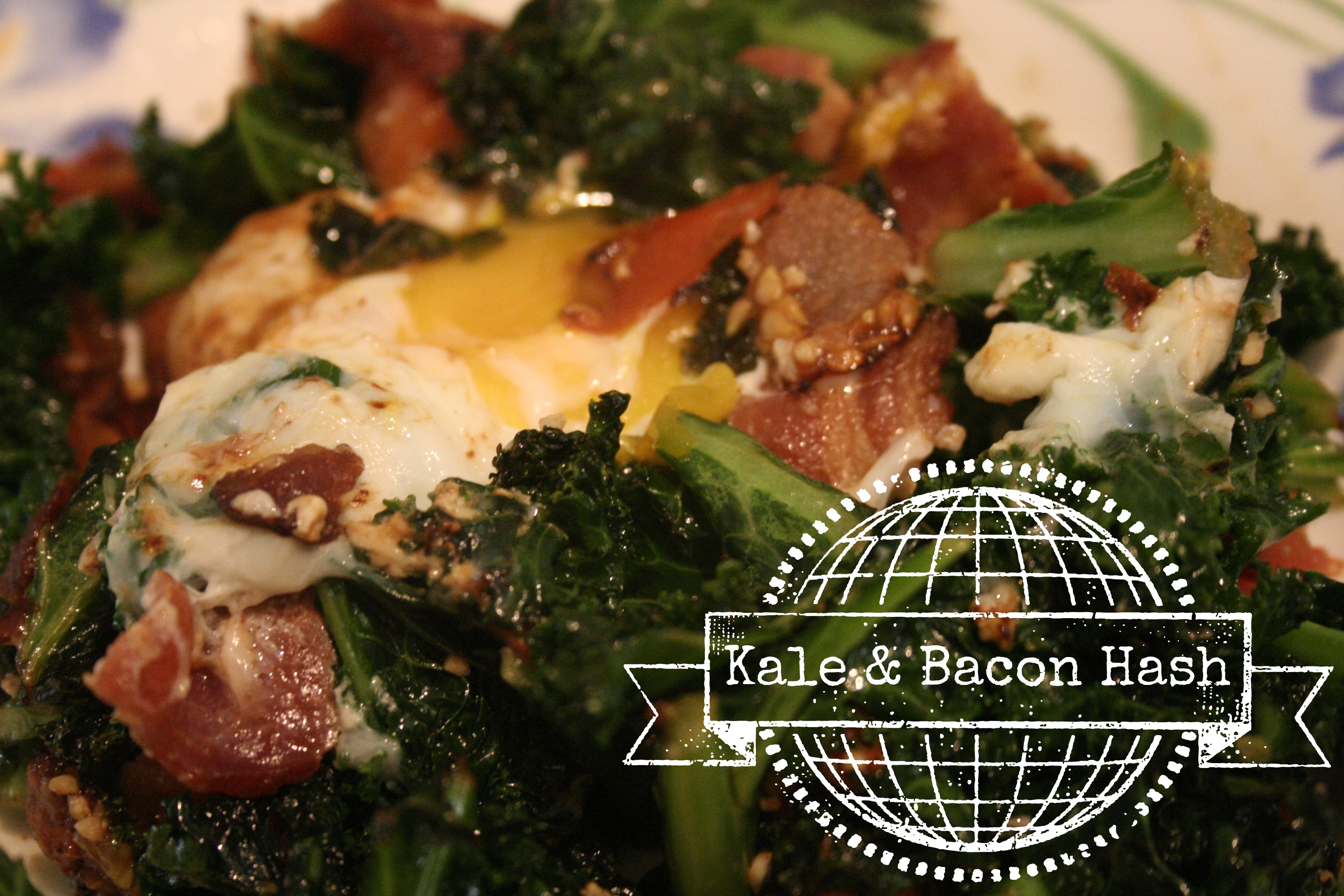 And we're back with day 3 of Bacon Week, with yet another healthy (in relative terms) recipe!  After making this recipe once, I've actually made it almost every day since then…it's a fabulous breakfast, lunch, or dinner and satisfies my savory and healthy cravings!  Highly recommended: kale & bacon hash!
I get regular emails from Nerd Fitness, a kind of guide to general health and weight loss for nerds who find themselves frequently on couches and computer chairs.  A lot of it I find to be pretty basic advice, but a few weeks ago he dropped a recipe for kale, bacon and tomatoes.  Since I love all of those things, I followed through and added a bit of my own favorite flavors.
Here I have the basic ingredients – kale, tomatoes and an egg (here the bacon was already frying up in a pan).  In the weeks following this first try I started including onions, peppers, and olives as well.  I highly recommend throwing in your favorite vegetables; it'll only make this hash heartier!
Once the bacon's fried up, you naturally use it cook the vegetables.  Typically I'd put in the onions and garlic first, then add the pepper, tomatoes, and other more "delicate" ingredients.  And since you're cooking everything in bacon grease, you hardly need to add any salt.
After adding the bacon back in to re-warm, the kale goes in last with any reserved grease; it then gets cooked down to your preferred texture.  After that you crack in an egg and cook it your favorite way – I started with sunny-side up, but in the end a quick scramble is always easier.
And there you are!  I typically add in red pepper and some sort of paprika to add a little additional flavor, but that's all up to you (as it is with most of this recipe).  I love this recipe because it's easy, delicious, and doesn't even require  you to cook up bacon every time – I use about a tablespoon of saved bacon grease to sauté all the ingredients together, making this recipe a great filling lunch.
Don't forget – bacon week continues on!  Snag a badge and have some pig!
Kale & Bacon Hash
This recipe includes my personal favorite ingredients…use your own favorites if you like!
Ingredients:
2 slices of bacon
2 cups chopped kale
1 tbsp minced garlic
1/2 tomato, diced
1/2 onion, diced
1/4 red pepper, diced
6 kalamata olives, halved
1-2 eggs (depending on how hungry you are)
Black pepper and/or your favorite spices, to taste
Instructions:
Cook bacon to your preferred crispiness
Remove the bacon, reserve most of the grease in a small bowl.
Sauté garlic and onions in the same pan until staring to brown.
Add all additional vegetables (and olives, if you're using them).  Cook for about a minute.
Add kale, bacon, and reserved bacon grease.  Gently fold the kale over until it becomes dark.  Cook until wilted to your preferred texture.  Add your spices here.
Add egg(s).  I prefer simply adding them to the pan and quickly scramble them together.
CONSUME!  Feel good about your healthier choices!
Mary Gezo
Formerly of both n00bcakes and !Blog, the two magically become one on Spatialdrift; expect some lazy baking and serious nerditude. Also, I love semicolons.