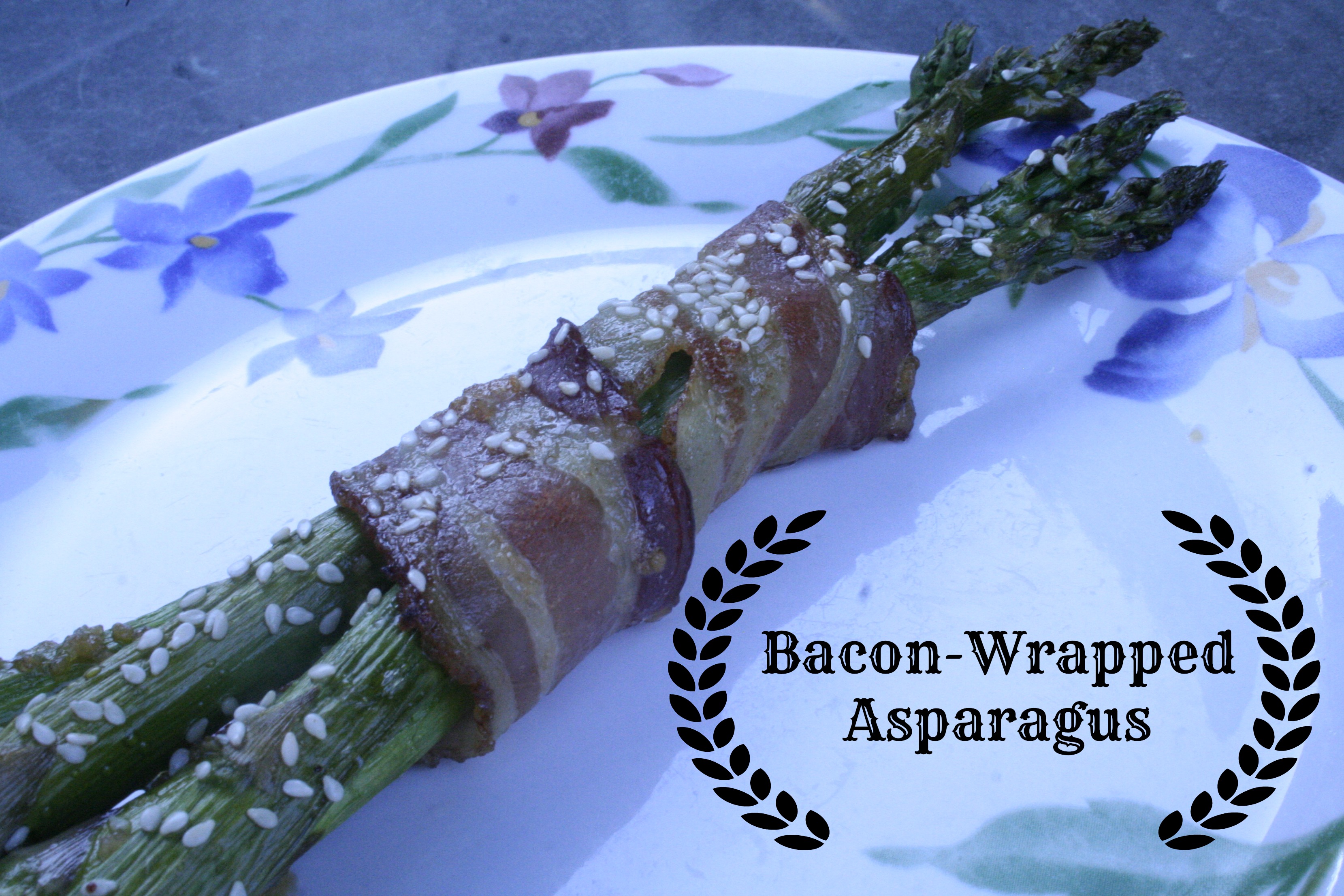 It's time, dear ones!  It's time for a whole week-long extravaganza of BACON!
To kick things off this year, we have a recipe oddly resembling "healthy" (not that most things wrapped in bacon are actually healthy, I suppose).  Today we have a delicious, sweet recipe for bacon-wrapped asparagus.
As of last year I decided to take more initiative when it comes to prepping for Bacon Week: I started a Pinterest board devoted to bacony recipes.  So this year, rather than doing a burst of research the week before, or hoping that I remembered to bookmark my favorite ideas, all my inspiration was pinned in a single place.  Genius!
This bacon-wrapped asparagus was one of the recipes I pinned over the last 365 days, and I was pretty excited to try it out.  It's a nice simple recipe to balance out some of the more difficult ones I try over the week.  Rather than kicking things off trying to learn a new technique, for example, I thought I'd start with the basics…like wrapping things in bacon.
It's really as simple as it sounds; the most "difficult" part of the entire process was mixing together the sugary syrup to drizzle over top of your wrapped greens.  Wrap asparagus in bacon, drizzle with sweet mixture, toss in the oven.
The mixture is made of soy sauce, sesame oil, garlic, and brown sugar.  I had sesame oil lurking in my pantry so this sauce was easy-breezy for me, and if you leave it out it'll taste a little different, for sure, but it certainly won't taste bad; I know that sometimes it's unappealing to buy a whole bottle of something just to try out a new recipe.  I'd recommend it, though; there's plenty of good uses for sesame oil!
Your asparagus wraps roast at 400F for around 40 minutes and come out a lovely savory and sweet side to your main dish.  I under-cooked mine a bit, so do make sure you've roasted them until the bacon is crispy to get a much better result.  The bunch of asparagus I bought was also a little small, so I actually only had 3 or 4 spears to a wrapped-bunch instead of 5-6.  But really, who would argue with a higher bacon-to-veggie ratio?
Also, it turns out I like asparagus!  Who knew??
SO, anybody else participating in Bacon Week 2014?  Come one, COME ALL!  Grab a badge and post a delicious bacon recipe anytime this week!
Bacon Wrapped Asparagus
From How Sweet Eats.
Mary Gezo
Formerly of both n00bcakes and !Blog, the two magically become one on Spatialdrift; expect some lazy baking and serious nerditude. Also, I love semicolons.