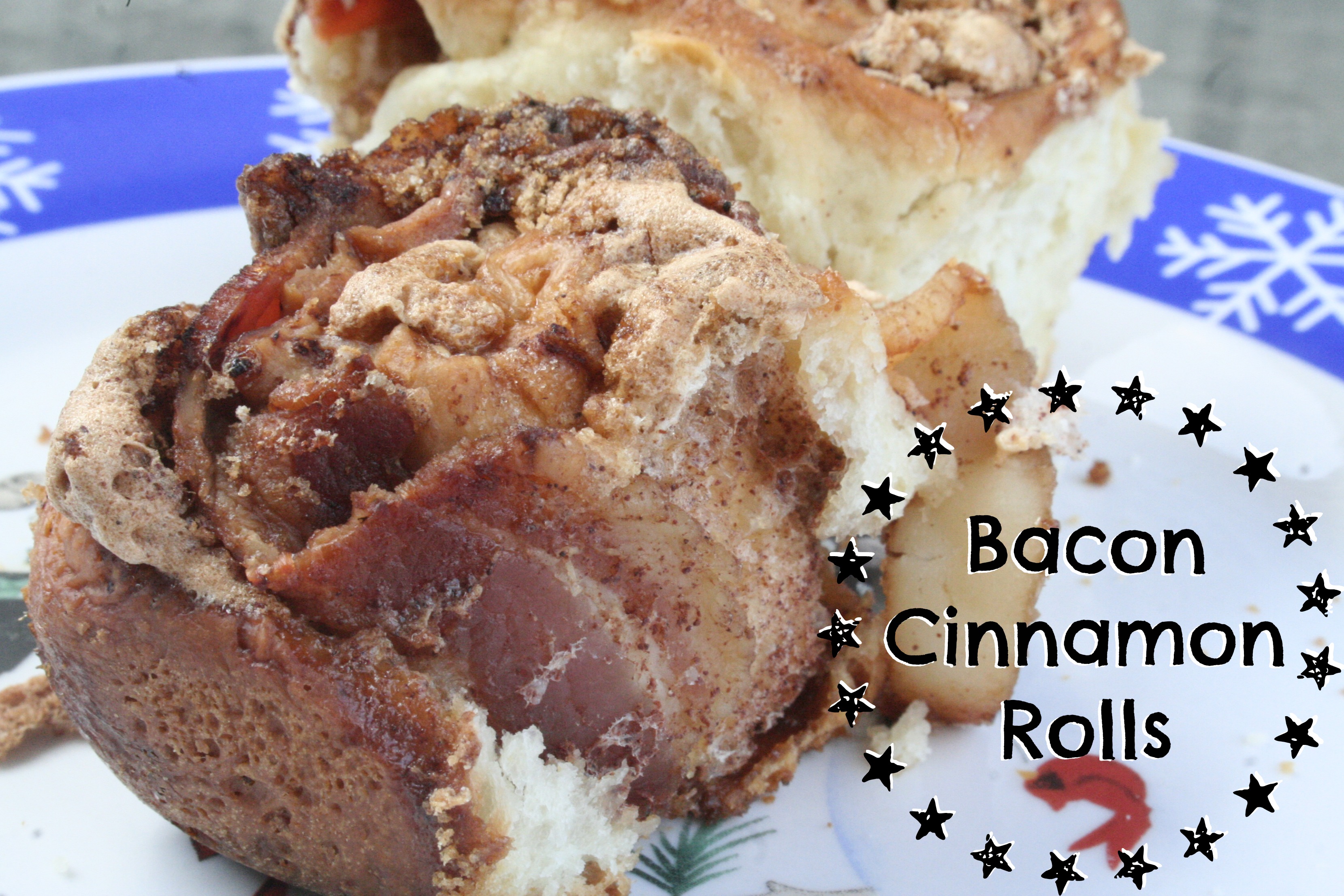 Welcome back to Bacon Week – today we have something that was a little more experimental than yesterday's bacon-wrapped asparagus: bacon cinnamon rolls!
I had a lot of fun with this recipe, although to be perfectly frank it did not turn out quite as well as I was hoping.  I know I say this every year about at least one of my experiments…but maybe I'll try it again next year!
A few years ago (yikes, in 2011!), back when I was an active participant in the Daring Bakers challenges, I took part their challenge for yeasted meringue coffee cake.  It was this challenge that taught me to be comfortable with using yeast, and it was a recipe that I've made several times since that initial experiment.  It was simple, delicious, and easy to make either sweet or savory, depending on when you wanted to serve it.  If you like coffee cake, I definitely suggest trying the recipe out.
I've had it in my head recently to try something new with that recipe, though: rather than roll the dough into a log, then attach the ends in a circle, yielding a wreath-like coffee cake, what would happen if I rolled the dough into a log, then sliced it up into cylinders, yielding rolls?  GENIUS, YOU SAY??  Well, sort of. >.>
The initial setup is exactly the same as the original yeasted coffee cake recipe: a basic dough recipe, rolled out into into a rectangle-like shape, layer meringue on top, then add toppings (in my case, brown sugar, cinnamon, an bacon).  Where I changed things up was to add strips of bacon, layered short-ways, so that when I cut the log into slices each slice would contain a single strip of bacon.  I'm annoyed that I forgot to take a picture of it…whoops.  -_-
Here, however, is where I ran into issues.  When I began rolling up the dough into a tube, it became very apparent that I had cooked the bacon too crispy; rather than rolling easily, the stiff bacon began poking through the dough, or moving around as I rolled.  You can see here the bacon poking out the end of the roll rather than staying inside.
Being unable to un-do my work, I went ahead and sliced up the roll despite all the bacon sticking out.  It was messy, with all the meringue coming out everywhere, but I was able to come up with 9 reasonable-looking cinnamon rolls.  They were loose and easily fell apart, but I was able to quell my annoyance enough to get them all into a well-greased pan.
In the end the rolls came out…eh, so-so.  They were definitely edible (of this I can vouch), but they fell apart easily and the bacon wasn't very evenly distributed.  Additionally the meringue comes out of the top of each cinnamon roll, and when baked it becomes crispy and almost burnt; not what you really want on the top of your cinnamon rolls.  So this was a great initial experiment, but it needs more work.  In the recipe below I've delineated what I think are proper solutions for all these issues…we'll have to see how they actually work!
Don't forget – Bacon Week continues for the rest of this week!  Grab a badge, cook up some bacon, and let me know when you post about it!
Bacon Cinnamon Rolls
Makes 9 cinnamon rolls.
Steps labeled "<Recommended>" are suggestions I believe will work better than the steps I took.  Good luck!
Ingredients (dough):
2 cups flour
1/4 cup butter
1/4 cup whole milk
~1 tbsp water
1 egg
1 package yeast
1/4 tsp salt
1 tbsp granulated sugar
Ingredients (meringue)
2 egg whites
1/4 cup granulated sugar
1/4 tsp salt
1/2 tsp vanilla
1/2 cup brown sugar
1 -2 tbsp cinnamon
9 strips of bacon <Recommended> Either be sure to cook the bacon to remain chewy, OR cook it to be crispy, then crumble into small pieces.
Instructions (dough):
Mix together 1 cup of flour, salt, yeast, and sugar.
In a bowl (or in a pot on the stove), melt the butter, milk, and water together.  They should be warm – not hot – so as not to kill the yeast.
With a mixer, slowly add the warm liquid to the dry mixture.  Mix thoroughly.
Add the egg and a tablespoon more flour, mix thoroughly.
With a dough hook, or by hand, slowly mix in more flour until the dough becomes soft, smooth, and elastic.  If mixing by hand, add enough flour until the dough holds together, then knead in the rest.  If using a dough hook, simply add while mixing, watching for the right consistency.
On  well-floured surface, roll out into a rectangle, ~ 1.25 feet wide (my eyeballed approximation).
<Recommended> Gently move your rectangle of dough onto a baking sheet so it can later be easily moved into the refrigerator.  OR wait to do this once you've finished rolling the tube in the following steps.
Instructions (meringue):
Beat together the egg whites, salt and vanilla until frothy; continue beating and slowly adding the granulated sugar until stiff glossy peaks form.
Spread the meringue evenly over the rolled-out dough, leaving ~1/2 inch open on all edges.
Evenly sprinkle cinnamon and sugar over the meringue.
<Recommended> Add the bacon strips equidistant running short-ways (if you cooked the pieces to be chewy) or sprinkle the bacon the same way (if cooked to be crispy), so when you roll and slice, each cut will contain a single slice (or crumbled strip) of bacon.
Gently roll the dough into a long tube.  <Recommended> Cover the tube in a towel and place into the fridge for an hour.  This should make slicing the tube into rolls later easier.
Final Steps:
Preheat the oven to 350F.
Remove tube from the refrigerator and slice into 9 individual rolls.
Grease a 9×9″ pan and place the 9 rolls evenly-spaced inside.
Bake for 35-40 minutes.
CONSUME (after cooling)!
Mary Gezo
Formerly of both n00bcakes and !Blog, the two magically become one on Spatialdrift; expect some lazy baking and serious nerditude. Also, I love semicolons.