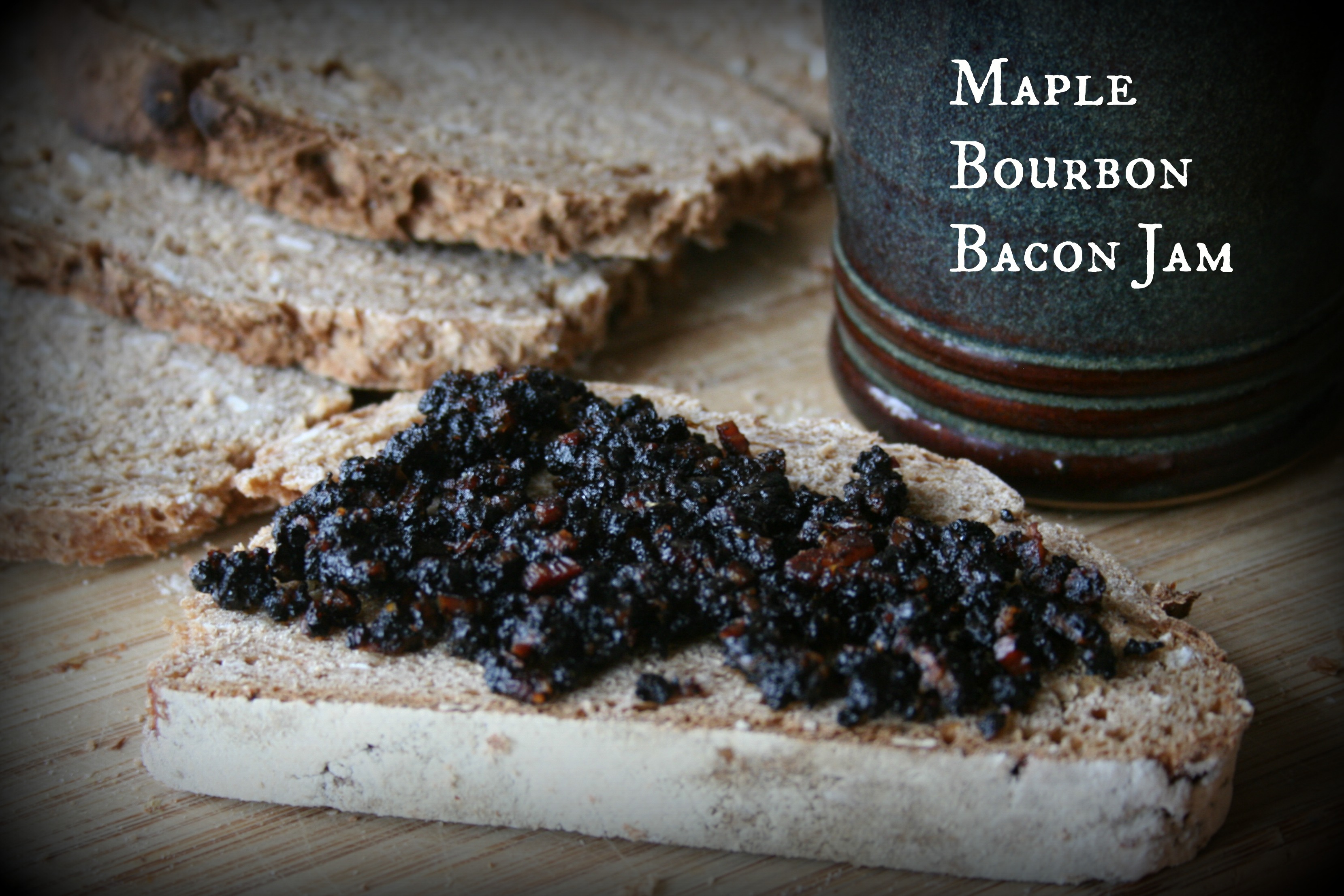 Now this…this recipe was interesting.  I had no idea what to expect!
Of all the recipes I'd collected over the year for Bacon Week 2013, this was the one I was most curious about.  I've made lots of things with bacon in them, things that you think to yourself  "okay, I can see how this would work" or "alright, I understand how you could make that", but this one had me very curious.  Jam?  I'd never made jam!  With bacon in it?  Well hot-damn, let's give it a try!
…Unfortunately for me, I screwed it up.  Rats!
It started out great!  I had all the required ingredients – bourbon, balsamic vinegar, whole-seed mustard (okay, so I cheated with partially-ground mustard); I had all the trimmings ready to go.  I fried up the bacon, and started caramelizing the onions.
Dutifully I followed the directions, halving as I went (because really, what was I going to do with 2 cups of bacon jam, let alone 4?).  All pastures were green, and I was proud of myself.  It took a good hour or so to get everything prepped before letting it simmer for another 2, so I tried to follow the directions precisely.
The the simmer-ation began!
Looks good, right?  Looks like I know what I'm doing, right?  You can even see the little bubbles, slowly making the jam "gel" together.  I was so proud of myself.
Then, despite the fact that I'd halved everything else in the recipe, I inexplicably did not halve the cooking time.
So after letting the goop cook for 2 hours I attempted move it out of the pan and into the food processor and realized, to my horror, that I'd let it burn, and burn pretty badly.  I hadn't noticed it on my occasional check-ins (to, presumably, ensure that it wasn't burning) because everything was so dark, I didn't notice the slightly-darker middle.  It turns out that "slightly-darker" middle of the pan was actually fairly well crispified as opposed to pleasantly jam-like…I was pretty disappointed.
Despite this, I went ahead and completed the last step of the process, tossing it into the food processor and giving it a few good spins to chop it up a little bit.  What I ended up with was something that looked halfway-decent, but when you stuck a spoon in it, became blaringly obvious it was hard and crispy instead of viscous.  It was sort of like sticking your spoon into bowl of cereal.  Le sigh!
So, it smelled good, and in small-tasting doses didn't even taste too bad either, but it was clearly burnt and too crunchy.  Part of me would really like to try this again, simply because I was so close to having a real, honest-to-goodness attempt at this jam.  Maybe I'll give it a whirl next year to see if I can do it better!
And so, Bacon Week continues!  Remember to keep an eye on all the Bacon Week goodness on Facebook or G+, let me know if you make a bacon recipe of your own, and share the badge!  Hopefully, your recipes will have better luck than this one. >.>
Maple Bourbon Bacon Jam
Halved from Creative Culinary.
Mary Gezo
Formerly of both n00bcakes and !Blog, the two magically become one on Spatialdrift; expect some lazy baking and serious nerditude. Also, I love semicolons.