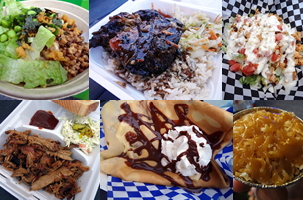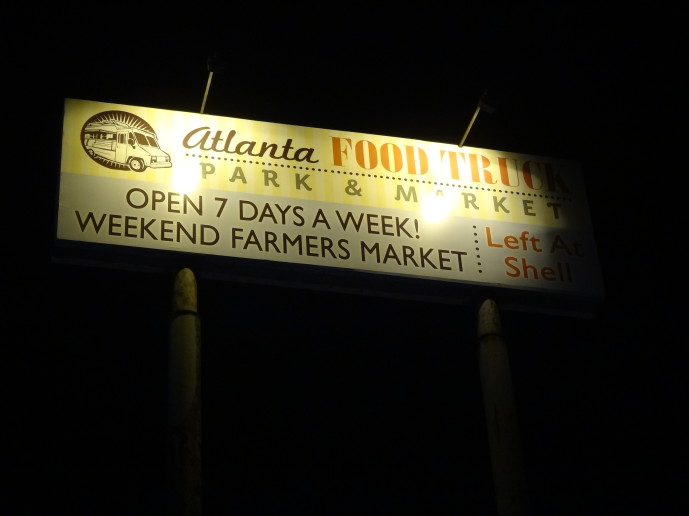 After years of hearing all about the Food Truck Park off of Howell Mill Road, Adam and I finally went! We went with our dear friends, the Ruby family (4/5th of it anyway) on a great late spring afternoon right before the horrible yellow-green dusting coating of pollen struck for the year. We tried to divide and conquer so as to sample as many trucks as possible.
Bento Bus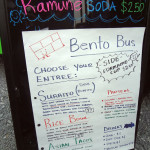 First up was the Bento Bus. What a cute, sweet food truck!
After perusing the menu you see on the right, we opted for a tofu rice bowl. We had a vegetarian and a mostly pescatarian along in our group, and we wanted to share as many items as much as possible. The bowl came with rice, the meaty-like crumbly tofu, edamame, and nori ($7).
At first glance, the sushi burrito on the menu seemed amazing and gave me buyer's remorse, but upon closer inspection of the menu, it didn't have any sushi in it. So, I became personally affronted at the difference between my expectation and reality. The asian tacos did legitimately look tempting but weren't as shareable.
The rice bowl was nice and fresh, though not overly flavorful. But it was so darn cute, and as Nell pointed out, "one of the only trucks with vegetarian-friendly options" at the Food Truck Park that evening. At first it seemed plain, but the overall combination grew on Adam and I. We would give it 3.5 stars.
Bento Bus
Location varies

Masala Fresh
The other veggie-friendly truck we saw was Masala Fresh. Matt got the bulk of his meal from there, and I sampled his paneer tikka masala and naan.
Matt and I were of a similar mind about these two items, especially the masala, as paneer tikka masala is one of my favorite indian dishes and it was seriously bland here. Matt reports, "The Masala Fresh was the most disappointing truck. The people were very friendly, but lost serious points when they gave the item I ordered to the person after me, then told me they were out and I needed to choose something else. The sauce on the paneer was sticky, almost pasty, and not particularly flavorful, and it shouldn't have come on rice. The samosas may have come from a package. The naan was good, though. 2.5 stars."
Masala Fresh
Location varies

Spiedie Zone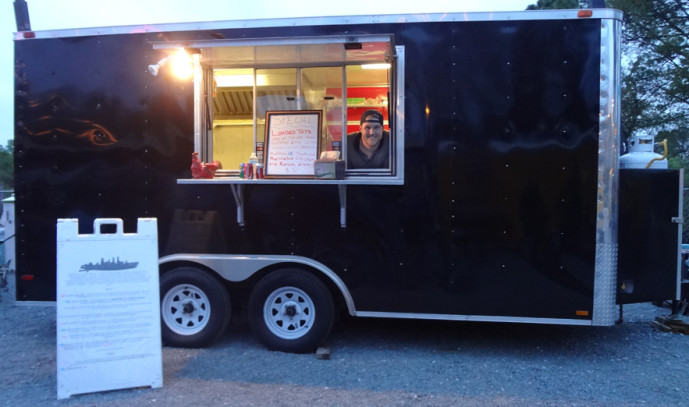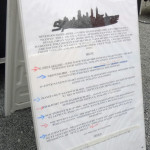 Hailing from Binghamton in upstate New York, the Spiedie (pronounced "speedy") Zone truck is a plain, almost mysterious affair compared to the rest of the trucks on the lot. But what they served was straight-up comfort food. Cubed or shredded marinated chicken is served in wraps and sandwiches, and over tater tots. We got the loaded tots, seasoned tater tots covered with buffalo chicken, lettuce, tomato, onion, and ranch dressing ($8).
This was just as terribly-for-you awesome as it sounds. Gibby really seemed to enjoy it, and I thought it was great for what it was. It didn't taste old, and it wasn't disgustingly greasy either. Nice fast food-style grub. Good presentation. Plus the guy in the truck was super-nice. 3 stars.
Spiedie Zone
Location varies

Sweet Auburn BBQ
Sweet Auburn BBQ can boast two brick-and-mortar locations plus "one of the first and finest food trucks in Atlanta," according to their website. We hit them up for a pulled pork plate. We got our choice of two sides, including cole slaw, toast, or extra meat. Clearly, we chose extra meat with our cole slaw, but we got toast in the to-go container, so it's not clear if we actually got extra meat or just toast instead. Or both – who knows?
Regardless of the possible mix-up with the sides, Adam and I really appreciated that having extra meat was an option as a side. You don't normally see that. The meat was good, but not as good as I had hoped for. Everyone who tried it seemed to feel the same way. The slaw was slaw and the toast was toast. 3 stars.
Sweet Auburn BBQ
Location varies

Crepe Suzette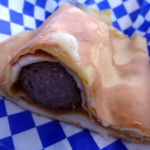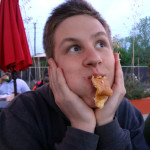 Next up, for some, was the Crepe Suzette Truck. I didn't personally go there, but I tasted the sausage and crepe thingy you see pictured on the left. I felt like it was kind of weird. I mean, the sausage was good, as was the little bit of cheese and the crepe, but the crepe seemed entirely gratuitous to the dish. Still, not bad. Just not a cohesive dish, in my opinion.
I didn't have the other crepe concoction but it looked amazing. It was topped with whipped cream, drizzled with chocolate sauce and I believe it was full of Nutella. Yum!
I defer to Matt's expert judgement here, as he had multiple things from the truck and interacted with them directly. Here are Matt's thoughts: "The crepe truck was by far the best experience all around. The crepes were good; the folks working there (a father and daughter team?) were quirky and friendly. The prices were very good. 4.5 stars." I also think I heard someone mention that the father-daughter team (if that's what they are) were speaking in french to each other, so that's cool, too.
Crepe Suzette
Location varies

One Love Jerk Grill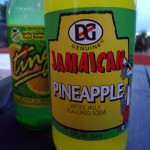 Last but not least of the savory trucks was One Love Jerk Grill. The truck was of course blasting music that featured or included jamaican singers, which was nice to listen to while you wait in line. Because indeed, every time I saw the truck, there was a line waiting to order.
We got a jerked chicken plate with cabbage and rice (~$9). At that price, this was one of the pricier things we bought, but it was also the most generous portion size, so it was totally worth the money.
The jerk chicken was the general favorite of those who sampled it. It had a great flavor, and a nice warmth of spiciness. We were warned about the "very spicy" sauce that came with it, but we all found it to be not very spicy at all. Oh well – still very tasty. The rice and veggies were very delicious, too. Each part of the plate was notable in their quality and they all went together well, too. A great meal all around. 4 stars.
One Love Jerk Grill
Location varies

Hot Sugar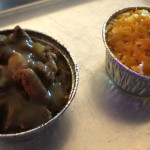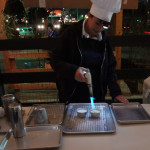 The last thing I had for the evening was a trip to Hot Sugar, which is actually a tent instead of a food truck. Some of the group got King of Pops (they had the thai tea popsicle there, who can fault them?), but Nell and I went splitsies on the Southern Style and the Coconut Dream from Hot Sugar.
Right in front of us, the base custards for the creme brûlées were brought out of a heavy-duty cooler, and their topped were flamed right it front of us. Then came all the toppings and, I believe, more flame. As Nell says, "It was an experience; customized desserts replete with blow-torch made for a good show. Plus dude up front was extremely friendly."
The Southern Style is vanilla creme brûlée topped with candied pecans drizzled with bourbon butterscotch sauce. The Coconut Dream is supposed to be milk chocolate creme brûlée topped with toasted coconut drizzled with sea salt caramel sauce, according to Hot Sugar's Facebook page. I am just about completely positive that we got a vanilla base for that, which is just fine because it was lovely and I quite enjoyed it. I don't think I would have liked it nearly as much with a chocolate base – the combination just doesn't seem like it would be right, at least to me.
Matt's thoughts: "I liked the toppings on the creme brûlées, especially the pecans, but the creme brûlée itself was lacking. It should have been firmer and less sweet. I would have preferred them chilled, too. 3 stars. Adam concurs, and while I enjoyed it a bit more than either of these gents did, I know when I am out-numbered.
Hot Sugar
1850 Howell Mill Road NW
Atlanta, GA 30318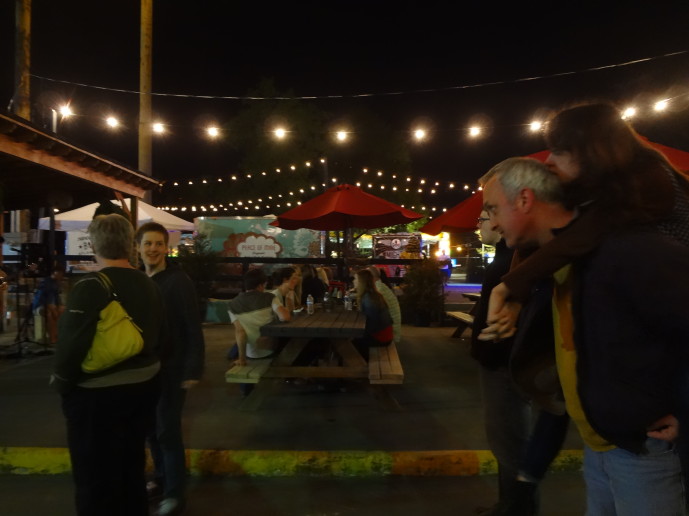 Taking everything into account, we had an absolute blast at the Atlanta Food Truck Park. There was live music, a decent crowd, and a great vibe as people sang along with the band. The truck folk are friendly, and the actual park grounds are nicely kept. My only real complaint was the incredible amount of plastic and styrofoam trash generated by the crowd. To my dismay, people were just tossing regular trash in the recycling container, so it's unlikely that what little recycling could be done ever actually gets done. It would be nice if that could change.
As an overall venue, the Atlanta Food Truck Park is an definite winner and a must-try for every Atlantan. Will every truck there be the serving the best food you've ever had? Probably not. But will you find interesting and high quality stuff there? Absolutely. Is it a fun experience worth going out of your way to experience? Definitely. 5 stars.
Atlanta Food Truck Park
Food truck line-up changes daily.
1850 Howell Mill Road NW
Atlanta, GA 30318
emily
Nerd. Foodie. Gamer. Homecook. Perpetual planner. Gardener. Aspiring homesteader. Direct response graphic designer. I use too many damn commas.